The corporate world often does a better job of developing their brand than nonprofits do, but every organization has one. Yours just might not be well-articulated yet. Nonprofits can look to leading examples like charity:water, the World Wildlife Fund, the Susan G. Komen Foundation, and UNICEF for tips on how to identify and communicate who they are to the public.
But first, let's back up and discuss what "brand" really means. A brand is a collection of visual, written, and emotional representations that convey the essence of your organization to the public. A branding guide combines the following elements to not only improve your brand image with the general public, but also streamline the use of your brand within your organization. While we cover this more in depth in our Importance of a Brand Style Guide, here are some examples of the principal components:
Who We Are - either your nonprofit's mission statement, description of your organization's history, a list of your values, or what makes your work unique. The first two examples below are from the World Wildlife Fund and the third is from Boy Scouts of America.
Logo and Tagline - variations on your logo design for use with different media (color, B&W, with/without tagline or chapter name, online, print), and Do's and Don'ts for logo use. The below example from Susan G. Komen is for DIY fundraisers.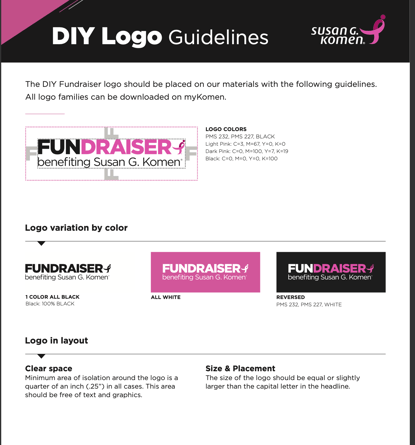 Color Palette - defined RGB or Pantone colors. The below example is also from Susan G. Komen.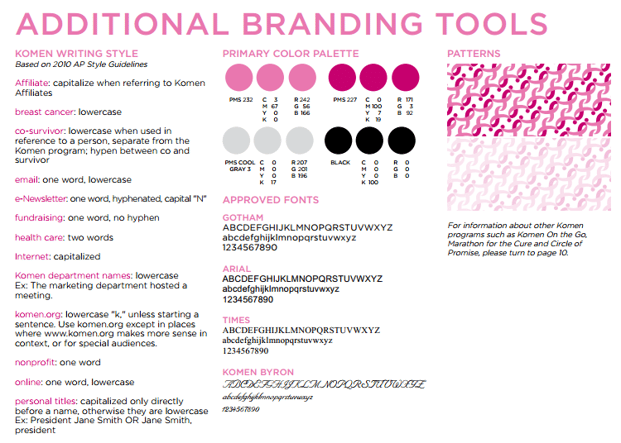 Fonts - typeface selections for headings, text body, and online vs. print use. The below example is from Boy Scouts of America.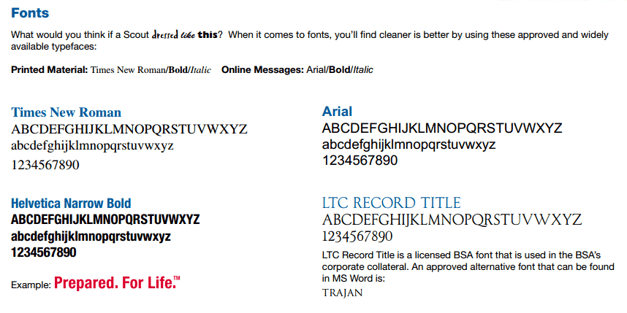 Guidelines for Media Use- rules for use on websites, brochures, reports, flyers, social media, photography, video, PPT, boilerplates. The following examples are from the United Nations and charity:water.
Your nonprofit is never too small to benefit from a branding guide. If you don't develop many marketing materials, don't spend much time updating social media, or don't have a dedicated communications or marketing team, you might not believe you need one. In fact, these types of cases reap the most benefit from a branding guide. For small nonprofits, it helps them to:
Be consistent with your nonprofit's reputation, which is turn makes it easier to attract and maintain talented employees and volunteers.
Prepare success stories and testimonials for publication, which are essential for attracting donors.
Clearly articulate your story and differentiate yourself from other nonprofits, which will enable you to grow.
How do you start to improve your nonprofit's branding? If you haven't already done so, survey your board, staff, volunteers, and the larger public to determine how they perceive your organization. This will help you to define an image or personality that should guide choices that can be affected by emotional response, such as color palette and font.
If you think it's time to formalize your nonprofit brand, please contact us to learn more about our branding solutions!