It is an undeniable trend that as technology continues to advance, traditional payment methods are becoming increasingly out-of-date. This means that now, more than ever, your nonprofit is depending on easy-to-use online donation methods. It is crucial that your website display links to donate money by using clear and and attention-grabbing tools. One of the best ways you can do this is through donation buttons, and the PayPal donate button is a great option that you can utilize. The button is both customizable and easy to set up. Here, we've compiled everything you need to know about using PayPal and its donate button.
How to Setup Your PayPal Donate Button in WordPress
Setting up a donation button on your nonprofit's website isn't difficult and can be done in a few easy steps. Once you create your button, all you need to do is copy the code and place it on your website. Below is a video that will show you the steps for adding a PayPal donate button in WordPress.
Solutions Offered by PayPal for Your Nonprofit
Over 500,000 nonprofits received billions of dollars through PayPal last year. The following are some of the solutions that PayPal offers that can help grow your online donations.
PayPal Donate Button
This is an easy way to accept online payments. One simple button allows you to accept credit cards, debit cards, and PayPal payments. You don't even need a PayPal account to give money, which could attract new donors.
PayPal Here
This is the ideal app to fundraise in person. Whether you need to accept donations on the spot or sell fundraising items, PayPal Here is an easy way to accept credit cards, debit cards and PayPal right on your smartphone or tablet. Swipe transactions are at a low fee of 2.7%.
PayPal.Me
Send your donors your nonprofit's personalized PayPal.Me link to allow your donors to contribute to your cause. Your nonprofit can customize this link and share it on your website or via social media channels.
PayPal Giving Fund
By enrolling in the PayPal Giving Fund, your nonprofit gains access to a plethora of donors across PayPal, eBay, and more. The program provides donation reports, issues tax receipts, and aggregates donations for monthly electronic distribution. It can also help expose your nonprofit to a network of good that can put your organization in front of millions of potential donors.
Benefits of Choosing PayPal
Affordable
The standard PayPal account is free, and PayPal also offers discounted transaction fees for nonprofits as well as no extra fees for setup, statements, withdrawals or cancellations. The PayPal Pro account includes all the benefits of the Standard account but also factors in a $30 monthly fee.
Customizable
The PayPal donate button allows you to customize its size, remove credit card logos, or even use your own custom image instead, such as your organization's logo. If you use your own image, it must already be hosted on its own URL.
Quick
With PayPal, you are able to access your funds quickly, with money usually showing up in your account within minutes of receiving a donation. You may then transfer it to your nonprofit's bank account at no charge.
Secure
PayPal offers automatic fraud screening that helps protect you and your donors. It is also PCI compliant, so your donors can be assured that their credit card information will stay confidential. In addition, having a PayPal donate button doesn't require a SSL certificate for your site.
PayPal Plans
Standard Plan
PayPal's Standard plan is free, and it offers discounted transaction rates for 501(c)(3) nonprofits of 2.2% + $0.30 per transaction and no monthly fee.
Pro Plan
PayPal's Pro plan includes the same benefits as the Standard plan, plus a monthly fee of $30. The benefit of having the Pro plan is that your donors are able to stay on your website while they fill out their personal information instead of being redirected to the corresponding PayPal page.
Examples of Nonprofits That Use the PayPal Donate Button
The following are some examples of websites of nonprofits that utilize the PayPal donate button: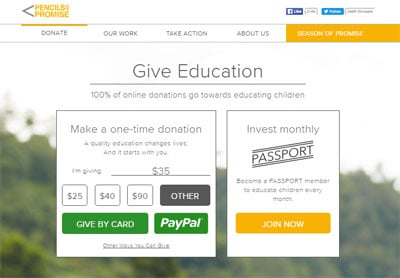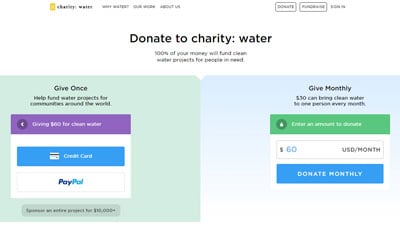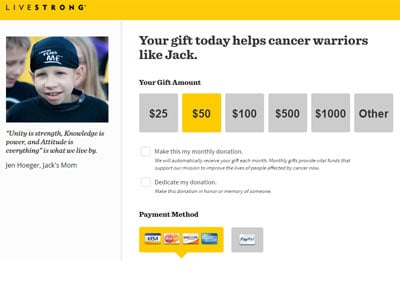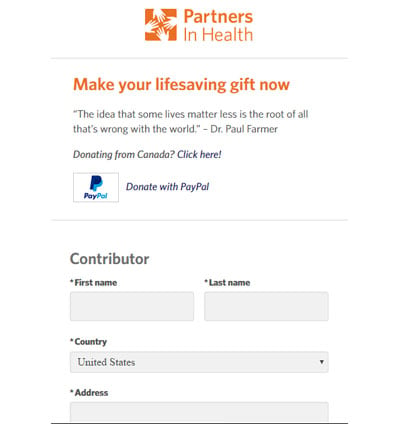 Other Donation Tools
Of course PayPal is just one of many options out there to help grow your online fundraising, and you should read reviews about the pros and cons of PayPal compared to other tools used for donations. The obvious advantage of using PayPal is that it has a trusted brand and a long history of processing payments on the web. If you have more insights to share regarding donation tools or even your own experiences with the PayPal donate button, please reach out to us at Elevation. We'd love to hear from you!
Bonus: You can also check out these three tips to ensure success with your donate button. Happy fundraising!