Let's say you're about to start your own nonprofit. You need a few essentials to get started - like an easy website builder, right? After all, it's important that you have a professional online image to attract funding, apply for grants, get more volunteers, etc. In order to create that image - your website - you're going to need a place for it to live: AKA your website's host.
To put it simply, imagine for a second that your car is your website. You're going to need somewhere to put your car, so we are going to call your website host your parking lot. Your spot in the parking lot has your name on it, so we will call your parking spot your domain name. We also need security for your car so that it's protected; your safety lock is your SSL certificate.

When creating your online presence, we often tend to focus on the most obvious aspect - your website. However, hosting is equally important. After all, you couldn't have your car without worrying about where you were going to store it! Choosing the perfect hosting company can be tricky because it's important that you choose a host that meets your needs when dealing with price, ease of use, web space, and more. In this article, I will talk about the ins-and-outs of our 5 preferred hosts to work with so that you can decide for yourself which hosting company best suites your nonprofit website.
When looking for premium managed WordPress hosting, look no further than WP Engine. For an explanation of why spending a bit more for managed hosting may be a good investment for your digital communications strategy, check out Quicksprout's list of best web hosting providers for 2021. If you're hosting a WordPress site, having managed hosting can make a big difference in terms of the reliability and performance of your site. A few of WP Engine's features include:
60 day free trial

Free Automated Website Migration

Award-winning 24/7 Customer Service and Support

Free Website Installs

Free Automated SSL Certificates
Again, WP Engine is your go-to WordPress host (as long as you can afford to pay a little more), and they offer 5 different hosting plans, for which you can see a comparison below:
Media Temple
Media Temple used to be a great option, but we've been hearing a lot of complaints since it was purchased in December 2022 by GoDaddy, which is known for low prices but also poor performance. Media hosting does offer different options of shared, managed Wordpress, or VPS hosting along with the following:
24/7 Support

Discounts on Annual Plans

SSD Storage for All Plans

30-Day File Backup and Restore

Easy Control Panel
Below you can see how Media Temple manages their Shared Hosting plan.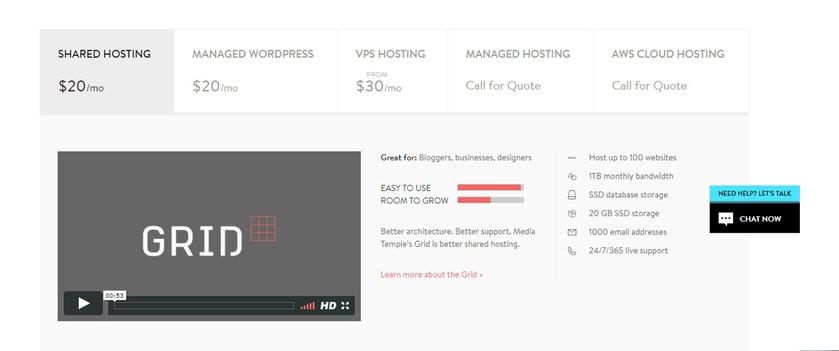 Bluehost is a hosting company that is known for their low prices and reliable shared hosting packages - performance at a low price. They offer:
1-Click WordPress Installs

Free Domain and Site Builder

24/7 Support

Free Weebly Site Builder and Templates

Free Cloudflare CDN

Daily Backups of All Accounts

Centralized Management Panel
Bluehost is an excellent choice for nonprofit site hosting because they offer great performance at prices that are hard to beat in the industry. Below you can find the breakdown of the three plans that they offer and the benefits that come with each.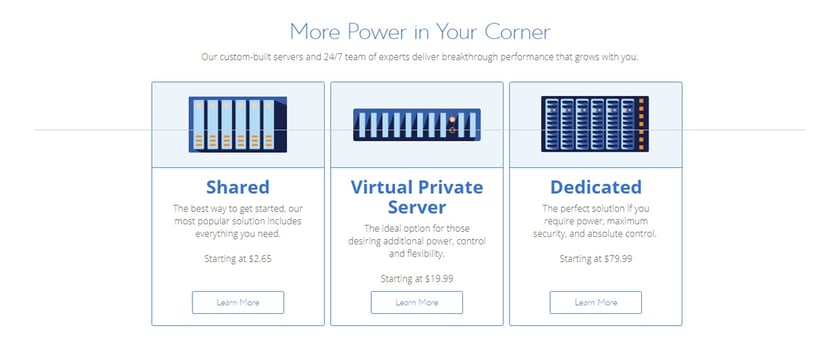 SiteGround is considered to be a "top tier shared host," or a shared host with affordable prices but the quality of support of a managed hosting company. They offer:
1-Click Installer

Free Website Transfer

Managed WordPress Hosting

User apps Auto Updates

SSD drives for All Plans

Free SSL Certificate

Own Firewall Security Rules

24/7 Support
SiteGround is renowned for their awesome support and quick response time as well as their low prices. If you are looking for a solid hosting company that's a step up from traditional shared hosts, SiteGround is probably for you. Below you will find a comparison of their three hosting plans and the features each one offers.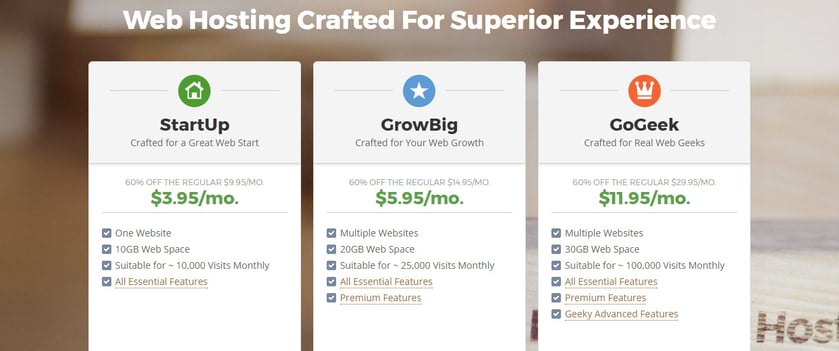 DreamHost is one of the few hosting companies that offers truly free hosting for nonprofits. Unfortunately, only their lowest tier package is for free, which isn't their WordPress hosting package. You can still host WordPress on it, but it's not created for WordPress like their actual WordPress hosting. They DreamHost is also known to have a non user-friendly management panel and poor customer support. However, they do offer:
Automated Malware Scans

Unlimited Domain Hosting

Unlimited Email Accounts with POP/IMAP/SMTP

FREE eCommerce Store Tools and PCI Compliance

Streamlined Proprietary Control Panel
So DreamHost has its pros and cons, but if you're nonprofit with a low budget who needs a website host, don't overlook DreamHost as it has its advantages as well. Check out the two plans that they offer below.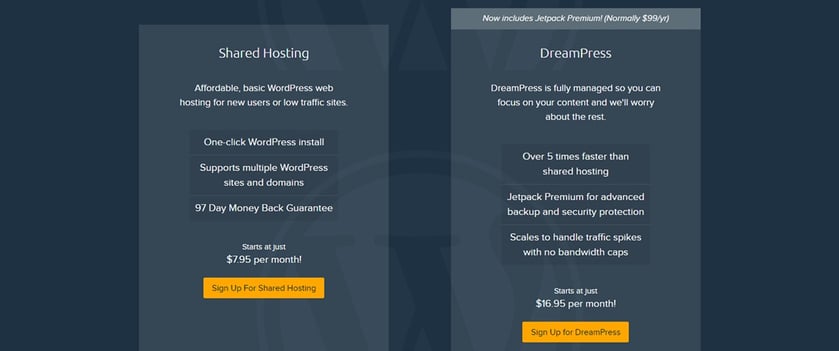 We hope that this comparison chart of our favorite website hosts will help you when deciding which hosting company to choose for your nonprofit website. If you have any more recommendations you would add to the list or would like to tell us what you think about website hosting for your nonprofit, feel free to comment below or reach out to us at Elevation.