Have you ever wondered how nonprofits have been able to launch successful campaigns via Google Ads when many operate with limited budgets? It's all thanks to the Google Ad Grant program, a program from Google that offers $10,000 a month in ad credits to eligible nonprofit organizations.
While the program offers an incredible opportunity for nonprofits, many organizations find it difficult to run their account and remain in good standing giving Google's requirements. So, we compiled all of the necessary steps from creating an account to remaining in good standing. Here's everything you need to know about the Google Ad Grant.
Introduction to the Google Ad Grant
What are Google Ads?
First things first, Google Ads are the links that appear on a Google search engine results page before and after the organic results. They can be identified by the boxed green "AD" that appears underneath the link and to the left of the URL.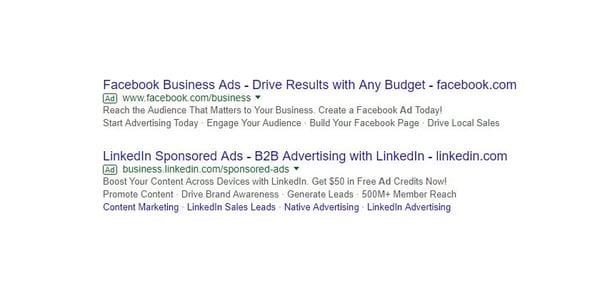 What can they do for my nonprofit?
Advertisers pay for Google Ads in order to promote their product or service to interested searchers. Google provides an intriguing platform for advertisers to meticulously target those who are directly searching for something related to their services. For companies, these ads drive visitors interested in their product or service to a related product or landing page in hope of collecting their lead information or instigating a purchase. But how does a nonprofit that doesn't sell products or services utilize such an opportunity?
Nonprofits have different goals when it comes to their Google Ad campaigns, ones that focus more on building awareness of their mission, driving traffic to their site, increasing their online donations, and building their community of volunteers. With targeted keywords, nonprofits can promote related blog pages and educational content to those interested in learning about their area of expertise, and by extension their mission. Nonprofits can also reach those in their community who are looking for their services.
What is the Google Ad Grant?
The Google Ad Grant provides $10,000 worth of advertising credit on the Google Ads platform to eligible 501(c)(3) organizations. It not only allows you to launch a Google Ads campaign but also includes Google Analytics and conversion tracking so you can quantify your ad performance and success.
Applying for the Google Ad Grant
If you choose to apply for the Google Ad Grant on your own, be aware that there are many steps to go through before you can begin. We suggest bookmarking this page to use as a resource for your application process.
Step 1: Apply for Google for Nonprofits
In order to receive the Google Ad Grant, organizations must first apply and be eligible for Google for Nonprofits, a program from Google that offers a selection of Google products to nonprofit organizations. Organizations must be a member of Google for Nonprofits to qualify for the grant, but not all members qualify to receive the grant.
Who can join Google for Nonprofits?
If you're registered in the United States, you must be registered as a 501(c)(3). (Not yet registered as such? Check out our guide to registering as a 501(c)(3)). If you're registered elsewhere in the world, check Google's requirements for your country. Don't see your country? Google Ad Grants are not yet available in every country.
Organizations must be verified by TechSoup or their local TechSoup partner. TechSoup works with companies like Google to validate your 501(c)(3) status. To find out more about registering with TechSoup click here.


If you're not already registered, you'll be able to register once you start the request for a Google for Nonprofits account.
If you are already registered, TechSoup will provide you with a token key that you then use in your application
Who can't join Google for Nonprofits?
Government entities and organizations
Hospitals and healthcare organizations. Note: While organizations that provide healthcare services to people are not eligible, organizations that facilitate the creation of healthcare clinics, advocate, or offer support for those with health conditions can still qualify.
Schools, childcare centers, academic institutions and universities; see Google for Education. Note: Philanthropic arms of educational organizations are still eligible.
When you're ready...
1. Request a Google for Nonprofits account with your associated nonprofit email address.
*Make a note of which email address is associated with this account.
2. Wait for your confirmation email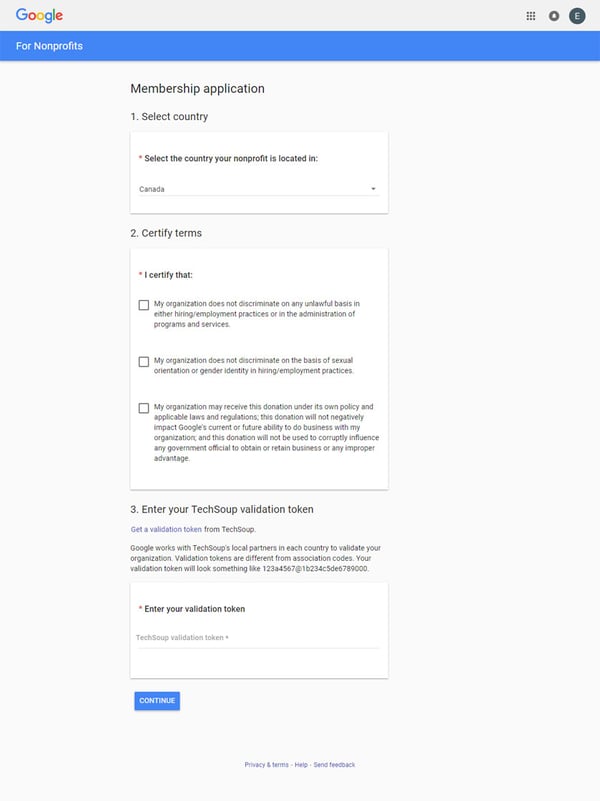 Step 2: Create Your Google Ads Account
While you wait for your confirmation email, complete the Google Ad Grant pre-qualification activities
Create your Google

Ad

account

under the same email address you used to register for Google for Nonprofits.
Select your country, time zone, and currency as USD (regardless of where you are registered).
Remember, do not enter any billing information. Google does not offer refunds if you accidentally input your credit card details and you will be responsible for paying for any ads that you run with your card on file.
Acknowledge and agree to Google's required certifications regarding discrimination and donation receipt and use.
Step 3: Take the Pre-Qualification Survey
Google requires every participant complete this pre-qualification survey. It covers demographic information about your organization and how you'll be utilizing the ad grant.

Step 4: Complete Google Ad Grants Training
Google requires every participant and grantee to complete a brief training and pass a quiz to ensure you have a comprehensive idea of how to use the Google Ads program.
Step 5: Submit Your Pre-Qualification for Review
Once you have been qualified for Google for Nonprofits, you'll want to activate your Google Ad Grant account. Find your Google Ads customer ID XXX-XXX-XXX and input it under Part 1: Pre-Qualification.
Once you have received an email that your pre-qualification has been approved, you can continue.
Step 6: Create your first campaign
Follow the instructions in part two of Google's Qualification Guide for detailed steps on how to set up your first Google Ads campaign. These are the basic steps you will have to complete...
Create a campaign following Google's specific requests in the qualification guide above.
Fill out the Describe Your Business section with your organization's name and website URL. *See Google's website requirements below.
Select the geo-location where your ads will be shown, the more targeted the better. Remember to select the location that applies to those who will interact with your ads; this will rarely be worldwide or even country-wide, so be specific. Remember, this can be adjusted later.
Define your product or service. Select the service that most relates to your organization as keywords will be suggested based on what you select. If more than one applies to your organization, you can change this in your next campaign.
Write your ads. We suggest writing at least two as you'll need the second to remain compliant (see below). Then input the URL that your ad will lead to. This can be a specific landing page, blog post, or related content page, but ensure that the language of your ad can be found on your landing page. Do not add images to your ad.
Set your budget to $329 USD or less.
Optional: create any other related campaigns that you're interested in running.
Step 7: Submit Your Account for Review
Once you've completed your first campaign, input your Google Ads customer ID XXX-XXX-XXX on your Google for Nonprofits account under Google Ad Grants > Part 2: Account Review, and click Activate.
Google will then review your details and inform you via email within 10 days if your account has been activated.
Google's Website Requirements
Remember when you input your organization's name and URL in the Google Ads account above? Google has very strict guidelines when it comes to accepting your nonprofit's website. We've seen accounts deactivated or rejected for a myriad of reasons, but below are the basic requirements your nonprofit must meet.
Your organization must have a website.
Your organization must own your linked URL.
If you link to a donation page, it must be hosted by one of these verified donation platforms.
Your website must have a

high quality user experience

. This means your site must have a clear description of your mission, vision and nonprofit activities, have up-to-date events and information about your organization, be easy for users to navigate, and have clear calls to action.
The content on your website must be unique to your organization.
Your website must be secured with HTTPS. Without it, you will not be accepted.
Your site should load quickly and not have broken links.
If you have advertising on your site, it should be unobtrusive and related to your mission.
Your website must not run AdSense ads. If your account is linked to an AdSense account to receive payments from the Android store, you are still eligible but you cannot show the ads on your page.
Your website should be for your nonprofit, and not for commercial activity. Any commercial activity must describe how it is related to your mission, and your website must describe how your organization uses funds by disclosing an annual report.
Remaining Eligible
After you are approved you still need to remain active in order to keep your grant. Here are some of the eligibility guidelines you must follow.
You may not use single words keywords to target your ads.
You may not use "overly generic" keywords; make sure keywords are specific and targeted.
You may not use keywords with a quality score of 1-2. The quality score relates to how well your ads and landing page content relate to they keywords that were searched. The higher the quality score, the more likely your ad will show up in the search.
Maintain a 5% CTR each month. This means that your average CTR for all your keywords must average 5%. Failing to reach this 5% goal for two months in a row will lead to account deactivation.
If applicable, have valid conversion tracking enabled.
You must have two ads in each ad group and two ad groups in each campaign.
Your campaign should have at least two "sitelink ad extensions" connected
You must respond to Google's annual survey.
Your ads must comply with Google's

general ad policies

, must not be discriminatory, and must not target prohibited keywords or topics including healthcare and political content.
You also must show activity in your account by logging in once a month as well as making a change every 90 days.
Conclusion
The Google Ad Grant can help your nonprofit gain internet traction and bring more attention to all the amazing things that your organization does! If you want some help applying for the Google Ad Grant or maintaining your campaign after approval, download our Google Ad Grant Management Guide or talk with a Google Ad Grant specialist today!
This post in an update of the original version written in 2017 by Emma Wolfe.