The Google Ad Grant program gives nonprofits the opportunity to raise awareness, attract donors, recruit new volunteers, and much more, using Google search ads. It's designed to help organizations extend their public service messages to a wider audience in an effort to make a greater impact on the world.
The program can revolutionize nonprofit organizations. So why are so many nonprofits missing out? With nonprofits frequently overstretched, the requirements of the grant can be too demanding to maintain if you're not particularly experienced with it. Here we give tips to make the grant easier to manage and walk you through why, and how, you should get started.
Does the Google Ad Grant Program Work?
Since its creation in 2003, the Google Ad Grant program has granted over $9 billion to more than 115,000 nonprofit organizations in free advertising. The program gives nonprofits the chance to advertise on Google at no cost to the nonprofit. Giving qualified organizations up to $10,000 per month of in-kind advertising, the money can be used to promote their missions and initiatives at the top of the page in Google search results.
Advertisements are in the format of a Google Ad. The greatest strength of the Grant is that it has no expiration date and there is never a need to reapply. However, the organization must maintain good standing by remaining within the requirements laid out by Google in order to keep the grant.



What is a Google Ad and How Do You Write One?
Google Ads are the links that appear on the results page when you conduct a Google search. They appear both before and after the organic results. They are identifiable by the boxed green "Ad" that appears underneath the link and to the left of the URL.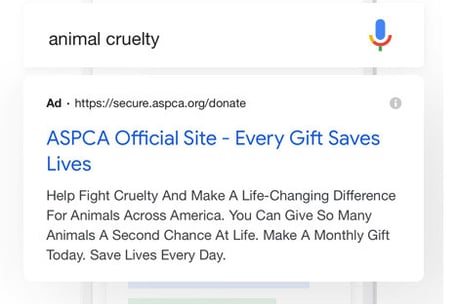 Finding the right words for successful Google Ad copy is tricky. From the drafting and revising to the publishing and testing, the utmost detail and attention must be deployed at all times. For these reasons, the craftsmanship that comes from experience cannot be underestimated.
Nonprofit marketers (like Elevation) are constantly optimizing their processes by studying and implementing the foundation of successful ads. This pivots on power words, emotional appeals, and clever copy. When these three concepts function harmoniously, your Google Ad copy will prosper.
Power Words
You
It is important to remain audience-focused and the word 'you' achieves this. By using this psychological tactic, users are more likely to click on the ad

Click


By weaving 'click' into the ad copy, users know exactly what next step they should take. Uncomplicated and direct language works!

Opportunity


The word 'opportunity' characterizes exciting new beginnings and this concept drives users to participate.

Increase


An implication of progress comes from the word 'increase' and this encourages viewers of the ad.

Love
This tactful emotional appeal yields clicks. And we love clicks.
Emotional Appeals
Determine your Nonprofit's Donor/Buyer Persona

Who is your customer?

What might they find funny?

What might they not want to see?

Tap into their personality.

Commit to a Persona

Do they want to be consoled?

Do they want humor?

Is your organization their wake-up call?

Determine which persona viewers want.

Write to Your Persona

Write through the persona's lens and your ad will be more memorable and effective.
Clever Copy
Whilst clarity is important in advertising, so is the intelligence of an ad.
People often talk about clever ads with their friends, but much less often about clear ads. Whilst clever ads won't necessarily lead to more conversions, they will increase the memorability and influence of your nonprofit.
So which is better, clever or clear? Unfortunately, the answer is a combination of both. Copy must be clear and informative whilst also being catchy and unique. Always have them wanting to know more!
PRO TIP:
Medical and rehab organizations applications are reviewed more thoroughly! In general, Ads from healthcare organizations (nonprofit or otherwise) are heavily scrutinized to ensure compliance with Google's Ad policies.
You can learn more here.

What Can the Google Ad Grant Program Be Used for and What's Its Impact?
The Google Ad Grant program is designed to help organizations extend their public service messages to an audience in an effort to make a greater impact on the world.
Nonprofits have different goals when it comes to their Google Ad campaigns, such as:
Build awareness of your mission


Your vision and mission weren't created overnight and the time has come for you to share your mission with as many people as possible. There are people out there - right now - looking for an organization like yours; so show them it!

Driving more traffic to their site
Y

our website is the ideal place for people who want to actively and proactively engage with your nonprofit. Using the Google Ad Grant program, you can drive more traffic than ever before.

Increasing their online donations


People need to know about your cause in order to donate to it. With Google Grants, you can further your exposure, increase your website traffic, and, as a result, potentially gain financial supporters.

Building a community of volunteers


The frequency of your ads appearing on Google will make more people aware of your cause. This gives an opportunity for more volunteers to get involved in your organization.

Recruit staff for open positions


Oftentimes, hiring staff to fulfill a nonprofit's needs simply isn't an option. By entrusting the management of the Google Grant to a third party like Elevation, nonprofits alleviate much of the financial burden whilst also allowing for experts in the field to manage the marketing.

Sharing their story to a wider audience


Every nonprofit has a story behind its vision. With Google Grants, you can share yours more easily and with a larger audience. More people will click, and more people will learn "why".
Am I Eligible to Receive the Google Ad Grant?
Because of the size of the grant, Google has very specific requirements. You can see general requirements for your organization and website below as well as which organizations do not qualify. To check your specific eligibility, take the Elevation Google Ad Grant quiz which takes around two minutes to complete.
To qualify for the grant, your organization must
:
Hold certified charitable status in your country.

In the US, you'll need to be registered as a 501(C)(3) organization

If you're registered outside of the US, check Google's

requirements for your country.

If you do not see your country, the Google Ad Grant program may not yet be available in that country.

Not be affiliated with a government.

Register with

Google for Nonprofits

.

Acknowledge and agree to Google's required certifications regarding nondiscrimination and donation receipt use when you register with

Google for Nonprofits

.

Have a noncommercial, live website with substantial content that provides a quality experience for your site visitors.
To qualify for the grant, your organization's website must
:
Have a

high-quality user experience

. This includes:

Having a clear mission and description.

Having up-to-date events and information.

Being easy to navigate.

Having clear CTAs.

Have unique information.

Be secured with

HTTPS.

Load quickly and have no broken links.

Not be for commercial activity.

If your website does run commercial activity, it must describe how it is related to your mission and you must disclose an annual report showing the use of funds.

Have any donation pages hosted by one of these

verified donation platforms.
PRO TIP:
Have no advertising or only unobtrusive and mission-related unobtrusive advertising!
Still not sure if you're eligible? Take our quiz!

W

hich nonprofit organizations

do not

qualify for the Google Ad Grant?
Government entities and organizations.

Some educational and healthcare organizations

; our aforementioned quiz can help you determine this.

Addiction and rehab nonprofit organizations may qualify for the grant, but ads will need to be reviewed thoroughly by Google before being shown. Careful and calculated wording will need to be deployed in order for ads to show.
Once you have confirmed your nonprofit's eligibility, you can begin the process of applying for the Google Ad Grants program.

How to Apply for the Google Ad Grant Program
There are a series of steps a nonprofit organization must take to apply for the program:
Make sure your nonprofit is qualified.
Read requirements for eligibility here or take the Elevation Google Ad Grant Questionnaire

Visit the

Google for Nonprofits

website and click 'Get Started'

Complete the Google for Nonprofits Application

Have your organization's name, address, and

EIN

on hand

Ensure your mission statement can be easily found on your website

Use a shared organizational email address, not a personal one or one that can only be accessed by one individual

Take advantage of the opportunity to set up a

TechSoup

account and acquire a token

Wait 2-14 days

Click the link in the verification email

Congratulate yourself on getting access to the Google Ad Grant.

Almost done! Now create a strategy for how you will maintain your eligible standing.
To read a more comprehensive rundown of how to apply for the Google Grant, click here.

How to Keep Your Google Ad Grant
There are a number of factors that go into maintaining the Google Ad Grant.
Maintain a CTR of 5% or higher. To see a list of tips for writing ads that will perform well,

click here

.

Use geo-targeting

Feature two site-link extensions

Valid conversion tracking (if applicable)

A minimum of two Ad Groups per campaign

A minimum of two Ads per Ad Group

No single word keywords

No use of over overly generic keywords

A quality score greater than 1-2

An average CPC of $2 (or the use of smart bidding)

Write ads that comply with Google's Policies

Log in at least once a month

Make changes at least every 90 days

Respond to

Google's

annual survey

Who Are We and Why Are We Teaching You How to Get a Google Grant?
Elevation is a full-service digital agency that specializes in nonprofit website design and marketing. If all this information is overwhelming, as it can be, we can help you!
Our mission is to help nonprofits maximize their reach online so nonprofits can focus on real impact. Our services allow you to reap the benefits while incurring none of the hassle.
What does Elevation do in relation to the Google Ad Grant?
Grant Application

Keyword Research

Ad Development

Manage Google Ad Grant Ad

Monthly Reporting

Landing Page Consultation
We enroll you in the Google Ad Grants program, answering all your questions and addressing all your suggestions along the way, so there's no grant writing required on your end.
We conduct research to determine which keywords would best suit your nonprofit's website.

We create compelling ads to get you the highest possible CTR and conversations, and

traction to

your landing pages.

We help you manage your $10,000 monthly grant to ensure it is being maximized to its potential.

We send you monthly reports detailing your campaigns' performance and how the grant is being used.

We offer tips and advice about how you can maximize your campaign potential with your current landing pages. If you need help drafting a custom landing page, you need simply ask your Account Manager.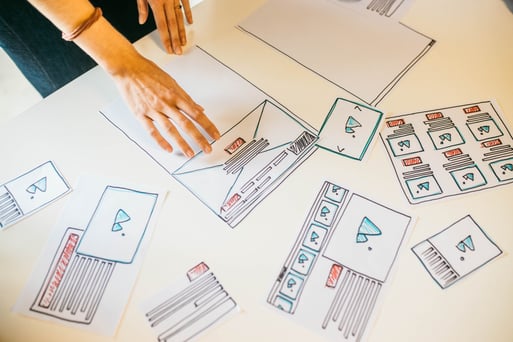 Your Google Grant on Autopilot
Elevation can do the hard work of managing your Google Grant for you, while your nonprofit and community reap the benefits.
What's Included
Account Audit

Keyword Research

Grant Retention

Account Management Support

Monthly Performance Report

Complete Grant Application Process
FAQs for the Google Ad Grant
For further information check out our Google Ad Grant webinar which covers the basics of the grant, the benefits, and how to build effective and structured campaigns.
Q: Do I need to use the same email address for everything related to the Grant program?
A: Yes. You will need to use the same login email for all activity relating to the Google Ad Grant program including Google for Nonprofits. You can always add more email addresses along the way but losing access to the primary email address can cause problems and delays. This is why it is important to initially register with an email that multiple team members can access.
Q: What happens if I spend over $10,000 in a month?
A: If an organization spends more than the allotted amount in a month, two things will happen. The first is that the ads will stop showing up on Google until the next month. The second is that the amount exceeding $10,000 will be deducted from the following month's allotment. You will not be penalized or charged.
Q: Why did Google reject my application?
A: There are a plethora of reasons why an application may be rejected. One common reason is that an organization fails to meet the program's eligibility requirements. Another is that the AdWords account is not correctly configured according to the Google Ad Grants Account Creation Guide. Handing off the program to someone who specializes in it alleviates the vast majority of these potential rejections and is the most time- and cost-effective route.
Q: Can I publish ads for various websites or for our social media profiles?
A: Ads may be linked to only one website domain. This domain should be the same one that was approved in the initial program application. Ads cannot direct people to social media profiles.
Q: Is there a deadline to apply?
A: No, there is no deadline, and should you need to pause the process for any reason, you can pick up where you left off whenever you're ready.
Q: What do I do if my account gets suspended?
A: Don't panic. Look through the steps below before taking action.
Review the information provided by the suspension notification and check the Google Ad Grant Policies.

Once you have fixed all compliance issues you can identify,

visit the Ad Grants Help page for account reactivation requests or call 1-866-246-6453. You will then be told if there are any further violations and - if there are - you will be given information on how to resolve the issue.

Once all violations have been corrected, contact them again via email or phone and explain you would like your account re-reviewed.

Now the hard part - wait. Re-submitting forms will not speed up the process.

Your account will then be reactivated.

Schedule regular account maintenance in your calendar.
Q: How long does it take to see positive results?
A: Most ads are reviewed and approved within one business day, but nonprofits in industries like healthcare with stricter compliance regulations may take up to two weeks. It frequently takes a minimum of six months of actively optimizing results before nonprofits begin seeing an impact.
Q: Can I create any type of ads using the money from the Google Ad Grant program?
A: No. Only text ads on Google - which are the format that appear in Google search results - can be created using money from the grant.
Q: How is the Google Ad Grant different from advertising through Google Ads or on Google's YouTube platform?
A: Google Grant vs Google Ads vs Youtube
Q: How long does it take to get the Google Ad Grant?
A: It varies a lot but below are the average wait times for each step. Your nonprofit may already have some steps completed.
TechSoup validation: 7-11 business days

Google for Nonprofits account setup: 4-14 business days

Google Ad Grants Pre-Qualification (Part 1): 2-9 business days

Google Ad Grants Account Setup (Part 2): 6-29 business days

Application review: Approximately 10 business days

My Question Isn't Listed, How Can I Find Help?
The Google Ads Policies Center can be found here. The Center includes information on the following areas:
Prohibited Content


Content you cannot advertise on the Google Network

Prohibited Practices


Things you can't do if you wish to advertise with Google

Restricted Content and Features


Content you can advertise, but with limitations

Editorial and Technical


Quality standards for ads, websites, and apps

Glossary
501(c)(3): Section 501(c)(3) is a portion of the U.S. Internal Revenue Code (IRC) and a specific tax category for nonprofits. This is required for U.S. organizations that want to use the grant.
Conversions: A conversion occurs when a visitor to your website completes a desired goal. This may include donating money, signing up for a webinar, reading a blog, and more.
CPC: Cost-per-click. The Google Grant has certain rules in place regarding the CPC of some keywords [Link to internal part of document] therefore ensuring management of the CPC is vital.
CTA: Call-to-action. CTA is any design that prompts a response or encourages a conversion. [Link to internal part of document]
CTR: Click-through rate. CTR is the ratio of users who click on a link to the number of total users who have viewed the page/email/ad.
EIN: Employer Identification Number (only applies in the U.S.)
Google search ads: The ads that appear both before and after the search results displayed when you use Google Search
GTM: Google Tag Manager. GTM is a tag management system that allows you to update measurement codes and related code fragments on a website and/or mobile app. GTM allows users to track conversions, website analytics, retargeting, and more.
Impression: When an advertisement or other form of digital media appears on a user's screen.
Keywords: The words and phrases that people type into search engines when they are searching for something on the internet.
Landing page: A single web page whose primary purpose is to receive traffic from a search result or a campaign such as a marketing promotion, email, or online advertisement.
SEM: Search engine marketing
SEO: Search engine optimization
Sitelink extensions: Sitelink extensions that display below the main text of a Google Ad and take people to specific pages on a site.
Session: A set of interactions an individual makes within a 30-minute period.
Smart learning: A subset of automated bid strategies that use machine learning to optimize for conversions.