Expecting the unexpected is familiar territory at the nonprofit One Step Beyond, Inc. (OSBI). Most parents never expect to have a child with an intellectual disability, which is why one part of OSBI's mission is to help parents navigate governmental and medical agencies. OSBI itself never expected to expand to 6 locations from its early beginning as a program for one family's daughter, Dylan, and her classmates. And growing a nonprofit comes with its own unexpected learning: during the recent giving season, OSBI discovered with help from Elevation that they could increase traffic to their website by not actually mentioning #GivingTuesday by name. This is just one example of OSBI's use of digital marketing resources for their communication strategy, which has helped them to grow the number of program participants from sixteen to over 600.
What We Achieved...
10x increase in site traffic from the Google Ad Grant

800% increase in funding allocated by Google's web grant

in 7 months of working with Elevation.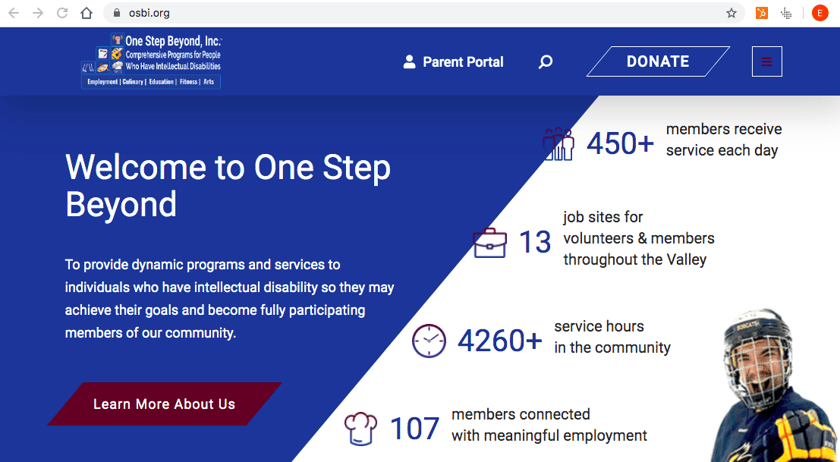 Help with Google Ad Grant for Nonprofits
OSBI uses the Google Ad Grant to increase the organization's visibility for families searching for resources, volunteers, and donors. This web grant offers free advertising for nonprofits and has now become the third-highest source of new visitors to One Step Beyond's website, more than the traffic from all social media. Having a paid search presence also helps drive their organic traffic.
The grant is an amazing resource year-round, but has particular impact for #GivingTuesday and the last month of the tax year. For the giving season, Elevation designed ads that would capitalize on search intent, brand awareness, and Calls-To-Action to donate. The campaign also made use of Google Ad extensions including call-outs, structured snippets, and sitelinks to build credibility and help users find the information most relevant to them.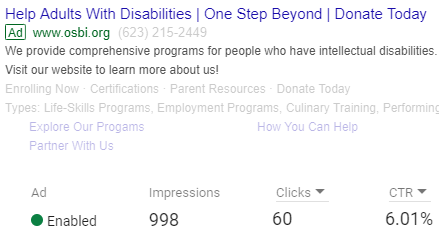 While the campaign's ultimate goal was to boost donations, success was possible only because interested donors could easily find the information they sought on OSBI's web page. Different individuals want to see different information before making a donation, for example:
LEARN ABOUT OUR PROGRAMS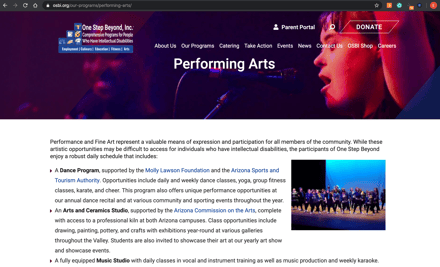 FIND RESOURCES AND GET SUPPORT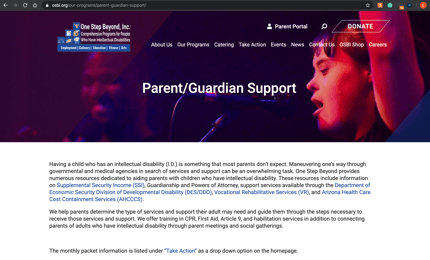 VolunteeR Information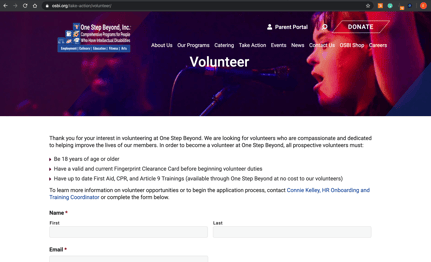 For corporate donors and business sponsors, financial information is a priority, and OSBI also makes this information readily accessible on their website:
Boost Donations FROM BusinessES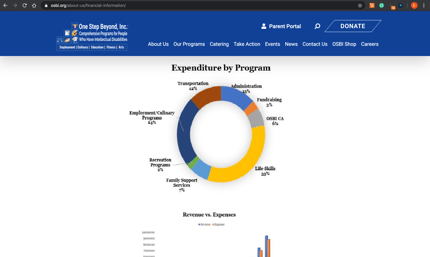 By working with specialists in nonprofit digital marketing, OSBI has achieved a website that promotes their vision and facilitates stakeholders' involvement and investment. Even with prior experience using digital marketing strategies, OSBI experienced a 10-fold increase in click-through rate and increased their grant allocation by 800% in seven months with the help of Elevation as their charity advertising and marketing partner. Future campaigns will focus on building name recognition and awareness of OSBI's programming for the cities in Arizona where OSBI is opening new centers.
One Step Beyond: Engaging the Community
Beyond being a channel for donations, OSBI's website is also a hub for engaging with their community. They've gone digital with many of their initiatives to make it easy for as many people as possible to participate.
One innovative way that OSBI is involving family members of program participants is by asking them to nominate employees of the month. This initiative allows beneficiaries of OSBI's programming to give back and express their gratitude, and also helps employees to know that their hard work is enormously appreciated.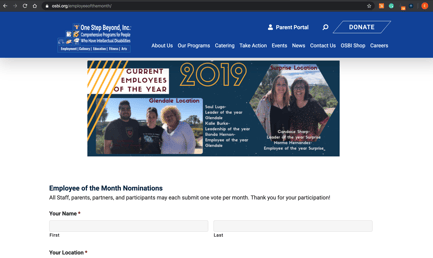 Staff and program participants can also submit nominations, so everyone has a chance to acknowledge the amazing work of OSBI's staff. By using a digital submission form, it's easy and convenient for family members, employees, and program participants to make a nomination from their smartphones or any other device, whenever and wherever they are inspired. These extra lengths to reach the community where they are has paid off, as 60% of site visitors are mobile users.
One Step Beyond has grown enormously over its sixteen years, thanks in part to a strong digital presence. By leveraging digital marketing strategies like SEM in their communications strategy, they've made it easy for community members to learn about and become allies to the organization. We're glad to celebrate their success!
About the Google Ads Grant
The Google Ads Grant donates up to 10k per month in free advertising on Google's search engine. It is one of the few widely available technology grants for nonprofits that covers operating and overhead costs. While schools, government organizations and medical institutions are ineligible, the grant is for churches and most 501(c)(3)'s. For more things to know before applying for Google Grant eligibility, check out our Quick Guide to Google Ad Grants.
About One Step Beyond Inc.
One Step Beyond was founded in 2003 with a mission to help people with intellectual disabilities gain skills and experience personal growth after high school. OSBI also works to create partnerships in the community and to remove obstacles to full inclusion and to independence.