Whether you are part of a well-established nonprofit organization or one that's just getting started, there are things that are important to maximize your digital potential that can be easily overlooked.
Especially during the pandemic, more and more nonprofits are realizing the importance of a well-designed and professional-looking website in attracting potential donors. Providing a great first impression is key to finding support for your programs and services, as well as getting more volunteers to spread the word about your organization's mission and vision.
What is often missed is that none of that can happen if your website isn't up and running, you're going to need a place for it to live: your website's host.
As we've said in the past, think of your website as a car. Your hosting provider is the parking spot. This parking spot will have your name on it, which is your domain, and it should have security to keep your car safe; your safety lock will be your SSL certificate--this analogy is still useful for understanding the role of website hosting.
Selecting the best hosting provider for your organization can greatly affect your site's performance, so in this article I will provide both the pros and cons of our preferred hosting providers. This will help you pin down which one is the best fit for your organization's website needs.

With the motto "Web Hosting with Purpose" and budget-friendly month-to-month plans, DreamHost is one of the few providers that offers truly free hosting for nonprofits.
PROS:
If you're a nonprofit organization with a limited budget, DreamHost can be a great option. You can get a basic shared hosting plan with email hosting for free if you provide a 501(c) determination letter.
Plus, they offer a 35% discount to nonprofits for their WordPress-specific hosting under the name DreamPress.
CONS:
Free hosting only applies to their lowest-tier plan and not their WordPress hosting plans (starting at $2.59/month). You can still host a WordPress site on this plan, but be aware that the customizations and settings might not be as user-friendly and tailored as their actual WordPress plan.
They have a customized management panel rather than the CPanel used by most hosting providers, which can be confusing to many users.
The quality of their customer service has received mixed reviews from users.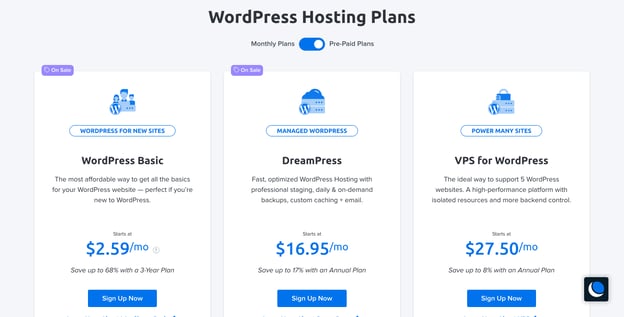 With plans that start at $6.99 per month and quality in terms of support and response time, SiteGround stands out among its competitors.
PROS:
Considered a "top-tier shared hosting provider", SiteGround is known for offering affordable plans that can compete well with shared hosting companies
Their customer support and server speed are closer to that of a managed hosting provider.
CONS:
SiteGround has limited storage space, between 10 GB and 40 GB. This might be an issue if you have a lot of media on your website, in that case you would have to invest in a more expensive plan.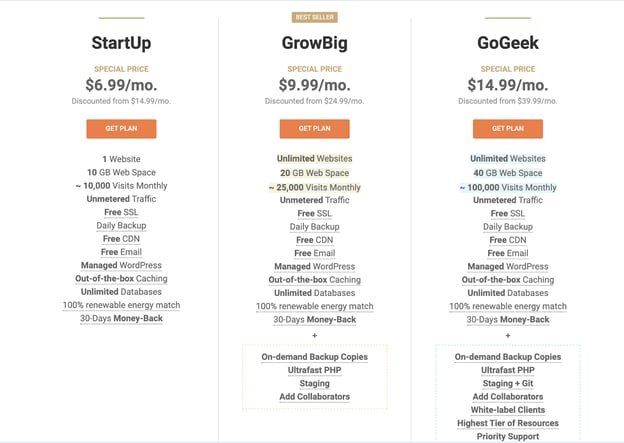 Regardless of whether you're a small nonprofit, just getting started or a national/international organization with multiple websites, Pressable might be a great option for you if you don't want to deal with security, scalability, and having to constantly update WordPress or your plugins.
PROS:
Pressable's

managed hosting plans are customized in order to improve your website's speed, performance and to provide protection against malware and other security threats.

It works great with WooCommerce and Jetpack, plus it offers flexible and affordable pricing plans depending on your site's bandwidth and how many sites you have.

Last but not least, their support team is

made up of

experienced WordPress developers who can help you with any question you may have.
CONS:
It is WordPress-specific, so it might not be for you if your site is in another CMS (

Joo

mla, Drupal, etc).

If you want 24/7 or live support through a dedicated Slack Channel, those are only be available if you upgrade to a more expensive plan.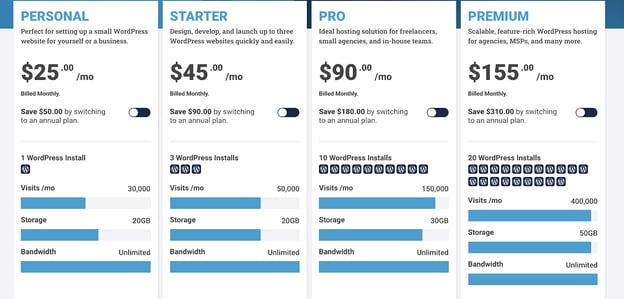 If you have a WordPress site and you're looking for premium managed WordPress hosting, WP Engine is a great option for you.
PROS:
Along with Pressable, WPEngine is known to be one of the best providers when it comes to managed hosting.
Their service is focused on WordPress, so their platform is constantly being optimized to better serve WordPress sites.
CONS:
WPEngine's quality comes at a price. The cost of their plans is on a different scale when compared to other providers featured in this list. With plans starting at $25 per month, this might not be the best option for you if you're on a tight budget.
If you are looking for scalability, HostGator might be the best choice for you.
PROS:
HostGator's pricing plans offer a variety of options that cater to different types of businesses/organizations, which makes it easier to change plans based on your website traffic and needs.
They work with several content management systems, such as WordPress, Joomla, Drupal, and Magento, among others.
CONS:
Unlike other hosting providers, they do not include daily backups in their plans. Instead of providing this service themselves, they recommend purchasing a service called CodeGuard.
Items such as free shopping cart installation are also not available in all their plans.
If you work with a larger site that is expected to have tens of thousands of visits a month, this provider is probably not be the best choice for you.

Hostinger is very likely to be a good fit if you are looking for a cheap hosting provider.
PROS:
Hostinger is known for being one of the most affordable hosting providers, it offers some of the lowest prices in the industry.
It offers a premium service in terms of site speed and tons of resources and guides for all kinds of users.
CONS:
Although they are known for offering a multilingual customer service in order to help clients from all over the world, their customer support is limited. So if you have any pressing questions your best option is either sending an email or submitting a ticket, instead of having an immediate interaction with their team through a live chat (a feature only available to current clients).
There are important exceptions to their 30-day money-back guarantee: Their privacy protection, domain name renewals, and redemption fees are non-refundable. Domain registrations need to be canceled within four days of registration.
Their most affordable plans are only available if you sign a long-term contract.

If there's something 2020 taught us all, and especially those focused on providing services and serving our communities, is the importance of having an online presence. One year later, we all agree across the board about how vital it is to communicate digitally in a fast, clear, and concise way with your supporters.
We hope that this comparison breakdown will help you when making this key decision for your nonprofit website. If you would like to recommend other providers for us to consider and evaluate, or if you would like to learn more about our hosting services, please feel free to reach out.