It's officially June and that means it's Pride Month. For those that don't know, each June we celebrate our fellow LGBTQ (lesbian, gay, bisexual, transgender, queer, intersex and HIV/AIDS +) earth dwellers with a month of love. Although Pride started only as a one-day celebration, it's grown to encompass a month-long series of events celebrating LGBTQ pride.
Depending on your city, the festivities include parades, workshops, picnics, art installations concerts and so much more. Pride month draws its roots back to the 1969 Stonewall riots in Manhattan and is meant both as a month of celebration but also to remind us both how far the LGBTQ community has come and how far there still is to go.
We at Elevation wanted to honor those incredible organizations that work in many different capacities providing a variety of services to our LGBTQ community ,and, since we love websites, we highlighted some of our favs.
So here are our top 10 LGBTQ focused nonprofits with killer websites!
GLAD: Legal Advocates & Defenders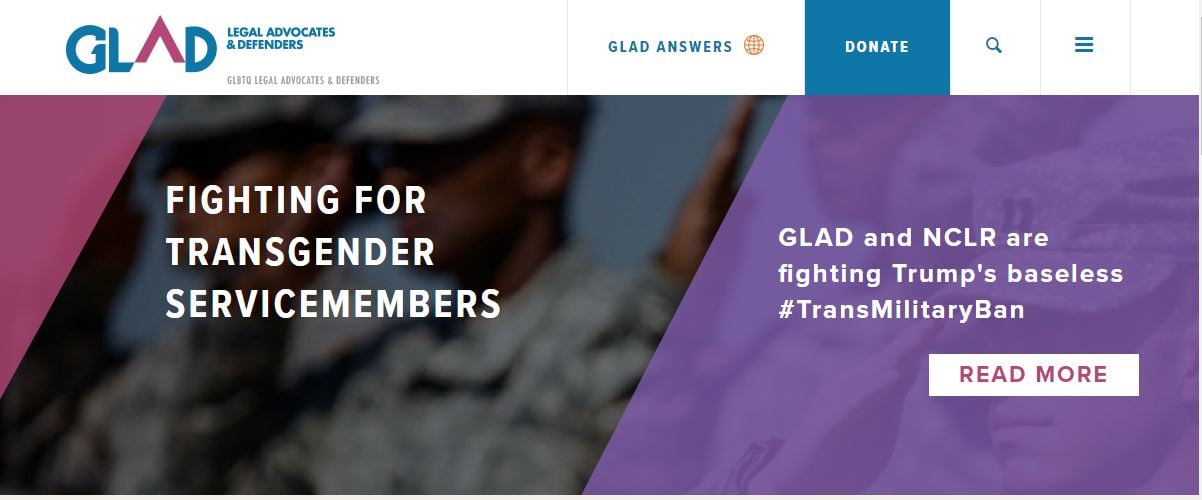 GLAD has been advocating for LGBTQ individuals battling injustices since 1978. Using both legal and advocacy measures, GLAD makes sure that rights of LGBTQ individuals are not being violated and use the legal system to confront issues when they arise.
GLAD's homepage kicks some serious butt. The hamburger menu creates a clean banner and the donate button is well placed and attention grabbing. The site is both easy to navigate (meaning user experience was taken into account) and it's pretty.
International Lesbian, Gay, Bisexual, Trans and Intersex Association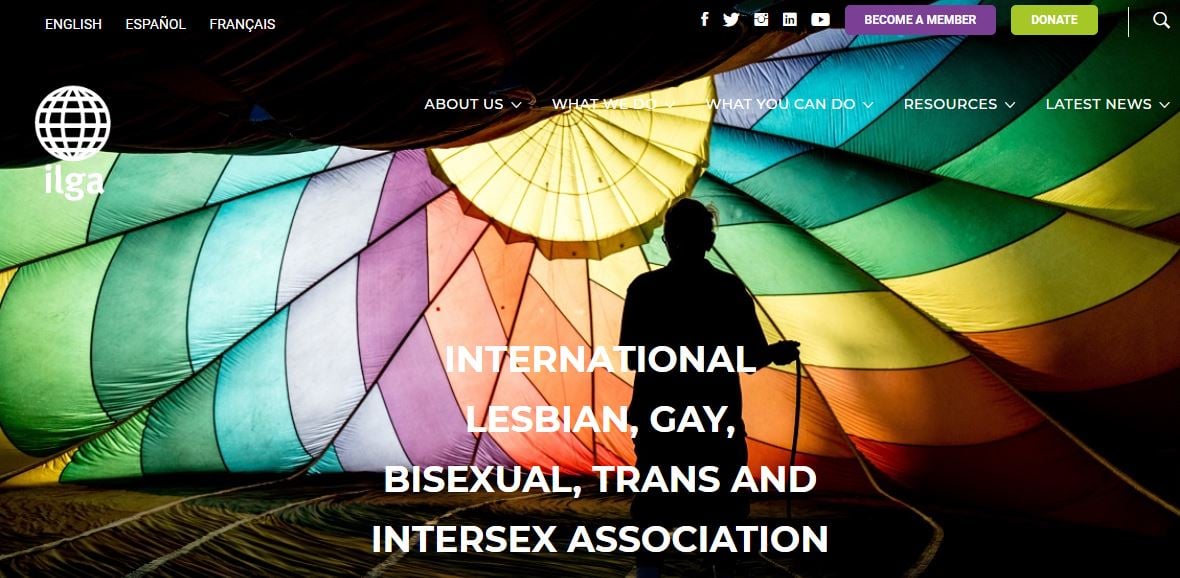 The ILGA was established in 1978 and is one of the consultants for the UN Ecosoc Council. Outside of its consulting role, ILGA both speaks and lobbies on behalf of its member organizations working for equality for LGBTQ persons all over the globe.
We give ILGA an A+ when it comes to high quality visual content. The image on their homepage is high resolution and the subject is both engaging and relevant.
Human Rights Campaign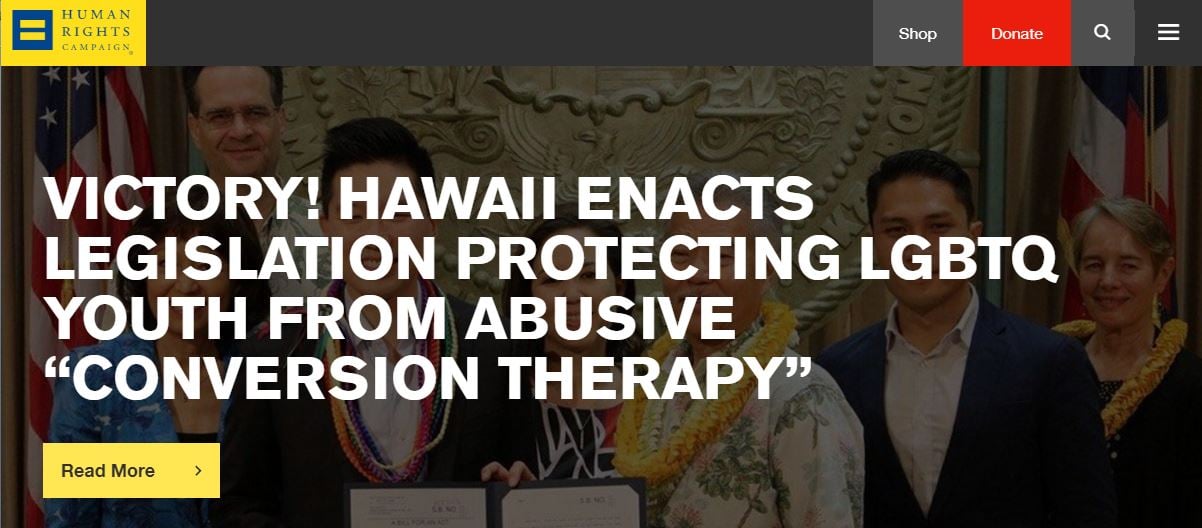 Human Rights Campaign is the largest civil rights organization striving to achieve equality for LGBTQ persons in the United States. It was founded in 1980 for the purposes of political lobbying and has since expanded offering a plethora or programs and educational initiatives.
This is just some plain good design but what else would be expect from this nonprofit powerhouse? It's both simple and informative. Like GLAD, HRC makes use of the hamburger menu which allows for a cleaner take on a navigation menu.
True Colors Fund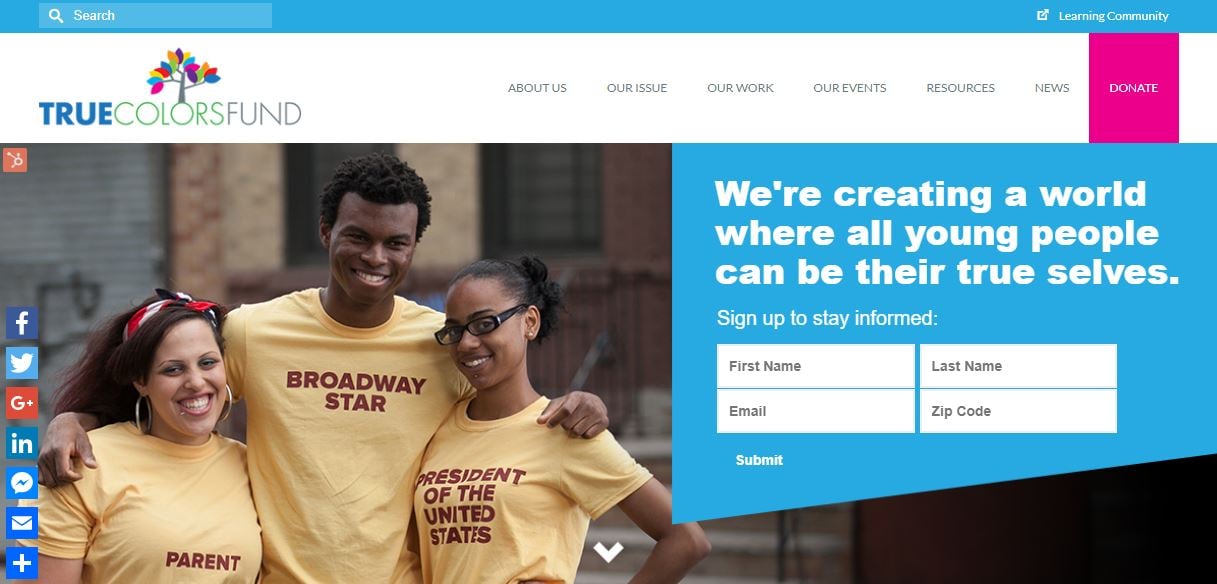 Did you know LGBTQ youth are much more likely to experience homelessness than their heterosexual counterparts? Well True Colors Fund did and they have now dedicated themselves to helping homeless LGBTQ youth and preventing the pervasive issue from continuing.
We love how True Colors Fund site embodies the feeling of the youth it represents with high quality visual content and the use of bright colors throughout the site. However, they stay on brand by only pulling colors that appear in their logo.
Drag Queen Story Hour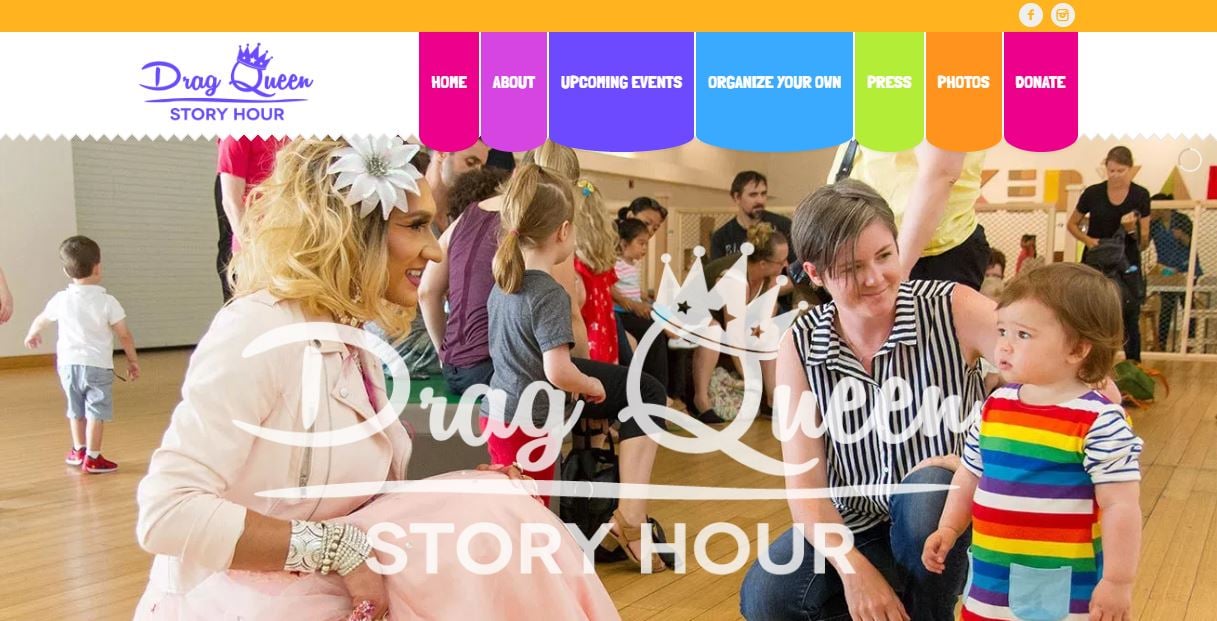 Drag Queen Story Hour is, as stated on their about us page, just want it sounds like. These queens read stories to children in libraries, schools and bookstores allowing kids to be able to see individuals who defy gender stereotypes and embody fluidity. But seriously, is there a story hour for adults because I'm so in.
We applaud DQSH's homepage of bright colors and high-quality imagery! They also include links to their social media accounts on the top right of the page above a great donate button. Yas queens!
Stonewall Community Foundation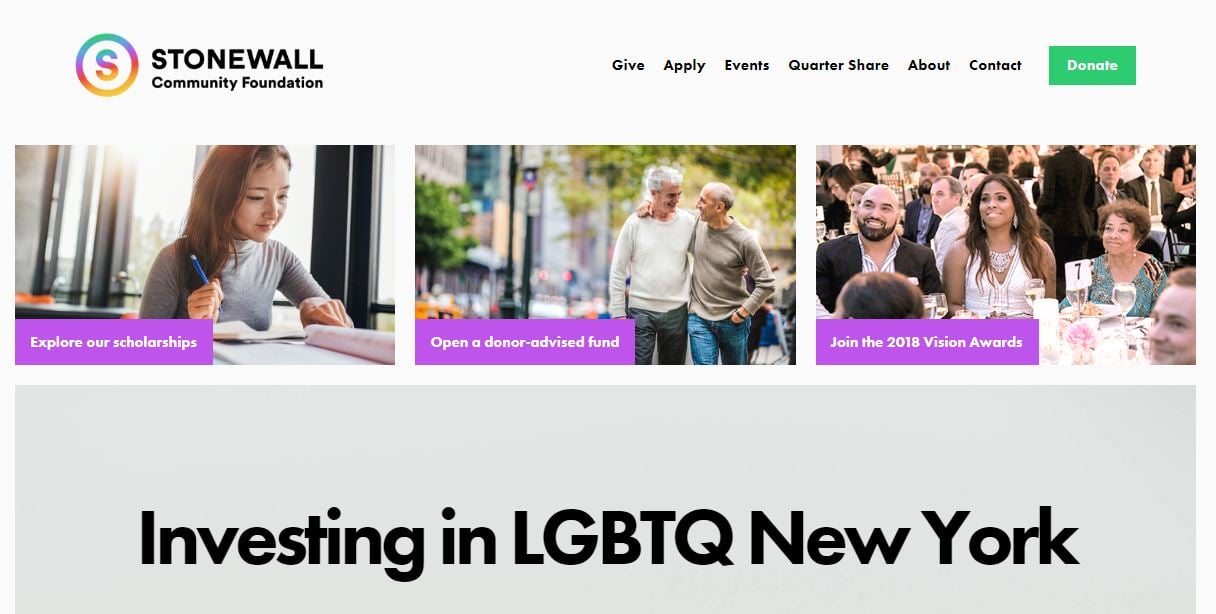 Named after the historic protests of 1969, Stonewall Community Foundation is a jack of all trades. The organization raises money and funds work related to a plethora of issues that affect the LGBTQ community.
What we love about Stonewall's site is how easy it is to use. You can find the information you need because the site was designed keeping UX best practice principles in mind. The site is simple and yet communicates all that it needs to while remaining visually pleasing!
Allies for Health and Wellbeing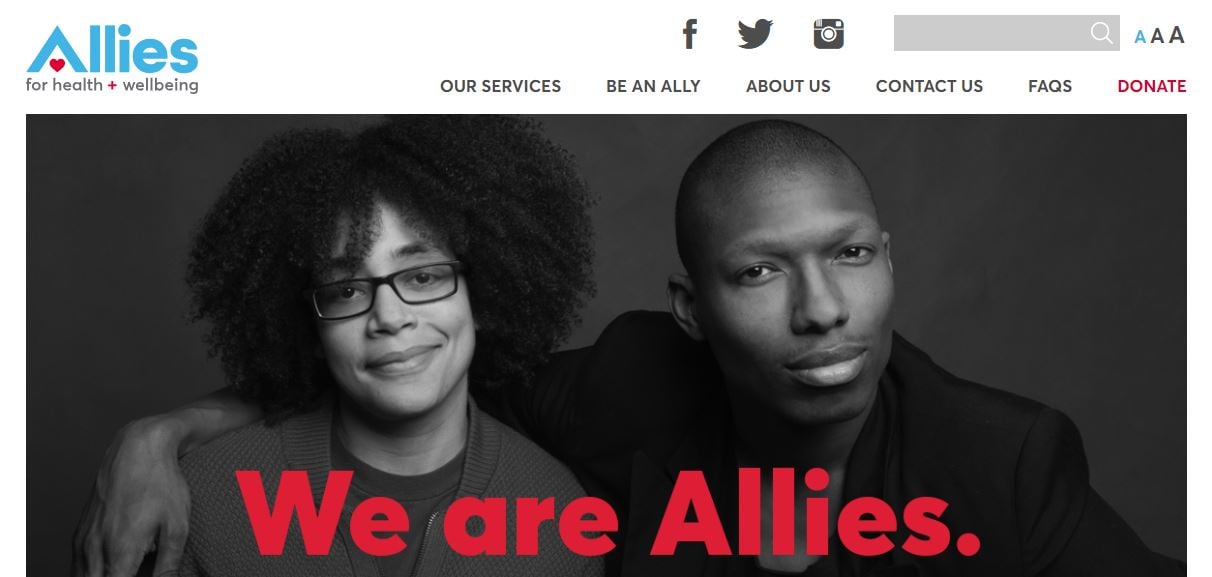 Allies for Health and Wellbeing started as a group of individuals in Pittsburgh dedicated to fighting the HIV/AIDS crisis in the 1980s. Since then, it has expanded to provide a ton of resources to the LGBTQ community and remains the largest AIDS service organization in Southern Pennsylvania.
There are so many good things to say about this website but I'll start with homepage content. This site really nails text content here. It's powerful and simple and engages the user by placing it over a high quality image. Home run.
Tegan and Sara Foundation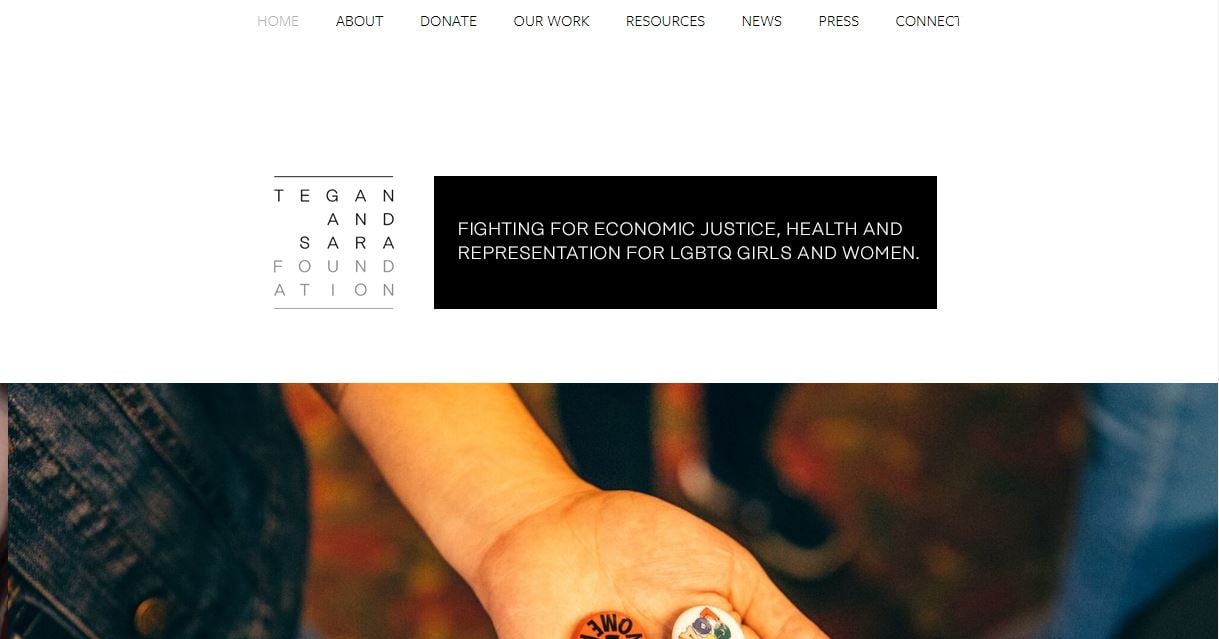 For those that don't know, Tegan and Sara are a twin indie pop duo who hail from Canada. Their foundation focuses specifically on the rights of the women within the LGBTQ community who are many times forgotten.
We are obsessed with the minimalism of this site. The text-based logo sets the tone for the home and interior pages. The simplicity of the site allows the issue to speak for itself, the mark of a well designed nonprofit website.
ASTRAEA Lesbian Foundation for Justice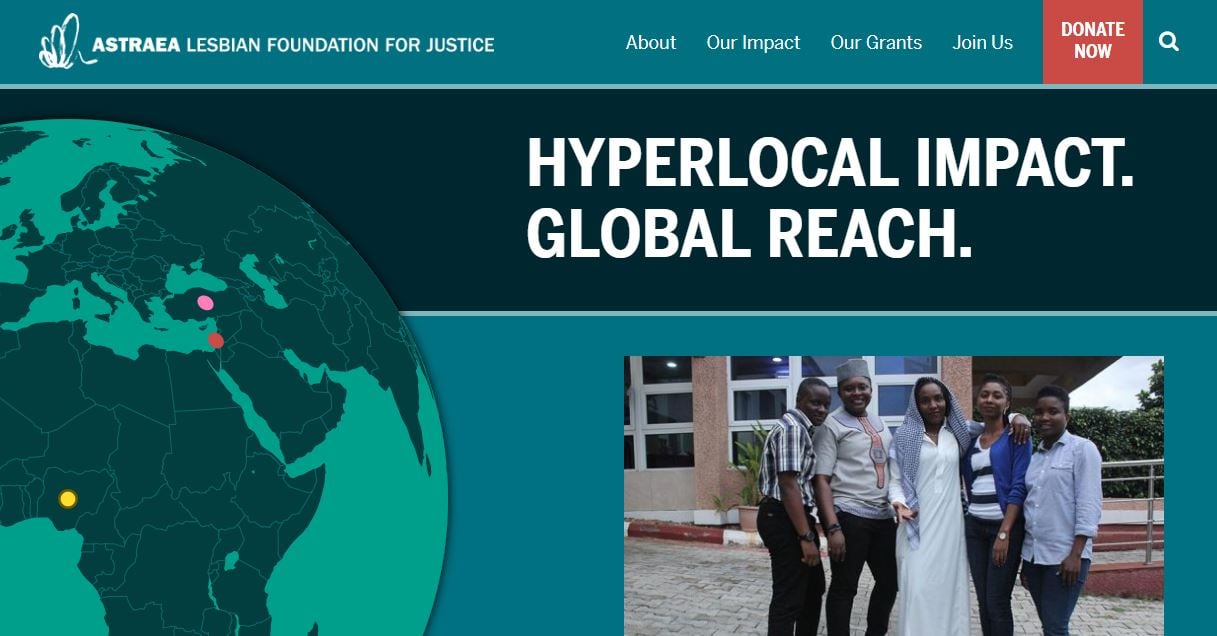 ASTRAEA is a public foundation that distributes the money it raises to LGBTQ activists, organizations, initiatives and programs that are making a big change in the community, prioritizing lesbians and queer women.
ASTRAEA had to be included if only because they've created the most interactive globe on their site! The globe highlights where the foundation has allocated resources and the impact those funds have had. Besides that, the site is pretty stellar overall. Seriously go check it out.
The Trevor Project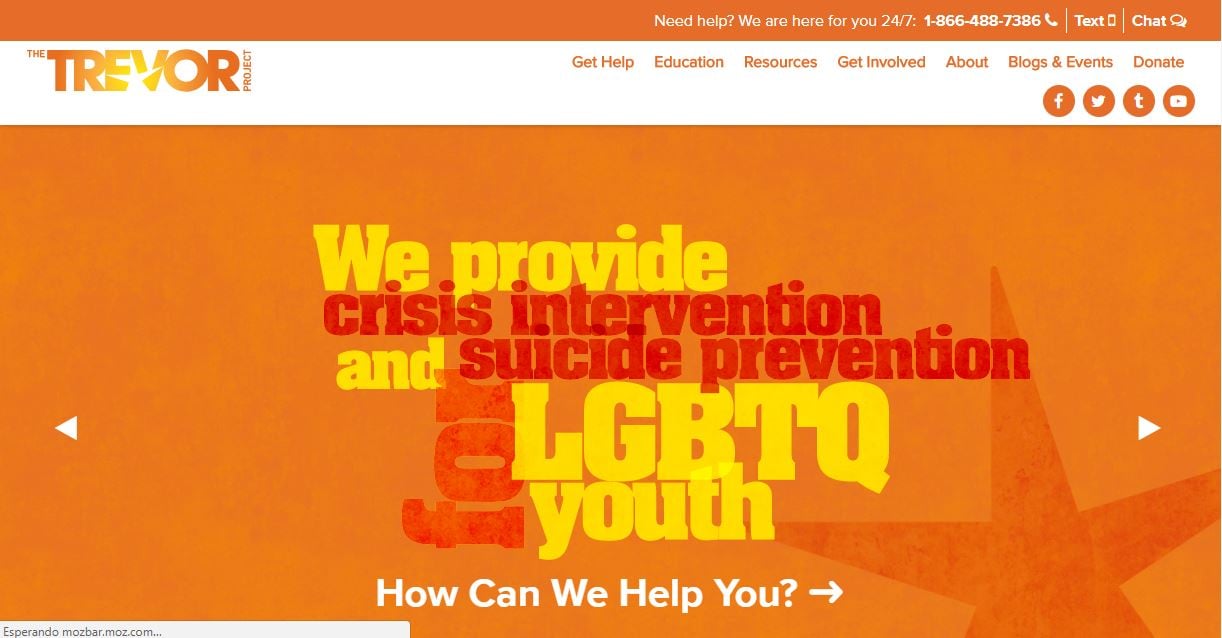 Last but certainly not least is the Trevor Project, an organization that has been providing crisis intervention and suicide prevention for the youngest of the LGBTQ community since 1998.
As a provider of crisis intervention, it is essential that the Trevor Project's website be able to act as both an informational resource and a point of contact for those in need. It does this so well with CTAs (calls-to-action) throughout the entire website providing their TrevorLifeline number and other live chat options. In addition, the site is well branded and stays true to its warm color palette!
Please consider donating to any or all of these fantastic organizations. And if you are interested in joining the pride celebration (as a community member or supportive ally) check out the events in your city here.