Why are stories so powerful? Humans have been telling stories for much longer than we have been writing them down. We are hardwired not only to tell our own stories, but also to be drawn to the stories of others. It is through stories that we understand new contexts, relate to one another, solidify our learning, and perhaps most importantly, enjoy ourselves in the process. Good storytelling leaves us wanting more, be it in the form of just one last bedtime story, the novel we can't put down, the tale that captivates us as we huddle around a campfire, or the film we lose ourselves in while cuddled up on the couch.
So, what does this have to do with your nonprofit marketing? Nonprofits are ultimately about people—people in need, people coming together, and people working toward a common goal. Good storytelling is an effective way to bring more people into your nonprofit, and should guide nonprofit marketing efforts no matter your cause.
"Storytelling is the greatest technology that humans have ever created." — Jon Westenberg
This week we're sharing some top storytelling tips, with examples from the nonprofits that do it best. You can also check Elevation's offering under digital marketing services. The team loves helping nonprofits develop and implement their campaigns!
Tip #1: Great stories are about what makes us human
Stories that are about some aspect of the human condition make them universal, which allows them to speak to diverse audiences. Although your nonprofit's work is likely quite specific, something about your story must appeal to our basic human nature—that which connects us and makes us feel for others across this planet.
On storytelling, acclaimed Pixar director Pete Docter says: "What you're trying to do, when you tell a story, is to write about an event in your life that made you feel some particular way. And what you're trying to do, when you tell a story, is to get the audience to have that same feeling."
Nonprofits, too, are successful in conveying feelings through stories. Water.org, for example, communicates how vital—and universal—its work is by explaining the importance of clean water for safe babies through the stories of pregnant women.
Tip #2: Give (different) people the space to tell their own stories
Hearing from people on the ground—those you serve or those working alongside them—is the most powerful nonprofit marketing plan for communicating your nonprofit's impact. Your storytelling should give these people a voice, which can be done through written interviews, first person narratives, or videos.
Girl Up, a nonprofit that empowers young women leaders and promotes gender equality, shares stories of women served by their programs. Notice how these stories are told by program participants speaking in the first person.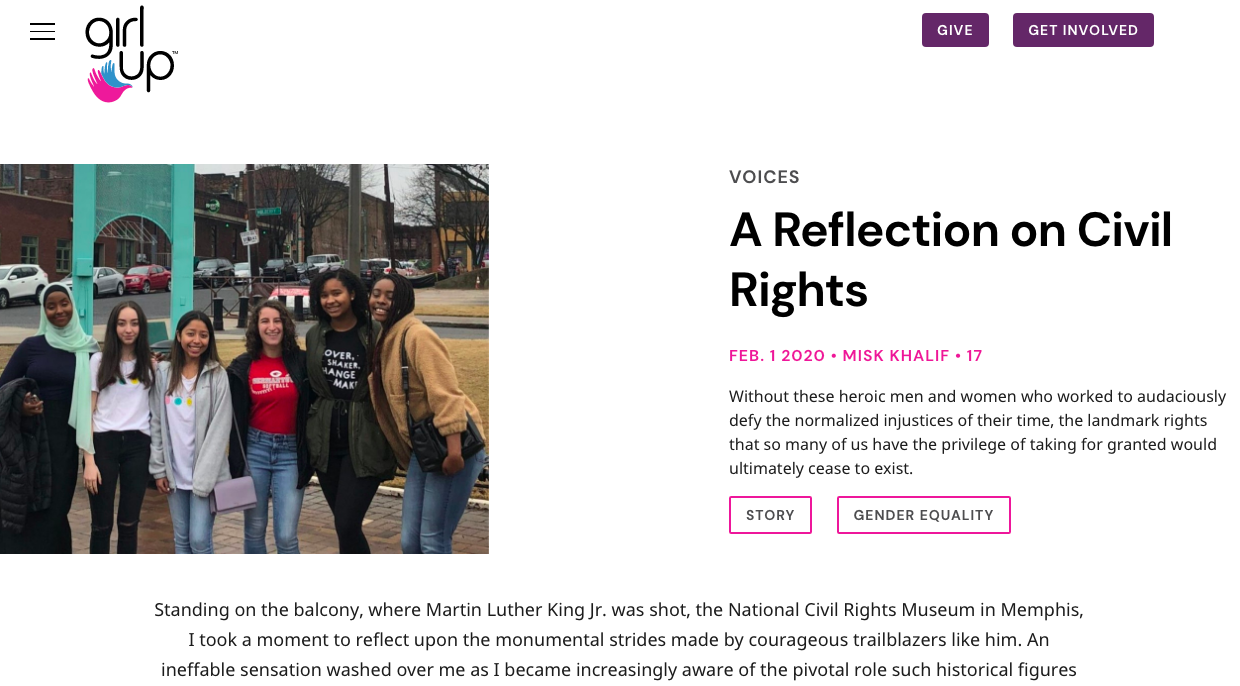 Another effective way to convey your organization's impact is through stories told by, or about, volunteers and local staff. Charity: water talks about the work of local partner organization Water for People in Rwanda through this film on Facebook that invites the viewer into their world.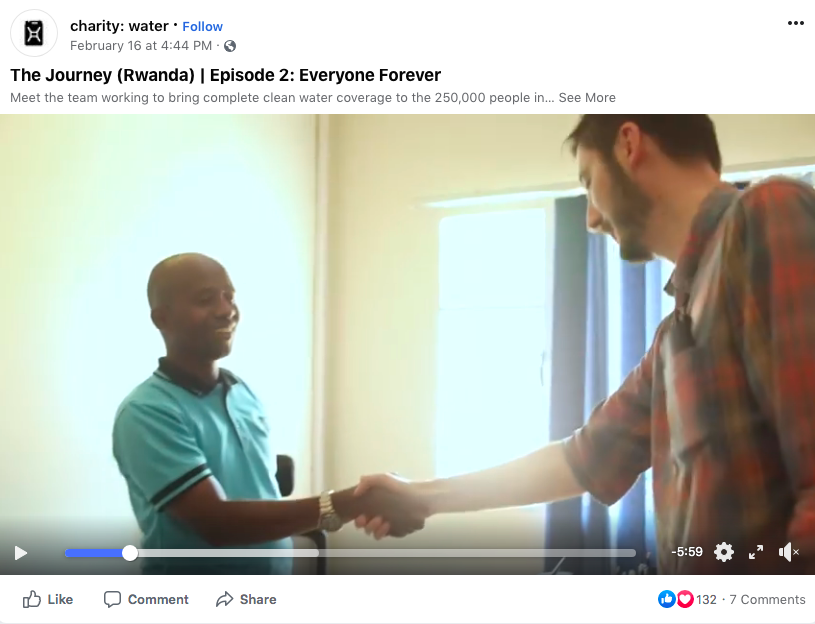 Video helps to transport your audience, live, to the site of your work. Look to leaders in your field to see how other nonprofits are using live-streaming video to share their stories with the world.
You can also find additional inspiration from our post on inclusive videos for nonprofit campaigns.
Tip #3: Use powerful stories to attract interest and donor support
Not only do stories help people care, but stories help learning stick. Vanessa Boris, Senior Manager at Harvard Business Publishing Corporate Learning, writes that storytelling helps with learning because stories are easy to remember. She adds that "psychologist Jerome Bruner's research suggests that facts are 20 times more likely to be remembered if they're part of a story."
Nonprofit founder Lisa Katz tells the story of Lion Tales through her own experience of struggle and courage with her premature baby in the NICU for 224 days. When Lion Tales sought a charity advertising and marketing partner, they looked for an agency that would tailor their website and marketing content to their unique story while integrating in-site donation processing.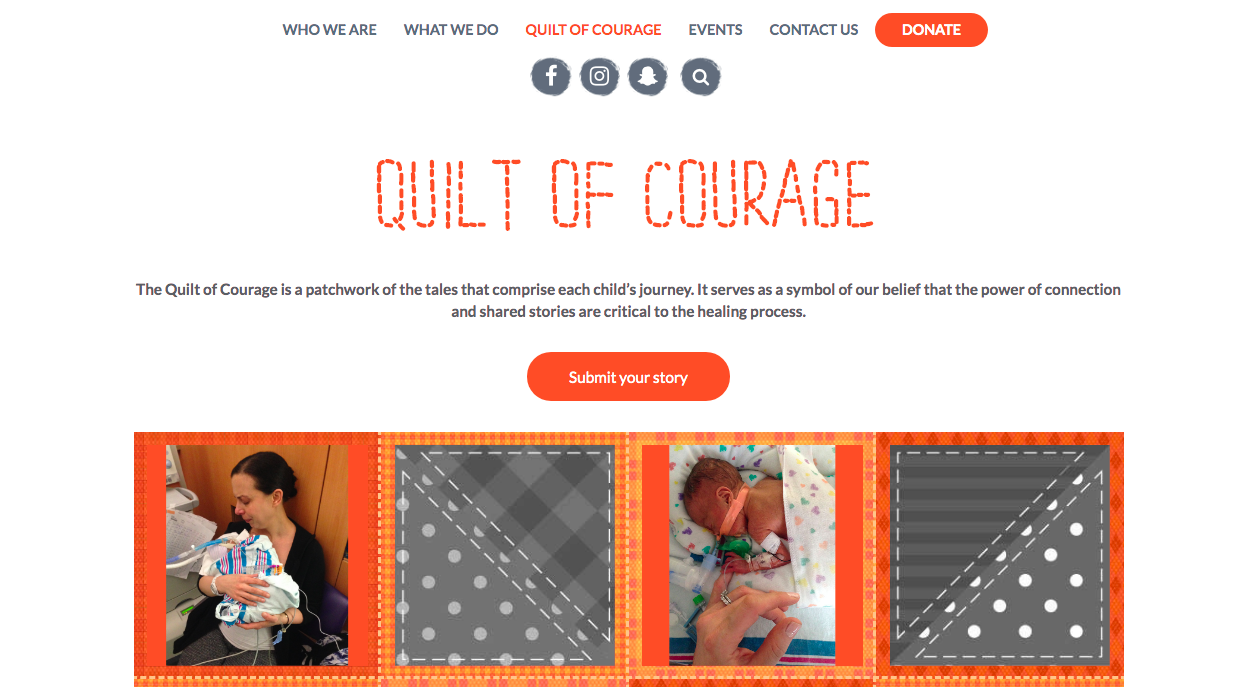 Tip #4: Complement nonprofit storytelling with data about your impact
Nonprofit stories appeal to our emotions and our desire to connect with other humans. Numbers, however, provide the evidence that substantiates the efficacy and impact of your work. Any successful nonprofit must have both moving stories and sound numbers, and must communicate them well. The Bridgespan Group interviewed Andy Goodman, a nationally recognized author and consultant who is regularly a featured speaker at nonprofit storytelling conferences, on why nonprofits need to be storytellers. He calls the combination of storytelling and data the "one-two punch of persuasion," essential for compelling nonprofit communication strategies.
One example of a nonprofit that understands the importance of sharing stories alongside key numbers is She's the First, a global nonprofit that educates and empowers girls and their communities. The organization's website shares key statistics on their impact, followed immediately by personal stories of their female scholars.
Tip #5: Use stories to reach the people you serve
When we think about the objective of masterful storytelling, we tend to think first about attracting donors. However, a nonprofit's intended audience is also the community they serve, and good storytelling can contribute to an organization's work to change, and even save, lives.
One example is The National Suicide Prevention Lifeline, which shares stories of recovery on its website to help them reach individuals in need of life-saving support, resources, and hope.
Another excellent example is It Gets Better, a nonprofit that works to uplift, empower, and connect LGBTQ+ youth around the world. On their website and YouTube channel, the organization publishes stories to support, educate, empower, and connect viewers, such as an interview with founder Dan Savage and his partner, Terry, on some of the struggles they have faced and overcome.
Tip #6: Images Pull the Greatest Weight in Charity Advertising
"A picture is worth a thousand words" may be cliché, but it's true. Good photography gets right to the heart of the story and speaks volumes to viewers. As much as you're able, invest in high-quality photos and professionals to capture the most human and most telling moments of your work.
Share your stories of success (and of challenge—it makes you human!) on social media platforms like Instagram and Facebook, which can help cultivate a network of interested supporters to follow your work.
We love the way Charity: water expertly uses images across platforms to tell the stories of their work.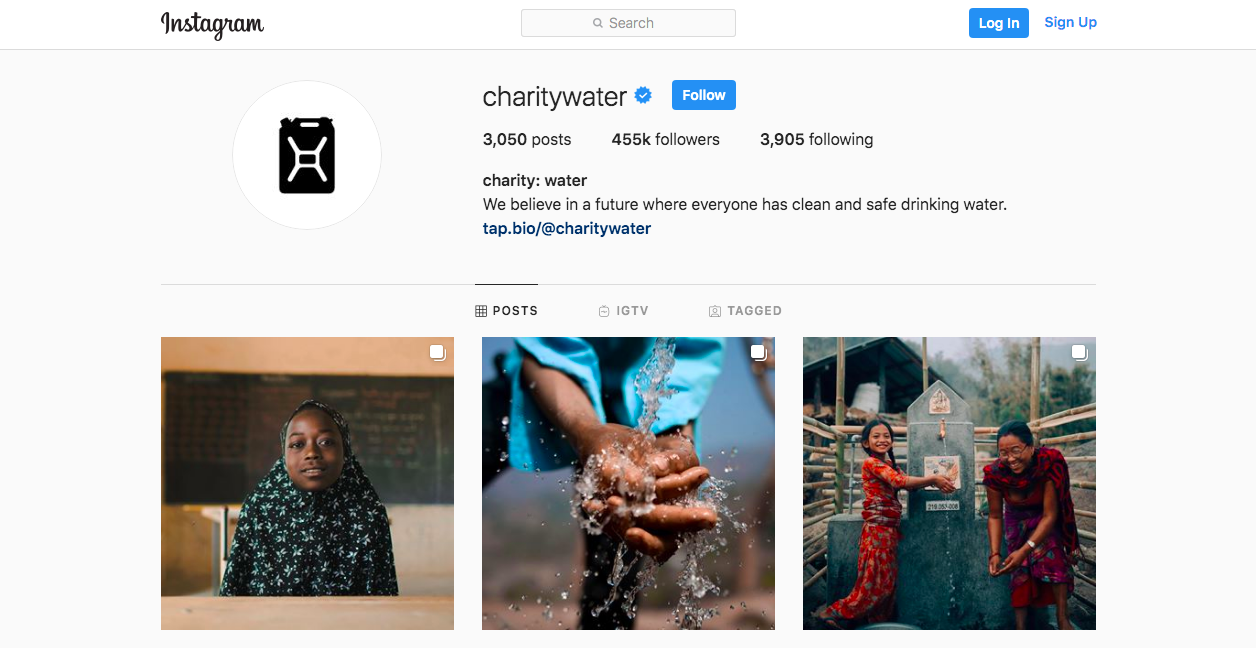 We also love this photo from Habitat Humanity on Instagram. What a beautiful story it tells.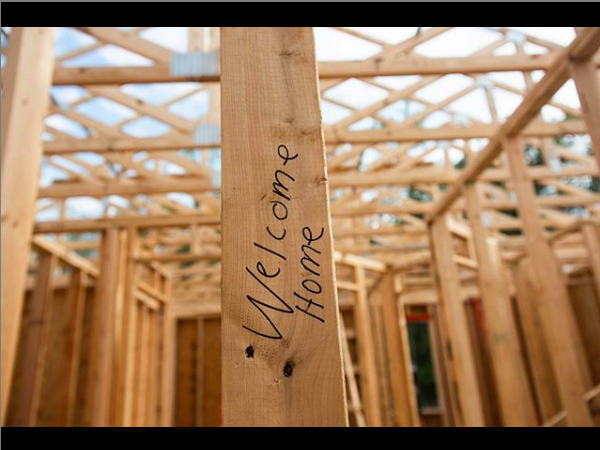 For free resources that can help your nonprofit develop the right visuals for communicating strategy and new information effectively, check out these nonprofit communications templates.