From managing administrative tasks and delivering services to spreading the word about the organization, volunteers have undoubtedly become the lifeblood of any nonprofit. In fact, their motivations for doing unpaid work are usually the same reasons many of them also donate to the organization they volunteer for. They value the work that you do and are your organization's most passionate supporters.
So how do successful nonprofits keep their volunteers close? The answer is simple: they let them know that their work matters. A lot. Even if the task they did for you was as simple as arranging the chairs for a fundraiser, send a thank you email and invite them to your next event. Who knows what they can contribute further down the road?
So, to fully establish your relationship with your volunteers, we've put together a couple of tips on how email marketing will help you with that. Get to know your volunteers even better, and these small pieces of advice will bring you a strong volunteering community for years to come.
1. Thank them.
What better way to engage with your volunteers than showing them that you are grateful? Every time they do something for you, send them a personalized email telling them that you recognize and appreciate what they accomplished and that you would like to work with them again.
Don't forget to include photos from the event or task, and make sure that each of your volunteers is visible in at least one of the photos. That way, they will know that you are indeed sincere in appreciating their contributions, no matter how small.
Personalize your thank yous further by sending a yearly email of your volunteer's personal highlights with your organization, like the tasks that they accomplished and how much money they helped raise. If you can, include a short message from a beneficiary or a colleague who remembers them.
2. Be open to their suggestions.
After an exhausting day trying to build your donor base and getting an underwhelming level of response, the last thing you want to hear is a volunteer trying to tell you what to do. Think again. Volunteers see your operations from a different perspective and may be noticing some important details that escape your attention.
Your thank you email can include a short section where your volunteers can freely share their thoughts on a specific event or task, or you may send them a separate message with an in-line evaluation form of the most recent event they attended.
Take a look at feedback emails from other brands to give you some inspiration. Make sure you follow through and respond to their comments, and actually execute valuable recommendations in your day-to-day operations or future initiatives.
3. Tell them you're in this together.
Invite volunteers to become a part of your journey. Let them know that you are improving your organization and that you are constantly working towards your goals. Are you in the process of getting an ISO certification? Did an authority figure invite you to apply for a public grant? Did you just reach a milestone? Your volunteers would love to celebrate with you.
The email below was sent mainly to donors, but check-out how it also recognizes those who volunteered to start fundraising campaigns as well as those who shared the cause to their friends, who eventually became donors too.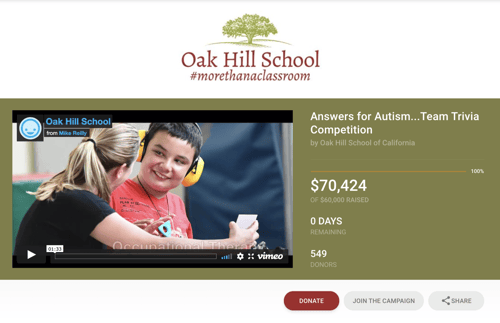 4. Show that your volunteers love working with you.
It is definitely important to send your volunteers some impact updates and how your organization is achieving its goals, but volunteer engagement can be more than that. Your newer recruits would also want to know that they can trust you and that you do have a great relationship with your volunteers.
Testimonials are a good way to demonstrate this. Mencap highlights examples of meaning experiences in their emails that provide an update on their growing volunteer base and request even more helping hands, and sharing an example of the meaningful experiences that their volunteers have with them.
5. Make it educational.
Your volunteers are with you for a reason: they believe in your cause. They are also likely to read up on what you do and educate themselves on the latest events in the world of advocacy. Keep them updated—be the first to tell them the latest news about nonprofits and your organization's response to the trends.
Ask them if they want to subscribe and receive free and downloadable material about your work, and send these materials out when your subscribers want them. A well-informed volunteer is a great asset to any organization.
Wrap up
A good volunteer engagement strategy keeps the conversation going and helps prevent volunteer burn-out. In fact, many email marketers think that you should value your email engagement with your volunteers with the same dedication that you value your email engagement with your donors. After all, the line gets blurred pretty often.
When you reach out to your volunteers with the right information at the right time, expect that they will respond positively and even commit more of their precious time.
Remember that you do not have a homogeneous volunteering community—each of your volunteers has a different skill set, varying preferences, and a unique personality. Get to know your volunteers, segment your email lists, and fire away.