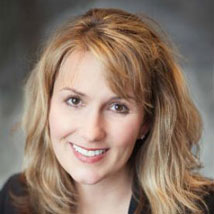 September 30, 2016, by Karrie Wozniak
There are practically an endless number of fundraising events that your organization could host, but none can compare to the silent auction.
Silent auctions are some of the most profitable fundraising events out there. There's the promise of an immediate reward for the winning bidders, which is an excellent incentive to donate.

Plus, silent auctions also happen to be engaging! Bidding is a very interactive activity, and the relaxed nature of silent auctions is also conducive to plenty of mingling.
The only downside is that, since silent auctions require so many logistics, they can be relatively difficult to plan over other fundraising events.

Don't worry too much, though. With the right tools and strategies, you can streamline your event planning and improve your execution to really make your event a success!
In this article, we'll let you in on a few secrets as to how you can do just that. Here's what we'll share:
Choose the most competitive items.
Enlist the help of corporate sponsors.
Set up an event site.
Ditch the bid sheets.
Actively engage your guests.
By the time we're finished, you'll have a few handy tips to help you plan a lucrative and memorable silent auction!
1. Choose the most competitive items.
It's no secret that most of the funds you raise from your silent auction will come from the winning bids on your items.
In order to raise the most from the silent auction itself, your organization will want to pick the most competitive items.

Competitive items drive the most bids. It's common sense, basic supply and demand. If something valuable is in limited supply, its value will naturally go up.
The items that will most appeal to your donor base will mostly depend on their interests, preferences, and demographics.
To get some insights, you can:
Turn to your donor database. Chances are, your organization has a wealth of donor data on hand that can help you target the interests of your base. Using the data you find there, you can make assumptions about which items will most appeal to your auction attendees.
Analyze previous years. Nonprofits often make their silent auctions a yearly tradition. If your organization has hosted this type of event before, turn to your auction software. You can run many reports that will help you determine which items were the hottest sellers and which didn't perform so well.
Using this data should help your organization narrow in on the items that align with your guests' interests.
However, when choosing which items to procure you'll also want to consider:
The general income level of your attendees. Chances are, guests at your major donor gala will be willing to shell out more for your auction items than families at your back-to-school auction would be. Consider the socioeconomic statuses of your guests when selecting your items to ensure that you're not featuring items that fall outside of their price range.
The uniqueness of your items. The items that see the most bid activity are those products and experiences that guests won't be able to find anywhere else. If they only have one chance to snag it, they'll have to keep bidding!
When you feature the most appealing items at your auction, the competition will be fierce! You should see bids galore.
Bottom line: Bidding will constitute a vast majority of your silent auction fundraising. Set yourself up for success by choosing items that will spark the most bid activity.
Bonus: Need some item ideas? BidPal has 115 of them!
2. Enlist the help of corporate sponsors.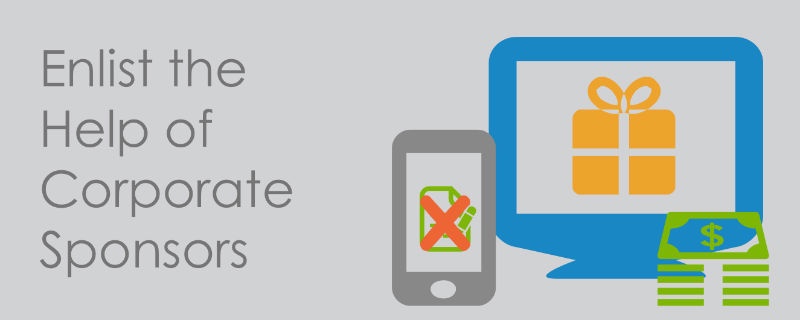 Corporate sponsors can do wonders for any event fundraising, but they're particularly useful for silent auction planning.
Since you have so many logistics to get in order and so many items to procure, it can definitely be helpful to have an ally on your side.
Corporate sponsors can make your event more profitable by:
Helping you advertise.
Donating auction items or other supplies.
Adding an air of authority to your event.
Underwriting some or all of your expenses.
The visibility and clout corporate sponsors bring to your auction, as well as their financial assistance, can help your organization see a better turnout and a greater ROI from your event.

In return, your organization will provide your business sponsors with additional advertising and the positive image that comes with supporting a good cause.
So, what's the best way to find these sponsors?
It's all about who you know. See if any of your staff members have personal connections at big companies and if they'd be willing to ask for a sponsorship.

You can also turn to your donors for help and see if their employers will sponsor your event. One easy way to spot valuable professional connections among your donor base is to integrate a matching gift tool with your nonprofit CRM (check out Double the Donation's!).
With the right sponsors at your side, you can really bring your auction to the next level!
Bottom line: Corporate sponsors can help you both advertise and fund your event, bringing your silent auction more visibility and a higher return.
3. Set up an online event site.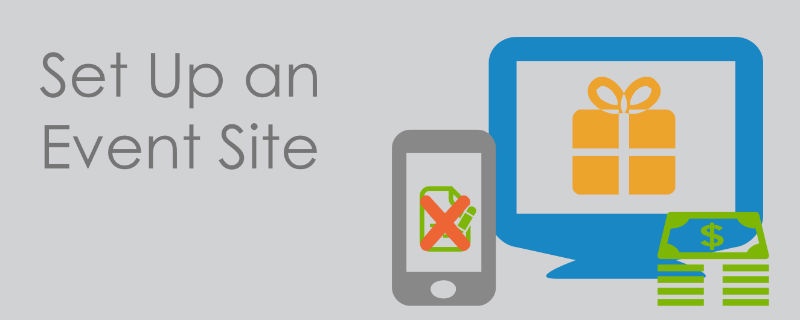 Online event sites can help you make your silent auction more successful in a couple of ways.
You can raise more from your event both by using your site to advertise your auction items and by hosting an online auction alongside your in-person event.

Let's delve deeper into each of these strategies to see how they can help you improve your silent auction.
Advertise your auction items.
To see the best fundraising results with your auction, it's important not only to advertise the silent auction itself, but also to advertise your auction items.
Being able to browse your items before the event night is a huge motivator for guests to attend. When they see how amazing your items are, they won't want to miss out!

While once organizations had to physically compile an auction catalog to advertise their items, the introduction of auction software has made the whole advertising process much more:
Efficient,
Cost-effective,
And environmentally-friendly.
By using software, your organization can set up an event site online to use as a digital auction catalog.

To set one up, all you have to do is:
Enlist the help of excellent auction or event planning software.
Track your item and event data in the platform.
Generate the site.
It's really that simple. Once you're done, don't forget to share the link with attendees in all of your communications about the event.
Make sure not only to include it in digital outreach—like in your marketing emails and on your Facebook event page—but also in offline outreach, too.
Run an online auction.
If you've already set up your event site to use as an auction catalog, running an online auction should be easy as pie.
Your event site can also be transformed into a robust online auction venue. All you need to do is open up the bidding!

You can either:
Open up online bidding before the event. That way, attendees will have more time to bid and donors who can't make it can participate, too.
Hold the online auction after your event. If you have leftover items or have too many items to feature at your silent auction, you can host an online auction after your event to sell any additional items.
Hosting an online auction can help you make even more from your silent auction. It's basically like hosting two events for the price of one!
Bottom line: Event sites have two major uses—auction catalog and online auction venue—that can help you increase the funds you raise from bidding.
4. Ditch the bid sheets.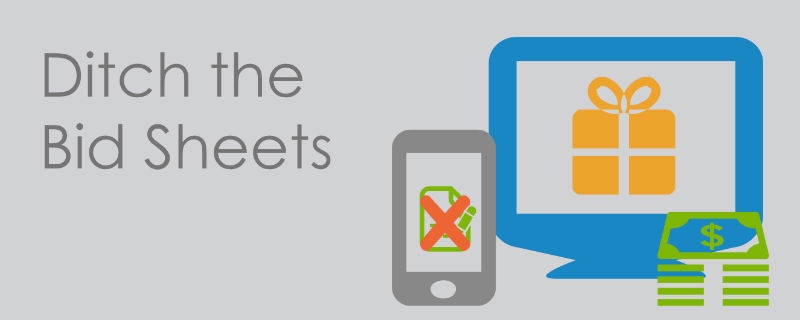 Using bid sheets at your silent auction can limit the success of your fundraising.
Bid sheets make it more difficult to execute your event and make it inconvenient for your guests to bid.

Now you're probably wondering, but if we don't use bid sheets, how will our guests be able to bid?
You can enable guests to bid right from their phones by using mobile bidding software.
How does mobile bidding work?
To get started with mobile bidding, first your organization will need to find a provider who offers mobile bidding software.
Let's go step by step through how to use this tool:
Set up an event site. The event site you generated for your auction catalog will also come in handy with mobile bidding. All of the data used to populate the site will be transferred over to the mobile interface on the day of your silent auction.
Get guests set up with mobile bidding. At the registration table, your volunteers will get guests set up with mobile bidding by pre-registering their credit cards and showing them how to use the interface.
Open bidding. Once it's time for the silent auction to begin, guests can start bidding and browsing items right from their phones. With mobile bidding, they'll receive text notifications when they're outbid on the items they're watching, and they can get the software to bid for them by setting a maximum bid amount. You can even allow guests who can't attend the event to bid remotely via their phones.
Close bidding. The software will shut bidding down at the set time, so there's no opportunity for sneaky bidders to bend the rules! Since they pre-registered their payment information, winners will automatically be charged. A receipt is instantly emailed to their inbox.
Distribute items. All that's left for your organization to do is distribute the items to their respective winners. Since all item and attendee data is tracked in the platform, verifying payments and matching winners with their items should be straightforward.
As you can see, while mobile bidding might be new and advanced technology, it's fairly easy to use.
What are the benefits of using mobile bidding?
Using mobile bidding at your silent auction will both help your organization raise more and more easily execute your event.
That's because:
Bidding is more convenient. With mobile bidding, guests no longer have to handwrite their name, contact info, and bid numbers every time they wish to place a bid. Instead, they simply access their phones. Because bidding is so much more convenient, silent auctions that use mobile bidding see about 3x as many bids.
Guests have more time to bid. When you use mobile bidding, your organization won't have to worry about staggering item close for each category, collecting bid sheets, or determining winners. That means you can keep bidding open for longer to maximize the funds you raise.
Display breakdown is quicker. Guests don't even have to wander through your display to browse items; instead, they can do so right from their phones! Your organization can start breaking down the display and setting up check-out before bidding has even closed, which is ideal if the auction is in a separate room than the program or meal. Trust us: after a long day of setting up and hosting, you and your volunteers will appreciate it.
Check-out is much easier. With paper silent auctions, check-out is a huge hassle. Your organization would have to stagger item closing, collect bid sheets, determine winners, match bidder numbers with names, notify winners, take their payments, manually generate receipts, and distribute items. Mobile bidding takes care of many of these steps for you, so all you have to worry about is getting the correct items to winners.
As you can see, mobile bidding can make a world of difference for your silent auction. If you haven't tried it before, consider using it during your next event.
Bottom line: Mobile bidding can increase the funds you raise from your silent auction and streamline your event execution to take some of the stress off of your team.
5. Actively engage your guests.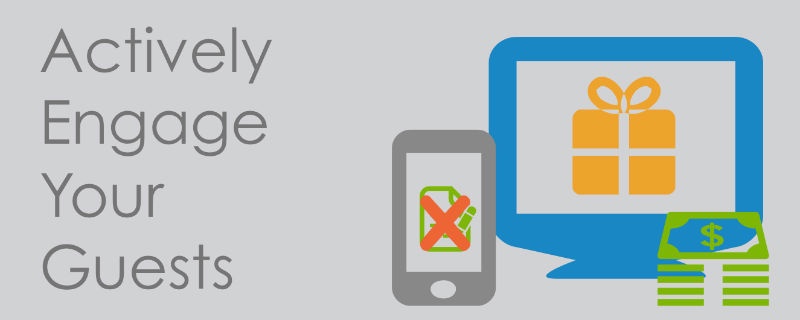 Silent auctions are less structured than live auctions, which can potentially make them less engaging to your guests.
During your silent auction, you won't have the help of an auctioneer to hold your bidders' attention and encourage bidding. Instead, guests are left to their own devices to bid and mingle as they please (which definitely has its advantages, too!).
Unfortunately, that means that your guests can become distracted from the bidding while they get caught up in eating, socializing, and enjoying other activities.

To ensure that bidding is always the center of attention, you should be actively engaging your guests throughout the auction. It might be a "silent" auction, but it shouldn't actually be silent!
There are a few easy ways that you can make your event more engaging to your guests, such as:
Enlisting the help of your emcee. While your emcee won't be as integral to running your silent auction as an auctioneer would be to running a live one, they'll still be hosting the program. Have them make frequent announcements throughout the night to keep guests focused on the auction.
Sending notifications through mobile bidding. Your organization can also send text messages through your mobile bidding software. Let guests know when they've been outbid on the items they're watching, and send reminders to let them know how much time is left to bid.
Using an auction scoreboard. An auction scoreboard gives real-time updates about the status of your items and the event. Feature the most popular sellers to tempt guests with the competition, or highlight items that have yet to receive bids to spur initial activity.
These strategies are certainly not the only way that you can engage your guests. Get creative to think of some other ways you can increase participation.
Bottom line: If you don't actively engage your guests throughout the silent auction, the bidding can fade into the background.
---
When you use these tips, you'll be well-equipped to make your silent auction a success!
However, there are still many other strategies you can implement to help you improve your silent auction even more.
For some more silent auction tips, make sure to check out BidPal's website!