So far this morning, I've received four emails from nonprofits I've supported in the past. Did I mention it's only 9 am?
Nowadays, we're bombarded with information about products, services, and causes we support. And it comes at us in all directions: email, social media feeds, direct mail, and phone calls. It's a noisy world, and if your nonprofit is involved in any sort of donor-focused marketing, then you're part of it.
Standing out is hard when there are dozens (hundreds? thousands?) of others vying for your nonprofit donor's attention. But it's also essential, particularly as year-end fundraising ramps up.
Do you have a plan to make your year-end fundraising campaign stand out? Here are five ways that you can make your cause heard above all the noise out there.
1. Create & Implement a Rockstar Marketing Plan
Your marketing plan isn't just a nice guide; it's your lifeline as you trudge through your year-end fundraising efforts. It keeps you from wondering, "when's the last time I send my donors an email?" and ensures your team is on the same page.
Prepare for year-end by putting the finishing touches on your marketing plan before November. Make sure it contains every touch point you plan to make, the medium you'll use, your audience, the message, and the intended outcome.
Remember to balance your asks with inspirational stories from other donors and clients, but always include a call to action at the end. Don't hesitate to ramp up your communications during busy fundraising times, such as #GivingTuesday and the last week of December.
Having a deliberate, outcome-driven marketing plan does wonders in making sure you're noticed at the right time, and in the right way.
2. Kickstart with #GivingTuesday
#GivingTuesday, the International Day of Giving, has grown since it began in 2012. Over the years, the energy and awareness around this giving day, which lands on the Tuesday after Thanksgiving, has increased exponentially. It's a great event to piggyback on if you're eager to get noticed.
Consider using online fundraising to power your #GivingTuesday efforts. In doing so, you'll inspire your current supporters to back your cause and activate them to help spread the word through word-of-mouth and social sharing, ultimately bringing new donors into the fold.
Whether you choose an online crowdfunding campaign, event fundraising, or a volunteer-driven peer-to-peer fundraiser, you'll be engaging your community during a time when many people are looking to give back.
3. Use an Impact Goal
You have a goal to raise $10,000 before the end of the year. Great! But why? What's it for? How will this money impact your community?
Impact goals help supporters emotionally connect to your cause. $10,000 sounds good, but a new afterschool program for disadvantaged children is more relatable.
As you craft your year-end fundraising campaign, set an impact goal along with your monetary one. Then, rally your supporters behind the impact they're helping make. It's an easier sell that sticks with an audience.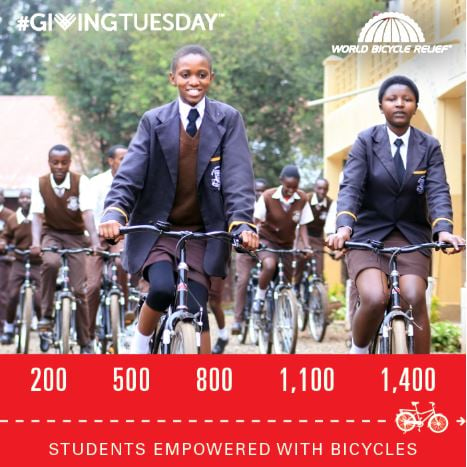 World Bicycle Relief raises "bicycles."
4. Incorporate Your Communities
Your community is your nonprofit's lifeblood. It's your donors, volunteers, board members, and clients who help make your nonprofit's goals a reality.
But money isn't the only way they can give back. Your supporter's influence has major worth.
Give your supporters an opportunity to use that influence to inspire others to get involved with your year-end fundraising. Ask them to share personal stories about your nonprofit's impact, repost your campaign page, or email it to their friends.
If your community is vouching for your, their networks will listen. There's definite power in community-driven fundraising.
5. Be Human
Skip the jargon. Avoid acronyms. Stay away from the high-level nonprofit verbiage that's second nature to you.
It's unrelatable.
Instead, be human. Talk about people, places, and things you're impacting. Use short sentences. Tell stories.
Be witty. Be serious. Be exciting. Be whatever you want to be, as long as it's authentic.
Your year-end fundraising efforts are direct toward people who want to connect with a mission bigger than themselves. Give them that fuel, but do so as a fellow human uniting over a common cause.
Standing out in a crowded room is never easy, but it's essential in today's busy nonprofit landscape. Make sure your year-end fundraising campaign is noticed, and you'll reap the benefits down the road.
CauseVox helps make your year-end and year-round fundraising campaigns stand out. We give you the tools you need to inspire, activate, and rally your community, raising money and new supporters at the same time. Schedule a walkthrough to learn more.
---
Are you interested in learning more about #GivingTuesday and how to make it successful for your nonprofit? Check out our #GivingTuesday webinar with CauseVox, where we tackle all of it!