Your donation page is inarguably among the most important components of your nonprofit organization's website. This is where future donors land when they've followed a link to participate in a virtual fundraiser or after they've navigated through your compelling nonprofit website. At this point, your potential donor might give comfortably, generously, or not at all.
With stakes high, it's well worth taking some time to study examples of best-practice donation pages to optimize for conversions. A conversion simply means a website visitor is compelled to complete a desired action, like donating, subscribing to an email list, or enrolling in a monthly giving program. Your organization should also take a long view of the idea of "conversion" and be converting online donors into lifelong supporters.
Optimizing your donation page for conversions isn't something you can accomplish overnight. It will require you to be fully aware of your supporters' needs and know a little about web design.
Here we break down three handy tips you can use to begin optimizing your page:
Use web design best practices.
Keep your donation form short and intuitive.
Steer your donors towards further engagement opportunities.
Use these tips to give your organization the best chance of converting prospects into donors, and, eventually, lifelong supporters of your cause, all while increasing your online revenue.
1. Use web design best practices.
What do website visitors see when they navigate to your donation page? Your answer to this question will help you to know what your potential donors' first impressions are of your page. The design of your page might seem trivial and ornamental, but in actuality, it's critical to gaining the trust of and maintaining a relationship with your supporters.
We recommend the following web design best practices:
Keep branding consistent. When it comes to branding your donation page, you don't have to start from scratch. The key to good

branding

is consistency, meaning that your organization's colors, logos, fonts, and imagery should be similar across your website and your operations. Consistency helps your nonprofit appear organized and professional and helps your donors easily identify and remember your organization.
Create an emotional connection. Remember that your donation page is the last point in the donation process where you can connect with your donor emotionally. Try using an image that helps illustrate your mission and include a story with a humanizing element. For example, if your organization runs a sports league for athletes with disabilities, share a picture of one of the teams and talk about one of their recent victories. Knowing about the tangible positive impact of each dollar helps people to act more generously.
Lean in to simplicity. It's sometimes tempting to overdo it when designing a donation page, especially if you're eager to showcase your nonprofit's impact. Instead of cluttering the page with too many images and stories, keep things simple. At this point the user already feels compelled to donate to your organization; your goal is to encourage their generosity and help them follow through. You'll want to eliminate almost all outgoing links and leverage a minimalistic design with lots of white space between the different page elements. This will enable you to keep your donor focused on giving while also leveraging your brand.
Optimize for mobile. Not only is it a frustrating experience for mobile and tablet users when a website doesn't show the same formatting and design as it does on a computer, but most users are now making donations from their phone. This means that your best, and primary, design should be for mobile. The right online donation tool will automatically optimize your page for different-sized phone screens.
Design for accessibility. Another best practice for donation page design is to

ensure your page is accessible

for all users. Using alt-text on images, including closed captioning and transcriptions for multimedia elements, and selecting text and background colors with a high contrast ratio allow your site to be used by people with disabilities. They also makes your site better for all users under various scenarios: opening emails on a phone with limited data, watching a video while in a waiting room, reading a screen in bright sunlight. As an added bonus, increasing accessibility also improves your site's SEO (search engine optimization).
Clean and branded design, optimizing for accessibility and mobile, and reinforcing emotional connections are all strategies that will help your organization have the best chance of keeping every potential donor on your donation page and ensure that no one falls through the cracks.
2. Keep your donation form short and intuitive.
Your donation form is what your potential donors will actually fill out to give their monetary gift. Unfortunately, many organizations don't prioritize donation form design, and are quick to use a generic form that isn't optimized for the user experience. This just increases the likelihood that your potential donor will get sidetracked and never complete their donation.
Luckily, your donation form is in your control, and there are a few best practices you can follow to optimize it for conversion. These include:
Create your form with a best-practice

online donation platform

. When your chosen tool is focused on the donor experience, you'll be able to offer a form that is customized, tracks data, and communicates with your donors in a variety of ways, like text message.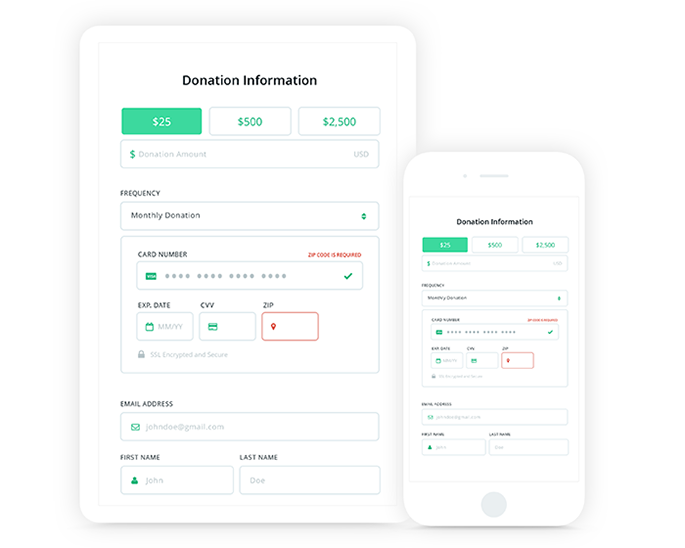 Keep the donation form short. We've all been in a situation where we're filling out a form or survey that seems endless. If your donation page takes too long to fill out, you increase the chances that donors will abandon it before completing their gift. Only ask for the essentials that you need to process the payment, send a thank-you, and track data. Most of the time this means you'll only need the donor's name and address, contact information, and payment information. Make sure there is an option to only enter this information once and have it satisfy all requirements, for example, by using a checkbox to indicate your name and the credit card holder's name are the same. This will help speed up the process for your donor and decrease the percentage who abandon the effort.
Mark fields/questions that are required. If you do want to ask for some extra information on your donation form, like how your donor learned about your organization or their preferred method of contact, do it efficiently. Make sure you mark questions and fields that are required for your donor to fill out so they know what is essential. This will give your donor the option to quickly complete the process or take their time and give you more information.
Offer multiple payment options. This is another way you can include every potential donor. You don't want a potential donor to navigate to your donation form only to find that their payment method isn't accepted. Cover a wide variety of options by offering credit/debit card, ACH, and e-wallet options like PayPal, Apple Pay and Google Pay.
Once you've set up your donation form following these best practices, evaluate your form by stepping into your donors' shoes. Ask a few friends or family members who aren't familiar with your organization to take an outside look at the donation process and consider whether or not your donation form makes them want to give or whether you still need to work to make it a more useful tool for your donors.
3. Steer your donors towards further engagement opportunities.
As mentioned above, your organization should take a broader view of the idea of conversion. After all, you don't just want one-time donors. You need lifelong supporters. These loyal supporters will back your cause in many ways, whether that means volunteering, consistent giving, or spreading awareness about your cause.
Encourage donors to get involved in further engagement opportunities by using your donation page to:
Match their gift. According to Double the Donation,

$4-$7 billion in matching gift funds goes unclaimed

every year. Why? Most donors aren't aware whether their employers offer donation matching. You can solve that problem by including a searchable matching gift database that allows donors to identify whether their employer participates. Plus, 84% of donors say that they're more inclined to give if donation matching is offered, so advertising this opportunity on your donation page is likely to help you bring in more donors and more revenue.
Opt in to a monthly giving program. Some donations are responses to a recent event or a friend's call-for-action, but most come from real believers in your mission. Nurture a more consistent connection with supporters, and make it easier for your nonprofit to predict funding, by encouraging them to give monthly. This idea builds on the tithing tradition of most religions and appeals to the Netflix and Spotify generation. A

donation tool

makes this type of giving experience efficient by automatically billing donors each month instead of requiring them to fill out a donation form every single time.
Sign up for a newsletter. Donors who are willing to give your organization a monetary gift are likely interested in hearing more about your programming and impact. Add an option on your donation form to opt in, or a "subscribe" button on the thank you message after donating that will put your donors on your email list.
Learn about planned giving. Planned giving allows donors to create a legacy and continue to give to causes they care about. There's a common misconception that planned giving is only for the extremely wealthy, but that isn't the case. Like matching gifts, people usually just need more information to realize that planned giving is an option for them and their families. Offer resources on your donation page that teach people about planned giving, so that when they want to set up a bequest in their will, they choose to give to your nonprofit.
Lastly, use the information submitted on your donation page to write donor thank-you letters. Make sure to personalize thank-yous and to send them out quickly after your donor has given a gift. Including information about the impact of their donation goes a long way, and will make your donors want to volunteer, give again, and attend your events.
As you consider what engagement opportunities to offer on your donation page, start by thinking about your donors' needs and interests. Then consider what your organization is able to offer now and make plans for how you can grow your engagement offerings in the future.