Hear the stories of what these three nonprofits were able to achieve with the Google Ad Grant, which offers in-kind grants of free advertising for nonprofits. For 501(c)(3) organizations looking for how to boost donations, increase traffic, or recruit new volunteers, Google Ad Grants is a powerful resource.
Vaccinate Your Family and Dreamscape were both using the Google Ad Grant before partnering with Elevation, but sought help achieving specific nonprofit marketing goals and navigating some of the more difficult mistakes to avoid. Also highlighted here is the story of a faith-based organization, ECHO⁠—the Google Ad Grant is one of the few available technology grants for churches.
For Vaccinate Your Family, Web Grant Boosts Traffic to a New Website
When Vaccinate Your Family (VYF) began working with Elevation in November 2018, the organization had recently relaunched its website and was looking for assistance in increasing site traffic. They also sought help managing their Google AdWords Express account in a way that would seamlessly coordinate with the new site.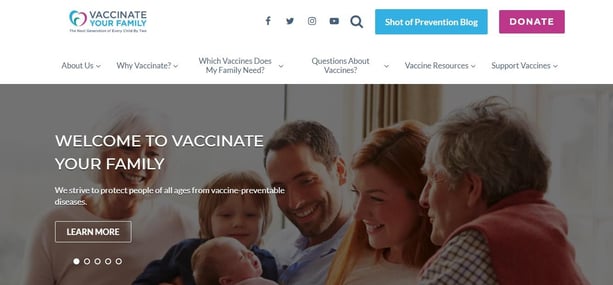 VYF is a national nonprofit with the goal of protecting people from vaccine-preventable diseases. They also advocate for policies that raise awareness of the need for immunizations and that increase access to vaccines. VYF wanted to use as much of the $10,000 Google Ad Grant as possible, and had not been able to fully leverage it in the past due to lack of manpower and the time required to maintain it.
Elevation helped VYF to better target their audience, build out campaigns, create ad groups, and write engaging Google Ad copy that would draw the public and generate a response.
MEASURABLE RESULTS (November 2018 - March 2019)
Traffic since the launch of the new Google Ads and website increased by 3,877%, translating to 146,989 unique users
Increased monthly grant allocation from $3,922 to $9,110, nearly the grant's maximum
For Dreamscape, Maximizing Free Advertising for Nonprofits
The Dreamscape Foundation is committed to making the world more accessible to individuals with disabilities. They had been specially recognized by Google for a $40,000 per month allocation, and came to Elevation for help to take full advantage of the grant. Dreamscape's partnership with Elevation helped them to ensure compliance with their account, navigate some of the new changes Google had announced to the grant in 2018, and most importantly, generate interest in their work by increasing traffic to their site. Over the course of a year, Dreamscape was able to grow their grant allocation to their goal of $40,000 a month.
As a result of the focused use of Google Ad Grants, Dreamscape was successful in driving more visitors to their site and attracting volunteers for their new location. In addition to achieving these key goals, they incorporated a blog at Elevation's recommendation in order to continue growing their traffic over the long term.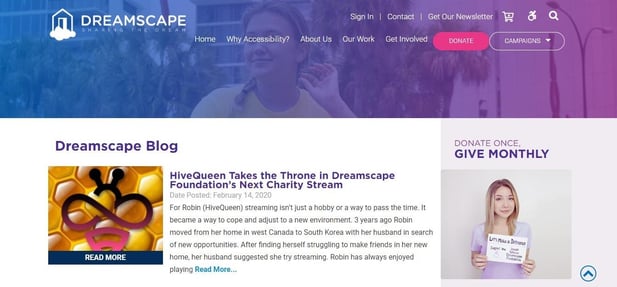 Measurable results (July 2018 - March 2019)
Increased new users by an impressive 1,369%
Average click-through-rate (CTR) increased by 58.8%, to 6.75%
Increased Google Ad Grant allocation by more than $20,000 over 9 months
For ECHO, Maintaining Google Grant Eligibility For Their Unique Audience
ECHO (Empowering Church Health Outreach) offers low- and no-cost consulting to help medical professionals open faith-based charitable health clinics for underserved and uninsured communities. Based out of Memphis, they work with doctors and physicians nationwide and needed to communicate with a very specific audience across a wide target location. Elevation helped ECHO run effective ad campaigns that made the target audience aware of ECHO's services.
Also, because one of the performance requirements of Google Ad Grants is maintaining a certain CTR each month, ECHO needed to increase their primary CTR to ensure compliance. Perhaps most telling of their success in targeting and reaching their audience using the grant, Echo reported an increase in 7,655 new users over 9 months. In addition to growing traffic, they also increased their CTR to keep them in good standing with the grant.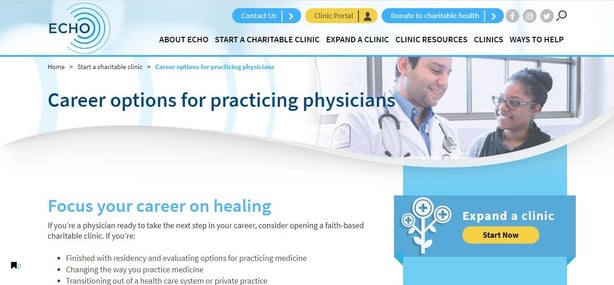 Measurable results (July 2018 - March 2019)
Click-through-rate (CTR) increased by 7.4%
Over 7,000 new users, an increase of 925%
More Things to Know About Google Ad Grants
Inspired by these case studies, but looking to better understand what the Google Ad Grant is or how to apply? Check out the quick guide to the Google Ad Grant or the Google Ad Grants tutorial to learn more.
If you're interested in how our team of experts can help your nonprofit with the grant, learn about our Google Ad Grant specialist services, which include assistance with application, ad writing, maintaining eligibility and account support.