Hey #NPTech community! This 3rd edition of our Social Media Guide for Your Nonprofit is all about Twitter.
I'm not going to lie. Growing up, I was never a big fan of Twitter. I found it monotonous and full of information that was of little interest to me. The most interaction I had with Twitter was binge watching Jimmy Kimmel videos of celebrities reading mean tweets, like they do here.
Little did I know that Twitter was so much more than a feed of frivolous words, but rather a goldmine of incredibly useful information and tools! This social media platform can drastically help your organization increase your reach by spreading information and news about your cause to an even wider audience. And just what kind of reach does Twitter possess? These statistics will give you an idea:
Statistics
The idea is that by maximizing your potential on Twitter, your organization will gain:
Wider reach → More informed audience → More supporters → More donations → More volunteers
If your nonprofit doesn't have Twitter already, you should seriously create an account today. If you are already an active Twitter user, check out the following information and tips to ensure your Twitter account can be best engaging your audience!
Oh, and don't miss out on our list of 70 #NPTech Twitter accounts that you should be following for great advice on how you can achieve online marketing success.
Strategy
Goals
As with any social media network, it is important that you set goals for your Twitter account to determine what you would like to accomplish with it. How do you gain more followers? What types of messages do you want to communicate with your audience? How will you maximize your 140 characters? We like Hootsuite's approach on setting goals for your Twitter account, or for any social media presence you maintain for that matter. They call it their SMART system goal setting model.
Specific: "I will host monthly giveaways on Twitter to increase brand awareness."
Measurable: "I aim to increase my reach by 50 followers a week and answer all queries over Twitter within 36 hours."
Attainable: "I want to grow my Twitter followers by 20 a week for the next quarter."
Relevant: "I will use Twitter to position my brand in a relatable way that grows my online community.
Timely: "I will average 7 interactions per day by Q4."
By using a strategy to manage your Twitter account, your goals will give your organization direction when posting, interacting, hashtagging, retweeting, etc.
Social listening
According to Sprout Social, social listening can be defined as "the process of tracking conversations around specific phrases, words or brands, and then leveraging them to discover opportunities or create content for those audiences." If you want to have a wider impact on social media, you have to pay attention to what your audience is talking about and interested in. Being involved in these conversations is only going to better your chance of growing your following, and, as a result, those interested in donating and volunteering for your cause. TweetChat is a great tool to participate in Twitter chats. Create an account, follow a specific hashtag, and they will help you engage in conversations centered around that topic.
Be sure to be monitoring your own organization's name, your competitors, buzzwords around your industry and speciality, campaign names and keywords, etc. Using the Twitter Advanced Search function or sites like Social Mention or Tweet Reach can help you monitor these keywords.
Measure Results
By measuring your Twitter marketing results, you can evaluate your Twitter success, see what kind of content your community engages with, and analyze what areas you could stop spending resources on. Twitter Analytics (see below) is a great free tool on Twitter that shows you how your tweets are performing, your top followers, influencers in your network, and metrics for individual tweets. You can also find analytics on any Twitter Ads campaigns that you are running. Twitter Analytics even allows you to track your followers' activity over time, including their interests, demographics, and much more. Another neat tool that you can use to check Twitter analytics is Algora Pulse, which can specifically check how your account performs against your competitors.
Tips
Times to post
When posting content to Twitter, it is important you have a strategy of not only what content to post but also when to post it. In 2016, Buffer Social conducted a study based on 4.8 tweets across 10,000 Twitter profiles, and came up with some very interesting statistics about what time your Tweets will most likely be the most effective: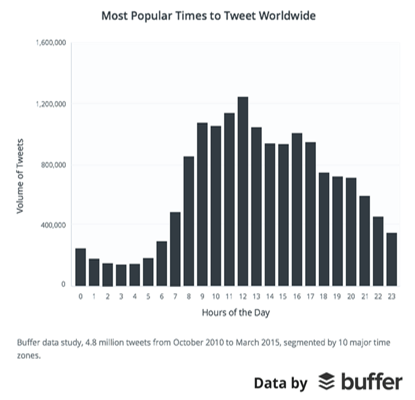 Early morning hours appear to be the time in which tweets receive the most clicks, on average.
Evenings and late at night are the times when your tweets receive the most favorites and retweets, on average.
Noon to 1:00 p.m. local time, on average for each time zone, is the most popular time to tweet.
The highest volume of tweets occurs between 11:00 a.m. and 1:00 p.m., peaking between noon and 1:00 p.m.
The fewest tweets are sent between 3:00 and 4:00 a.m.
Furthermore, The Huffington Post says the following regarding recommended tweeting times: "For maximum retweets, post at 5 p.m., 12 p.m., and 6 p.m. Additionally, 12 p.m. and 6 p.m. also deliver higher click-through rates. The best days to tweet for business-to-business organizations is Monday through Friday, for business-to-consumer it's the weekends and Wednesdays."
To make your life easier, we highly recommend using platforms like Hubspot, Hootsuite, or TweetDeck to schedule your tweets throughout the day.
Following
We recommend going through your Twitter followers regularly and stop following people who haven't Tweeted in over a month, because they add no practical content to your account. Platforms like ManageFlitter or Social Quant can help you sort through your followers and eliminate the ones that are unnecessary for your account. Furthermore, Social Quant can dramatically increase your following, and offers "93% average growth in 14 days."
Tweets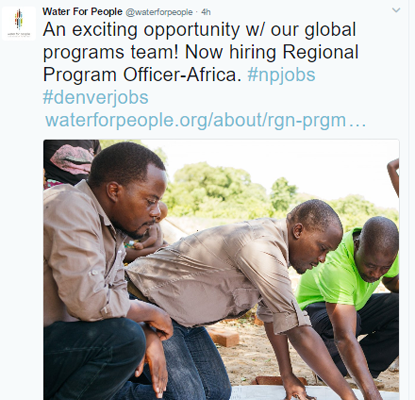 One of the most important aspects of your Twitter account is (obviously) the content that you are posting. This is what draws people to your profile and what eventually leads them to follow you. Is your content consistent, relevant, and useful? If your organization manages a blog, do you tweet out your articles on a regular basis? If you're not posting your blog content to your Twitter profile, you could be losing valuable traffic potential to your website!
According to Classy, posting "curated content from other sources in addition to your own will validate your organization as a trusted source of relevant news. When you add variety to your newsfeed, it builds trust amongst your fellow nonprofit constituents and indicates your understanding of how your organization fits into the bigger picture."
Another helpful content piece you can be tweeting about is information/updates on your events, fundraisers, job and volunteering opportunities, etc. so that your audience stay keep up-to-date on what's happening in your organization. Above is an example of how Water for People tweeted about a job vacancy on their profile.
Hashtags
By using hashtags on your posts, you can ensure that your content is being seen by as many audience members as possible. Hashtags classify your content into categories which are then grouped with other posts that share the same hashtags. This means that searching on Twitter for relevant content is easy for everyone, and could potentially get you more followers or help you find influencers or other relevant Twitter profiles to follow.
We suggest the following best practices when using hashtags: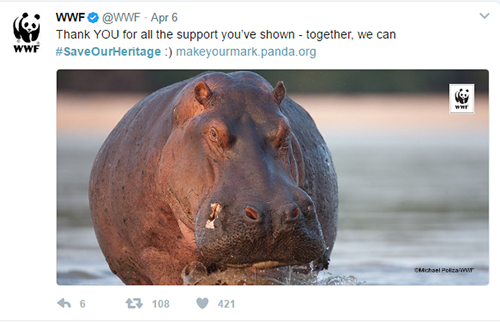 Use hashtags that are specific and relevant to your nonprofit.
Create your own hashtag for your campaigns. (see photo)
Don't over complicate or use hashtags that are too long.
Try to use 1-2 hashtags per post, 3 maximum.
Contests
Twitter contests are a fun way to get your Twitter community engaged in your cause, plus you can potentially earn more followers who decide to participate. You could raffle off tickets to your events, do giveaways of your nonprofit's memorabilia, host photo contests, get followers involved in a survey to help create your next campaign slogan, and so much more. In exchange, ask people to follow you, retweet you, mention you in a photo, etc. Finally, be sure to associate your contest with a unique hashtag so you can track all mentions and shares.
Multimedia
If you're not using multimedia in your posts, you're missing out on an awesome opportunity for further engagement with your audience! Through Twitter's multimedia tool, you can share photos, infographics, GIFS, videos, polls, articles, etc. These tools can make your posts more attractive and increase the chance that someone interacts with your tweet. Here are some of our favorite example of how nonprofits used multimedia:
To sum up
Now that you have the lowdown of how to set goals, measure results, and know when and what to post on your Twitter account, we hope that you are able to use this knowledge to go out and make your Twitter the most effective possible!
In case you missed it: Part 1 and Part 2 of our Social Media Guide for Your Nonprofit!
As always, if you would like to share your own personal experiences using Twitter for your nonprofit, please comment below or feel free to reach out to us at Elevation. You can always give us a shout out on Twitter here...tweet away!