Do you feel like the world you're fundraising in has fundamentally shifted? That the things that used to work aren't delivering like they used to? That something about your supporters and their expectations have changed?
It's not just you.
We're living in a whole new world. A world full of distractions, where information is readily accessible, and power balances are suddenly different. A world where your supporters are living inside personal feeds marketed to like never before and can reach anyone, anytime, from anywhere with mobile technology.
Traditional fundraising wasn't designed for this connected economy. It was centered on organizations, with limited roles for supporters. It was much more transactional, instead of relationship-based. It was created to attract a kind of supporter that is becoming rarer and rarer.
So if you want to meet or exceed your fundraising goals, traditional fundraising isn't going to do it. It's time to adapt by empowering your community.
The key to raising more money, expanding your reach, and finding new donors lies within the supporters you already have. They are connected to extended networks, looking to be a part of something, and understand your cause and organization. If you can activate them, you'll do just fine in this brave new world.
1. Inspire with stories
Inspiration is the first step towards turning a community member into a supporter. The stories you tell are what inspires them to give. Rather than throwing out a bunch of stats, tell a story, like, "How a bicycle can change a girl's life in Zambia," or "How a family changes when a parent learns to read."
Stories engage the imagination and activate empathy. When you hear a good story that inspires you, it's only natural to share it with someone else.
Many nonprofits are dealing with tough stuff. You can tell these stories, but make sure you focus on the positive changes a gift will make. To inspire supporters, show how they can help make things better, rather than guilting them about how bad things are. Aim for making supporters feel hopeful and determined, rather than horrified or sad.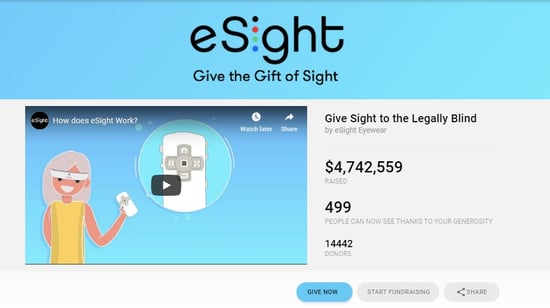 e-Sight focuses on giving sight, a positive story.
2. Activate supporters
Today's supporter wants to be part of something, rather than only giving. This is fantastic news! Not only do your supporters want to donate, but many of them also want to share their influence and time with you. Don't let those valuable contributions slip away by only ever asking for money.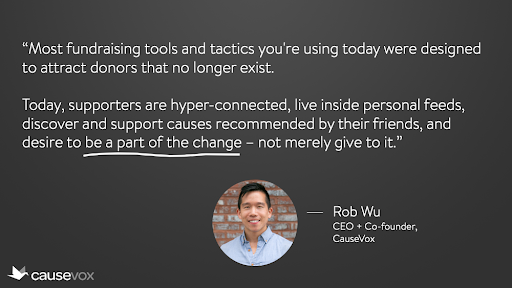 Invite your supporters to fundraise. Peer-to-peer and DIY fundraising are excellent ways to give them something real to do and bring them more deeply into your organization. By raising funds on your behalf, supporters can increase their impact beyond their own donations, and share the cause with their friends and family, creating new supporters that you may never have reached without them.
While the fundraising emails your organization sends may not get opened (sorry!), people are much less likely to ignore communications from people they know. Your supporters can get your message through the noise of the modern world.

3. Rally supporters to be advocates
The digital world has made it easy for people to share information about the causes they care about. With a couple of clicks, they can share a campaign, point people towards an inspiring story, or ask for donations.
As a nonprofit professional, you know how to talk about your cause, but your supporters may not be so sure. A little training can make a big difference in how confident they feel--don't assume they know exactly what to do. Give them the tools they need to succeed like templates, timelines, and graphics so that it's easy for them to take action to be advocates for your cause.
You Can Do It!
It's easy to focus solely on how things have changed and get cranky about adapting, but look at it this way: In this new fundraising world, you have the opportunity to build a community around your cause like never before. This community can be activated to raise more money, expand your reach, and become advocates that take your message everywhere they go. That's exciting!
To start building and activating your community, join us for a webinar on April 30 at 1PM ET.