SEO (search engine optimization) is the creation or improvement of content such that it becomes more visible in search engines, invites more organic search, and increases overall web traffic.
As a nonprofit, you want visibility. The more you appear in search results, the more people know about you, your brand, your mission, and how they can be a part of it. Whether you're looking to attract volunteers, donors, event attendees, or simply raise awareness about your cause, an optimized page will help you climb the ranks in Google. Because of this, using SEO for nonprofits is crucial.
There are numerous factors that contribute to SEO ranking, and we are only beginning to scratch the surface of learning them. Particularly with Google's ever-changing algorithms, SEO continues to mystify both newbies and seasoned veterans alike.
But we do have some insight as to how Google bots crawl the internet and find the most relevant results to provide its searchers.
To get us started, we checked in with SEO expert Brian Dean of Backlinko. He gave some advice about SEO for nonprofits:
"Just like in the physical world, non-profits need to hustle with SEO

to

have success. That means that the days of putting up a simple page and a 'donate' button are long gone. But that's actually GREAT news.


Non-profits that understand their cause can easily create the type of compelling content that Google will want to show its users." - Brian Dean

Check out our basic guide to SEO for Nonprofits to learn more about the key aspects of technical, on-page, and off-page SEO that you need to get your organization on the map.
Technical SEO
Technical SEO refers to the factors beyond site content and sharing that contribute to ranking. Using best practices based on an approximation of Google's algorithms, technical SEO includes factors such as site speed, mobile optimization, site design/architecture, page redirects, and more. Ultimately, good technical SEO is what allows search engine spiders to crawl your site and index it appropriately.
Site speed
Mobile optimization
Site design/architecture
Page redirects
Eliminating duplicate content
Correct broken backlinks
On-Page SEO
On-page SEO is a combination of several factors that mostly involve the optimization of your content. Keeping in mind that unique, fresh, and high-quality content is Google's preference, there are a few easy steps to working toward this goal.
URL
Content optimization
Title tags
Meta-descriptions
Internal links
Outbound links
Image optimization
Domain and page authority
Off-Page SEO
Off-page SEO can also be thought of as all SEO-promotion actions made outside of the page content. While on-page SEO focuses mostly on content optimization, off-page SEO focuses on everything else, including link building, social media, outreach, and more. There are disputes as to how much time should be dedicated to off-page SEO versus on-page (more people emphasize the influence of on-page), but both are individually important.
Backlink building
Social media
Guest blogging
Outreach
Advertising
Other forms of contributing
Step-by-Step SEO for Nonprofits
Step 1: Keyword Research
A great starting point is with keyword research. This involves using a multitude of tools that help you narrow down:
Which topics are currently being buzzed about (and therefore create organic search) -- use tools such as Google Trends, BuzzSumo , etc.
Keywords that will fit organically into your content or that you can easily optimize around
Also important to keep in mind: what are the keyword phrases that people will actually search for (ex: SEO for nonprofits vs. how to rank in Google searches) -- what are the terms and phrases that people are actually typing into the search bar?
You can quickly obtain this information by typing a search phrase into Google and seeing how many results populate.
Finding the sweet spot of high search volume and low keyword difficulty. This means that there are a lot of people searching for your keyword phrase and not a lot of similar results with which to compete. Use tools such as Moz to help you decipher which keywords fall within this ideal range.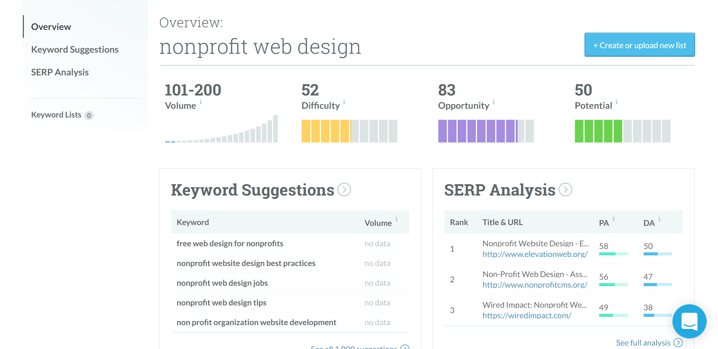 Step 2: Content Optimization
The next important task after defining your keywords is to optimize your content around them. Some important considerations for content optimization:
Include keywords in your title and other subheadings.
Include keywords in your URL and in your meta description.
Make sure you are using appropriate keyword density. In other words, include your keyword phrase multiple times within your content to signal to Google that it is relevant to the search phrase.
See to it that the entirety of the content is relevant to the words for which you are optimizing.

Step 3: Distribution
One of the most important components of your SEO plan is distribution. Having really great and optimized content is worth nothing if you don't have the web traffic to promote it. A few things to think about in terms of distributing content:
Send it out to blogs and websites
Keep social share buttons available throughout your content. Tools such as AddThis give you the option to have social share buttons follow you down the page. Part of a great SEO strategy includes the ability to make your content go viral.
Step 4: Backlink Building
Another key aspect of your SEO strategy is backlink building. This is the off-page element of SEO and at times the most difficult. Your SEO "strength" will be much greater if you have links from reputable sources linking back to your pages. Procuring those links requires reaching out to different companies, people, blogs, etc. in your niche that might want to share your content. If the source of the backlink is reputable, this signals to Google that your content is credible and therefore will be of use in Google searches.
Keep building your learning by downloading our guide to SEO for Nonprofits: