Peer-to-peer fundraising is one of the most powerful ways that your organization can extend its reach and earn more money with less effort.
In fact, we've seen that organizations that use peer-to-peer fundraising tend to raise 2x as much through their digital fundraiser, as opposed to typical online fundraising campaigns.
But launching an effective peer-to-peer fundraiser isn't just about giving your supporters the opportunity to fundraise for you. In order to make the most of your fundraiser and reach your goals, you'll want to implement strategies that help you to recruit and equip your participants to succeed.
After helping thousands of organizations raise more through peer-to-peer fundraising, here's our top secrets to help you raise more through your fundraiser.
What Is Peer-to-Peer Fundraising?
Peer-to-peer fundraising is any fundraising effort that relies on your supporters to fundraise on behalf of a cause.
You're probably familiar with classic peer-to-peer fundraisers like walks or runs. But we've seen all kinds of peer-to-peer fundraisers: we're consistently blown away by the creativity of nonprofits. With the right attitude, nearly anything can become a chance for peer-to-peer fundraising.
Check out some of our favorites peer-to-peer fundraisers:
The UnGala or Virtual Gala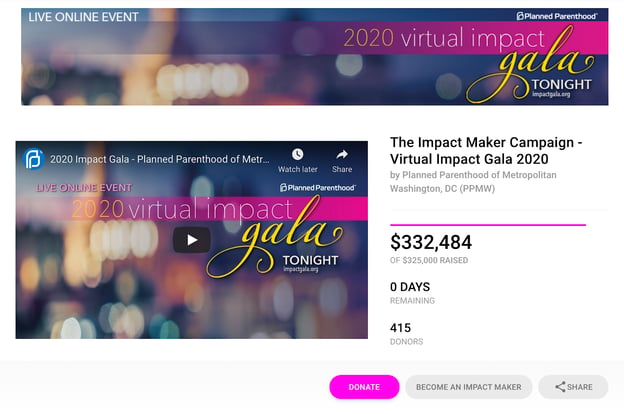 An UnGala or Virtual Gala is a creative way to change up your gala and keep your favorite supporters happy while you can't gather in person. Invite your top supporters to act as virtual table hosts who will do peer-to-peer fundraising for you. Then set up a virtual livestream for the event itself.
Get creative with ideas like a menu that everyone can cook together, encourage participants to dress up, or feature a specific cocktail for the evening.
Virtual Trivia Night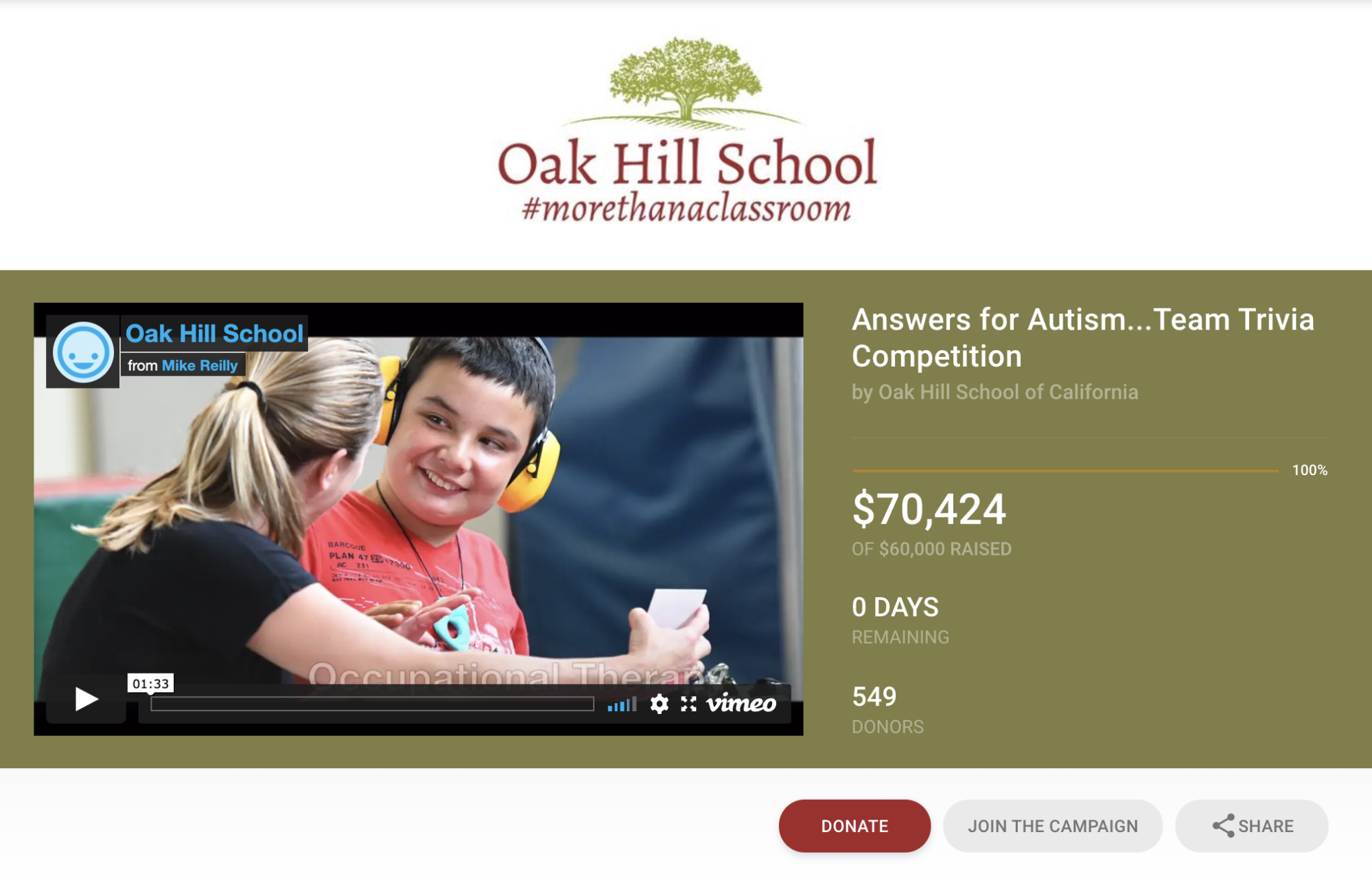 A fun community option for peer-to-peer fundraising is a trivia event. You can sell tickets to participate, then encourage participants to set up fundraising pages ahead of the event. Teams that raise the most get advantages during the trivia game.
Like this idea? Find more top-performing virtual fundraising ideas here.
The Little Black Dress Initiative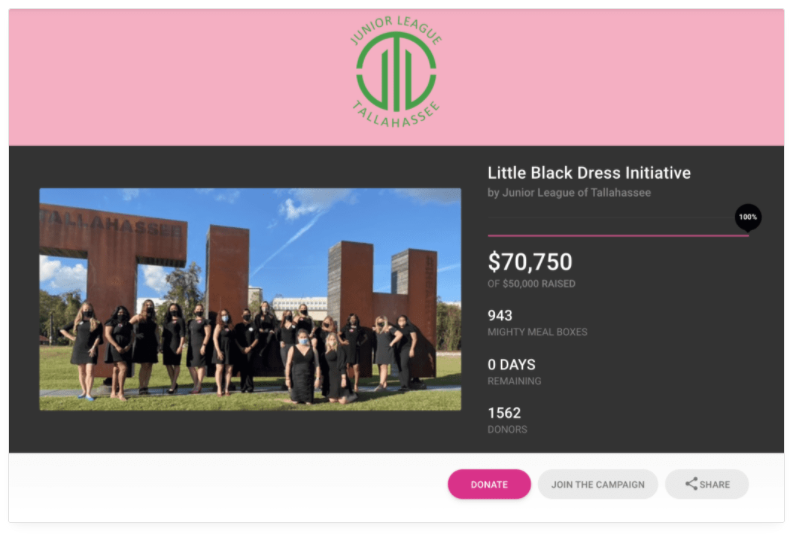 This fundraiser is specific to Junior Leagues around the world, but it's a great inspiration for your own ideas. Each year, participants choose a single black dress and wear it for five days straight. It highlights the impact of poverty on a woman's resources.
Recently, we've started to see an influx of Little Black Dress Initiatives being run as peer-to-peer fundraising events. Each participant wears a black dress for 5 days to raise awareness and funds for local women facing poverty.
We've seen everything from peer-to-peer climbing events to no-shave November campaigns. Don't be afraid to try out new fundraising ideas!
Identifying And Recruiting Peer-to-Peer Fundraisers
The biggest fear we hear from organizations who want to start peer-to-peer fundraising is about how to recruit peer-to-peer fundraisers.
How do you get people to put in the time and effort to fundraise on your behalf?
And how do you find people who will be successful?
The best place to start is with your most loyal supporters. That could mean your board, your volunteers, or your current donors (especially those who give consistently). If you have graduates from a program, or clients who are champions of your cause, you can also tap them as fundraisers.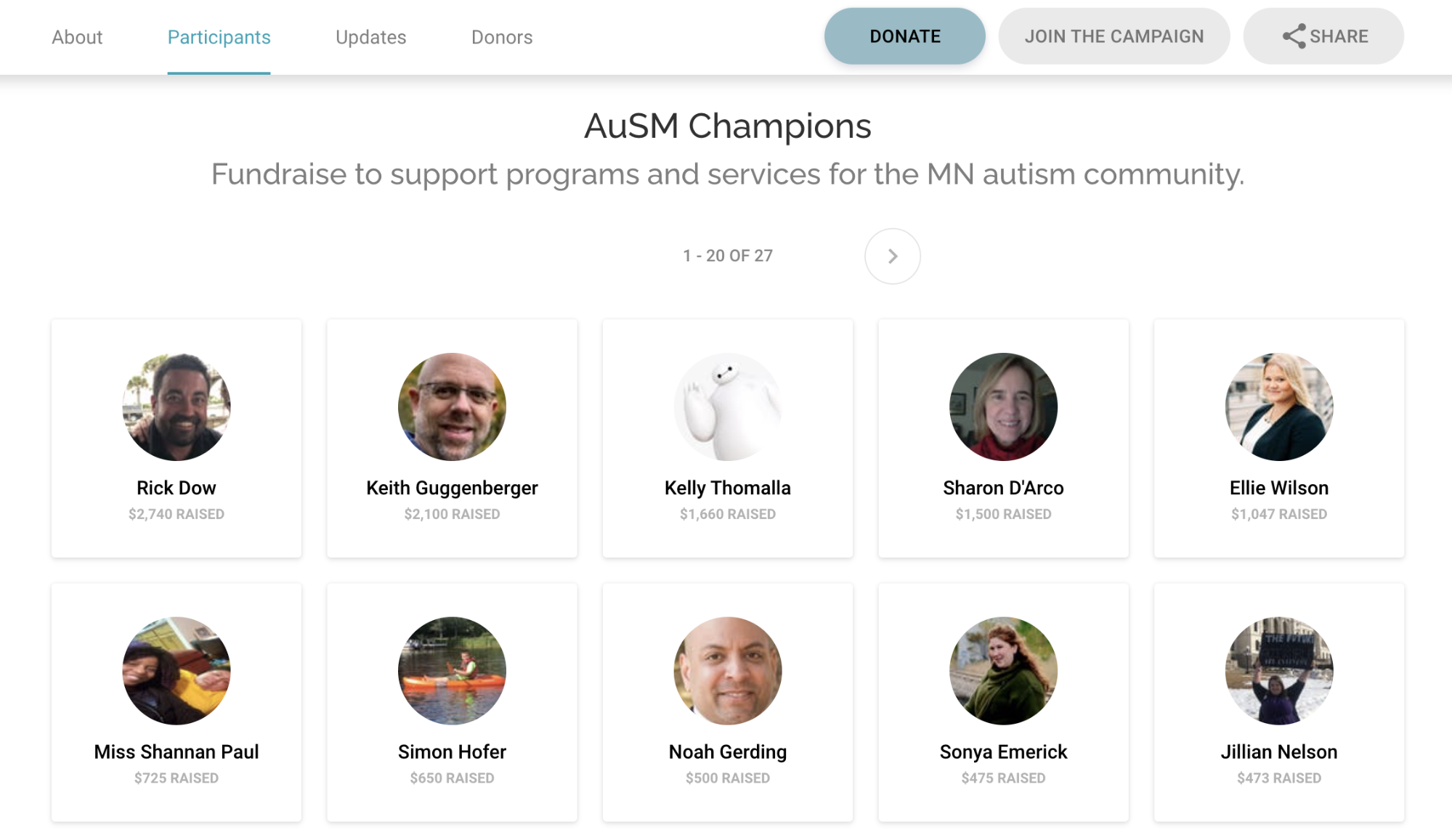 The Autism Society of Minnesota started their campaign by recruiting board members.
While you're identifying your fundraisers, you also want to consider traits that will make them successful. Do these potential fundraisers have networks they can reach out to and ask for donations? Are they familiar with your organization and the work that you do? Are they comfortable making an ask? Use these questions to guide your recruiting efforts.
You can reach out to your networks through social media or email, but the most effective way to recruit your fundraisers is through a personal ask. That might mean identifying 20 of the best potential fundraisers and giving each one a call. The small personal touch will really pay off.
The technology you choose to run your peer-to-peer can make a huge difference in how effectively you can recruit peer-to-peer fundraisers to your campaign. If your fundraisers find it confusing and difficult to use, they'll simply leave the page. You want to look for software that makes it quick and easy to set up a fundraising page, is mobile optimized, and lets you customize your page to match your branding.
Equipping Fundraisers
So now you have fundraisers on your side. How do you help them achieve their goals? One of our favorite tools is the peer-to-peer fundraising toolkit.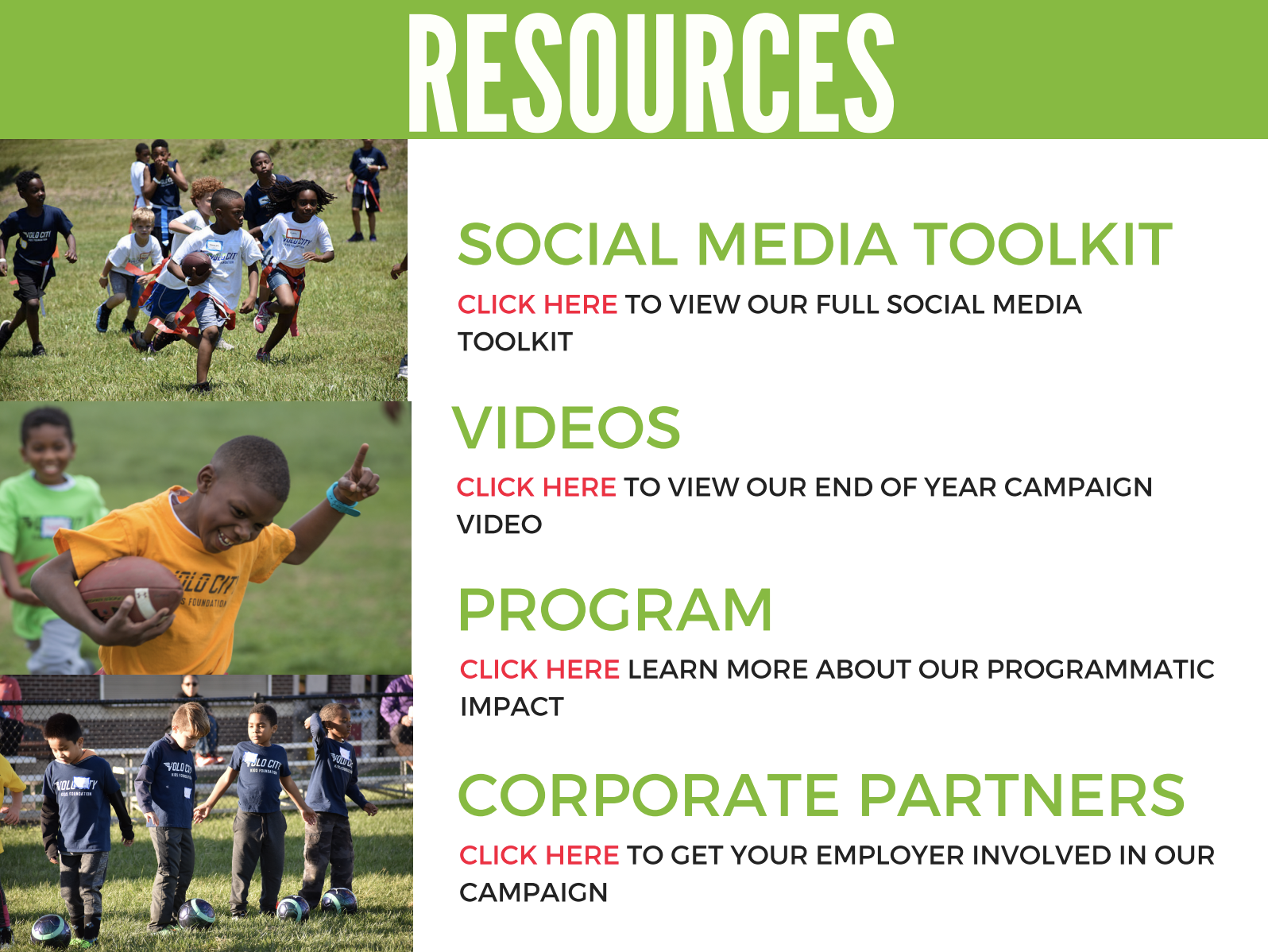 What is a peer-to-peer fundraising toolkit? Essentially, it's a set of different resources, graphics, tips, and templates that your supporters can use to effectively promote your mission in a way that fits with your current brand and voice. We recommend including:
Brand guidelines
Graphics and logos
Suggested fundraising timeline and strategies
Templates for social posts and emails
Information about the event and the cause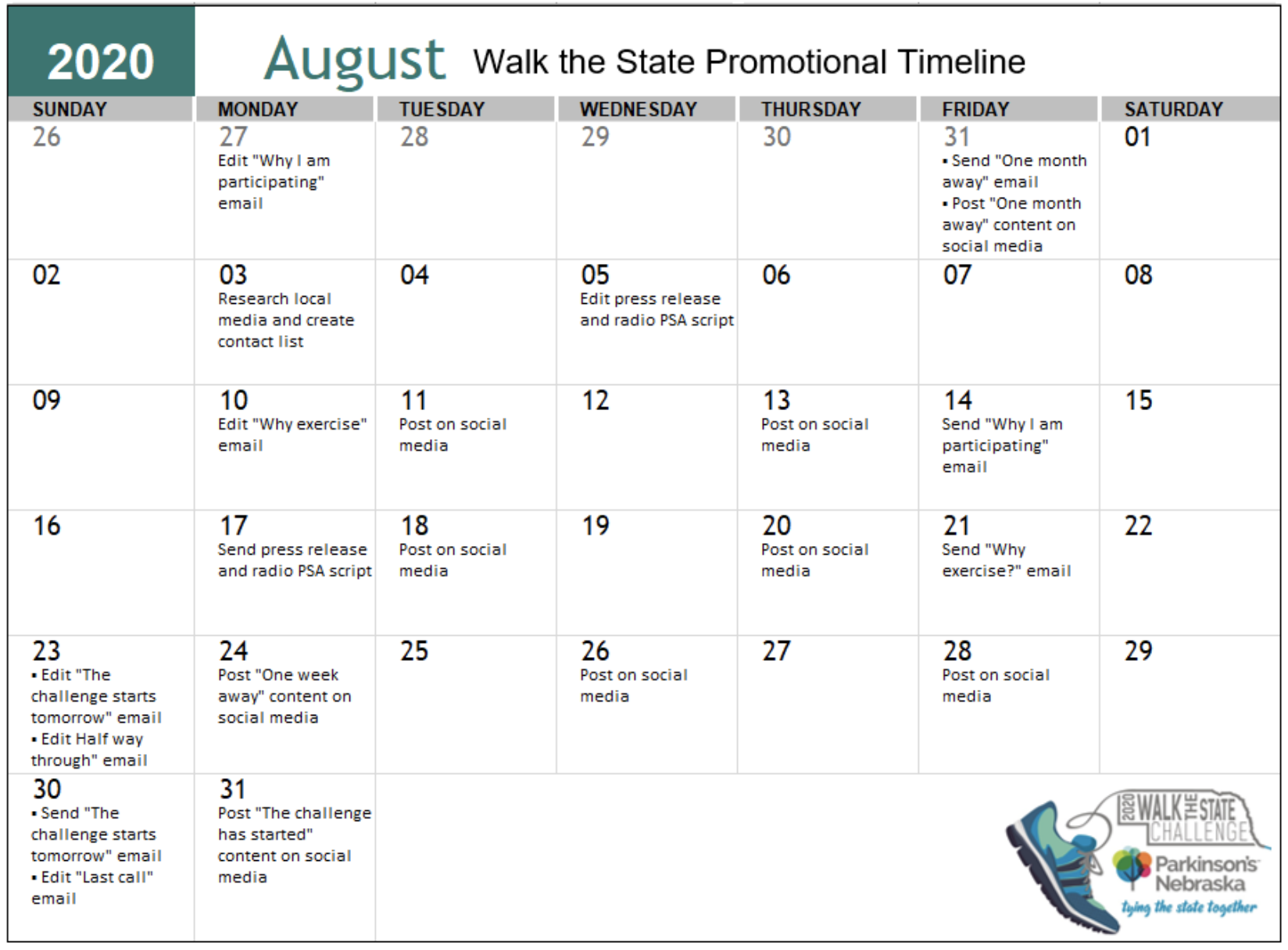 Parkinson's Nebraska distributed a promotional calendar to their fundraiser to keep them on track to meet their fundraising goals.
Distribute this toolkit to everyone who signs on as a fundraiser to equip with the promotional tools they need to effectively promote their personal fundraising page across multiple channels.
In addition, to keep your fundraisers motivated, showcase the impact of the dollars they're raising whenever possible so they can see how the funds they raise are making a difference. Keep sharing those impact stories throughout the campaign, on social media, through email, and on your fundraising page.
Ideally you should be able to add donation tiers that illustrate how each donation is making a difference - we've seen that this can significantly increase your average gift size.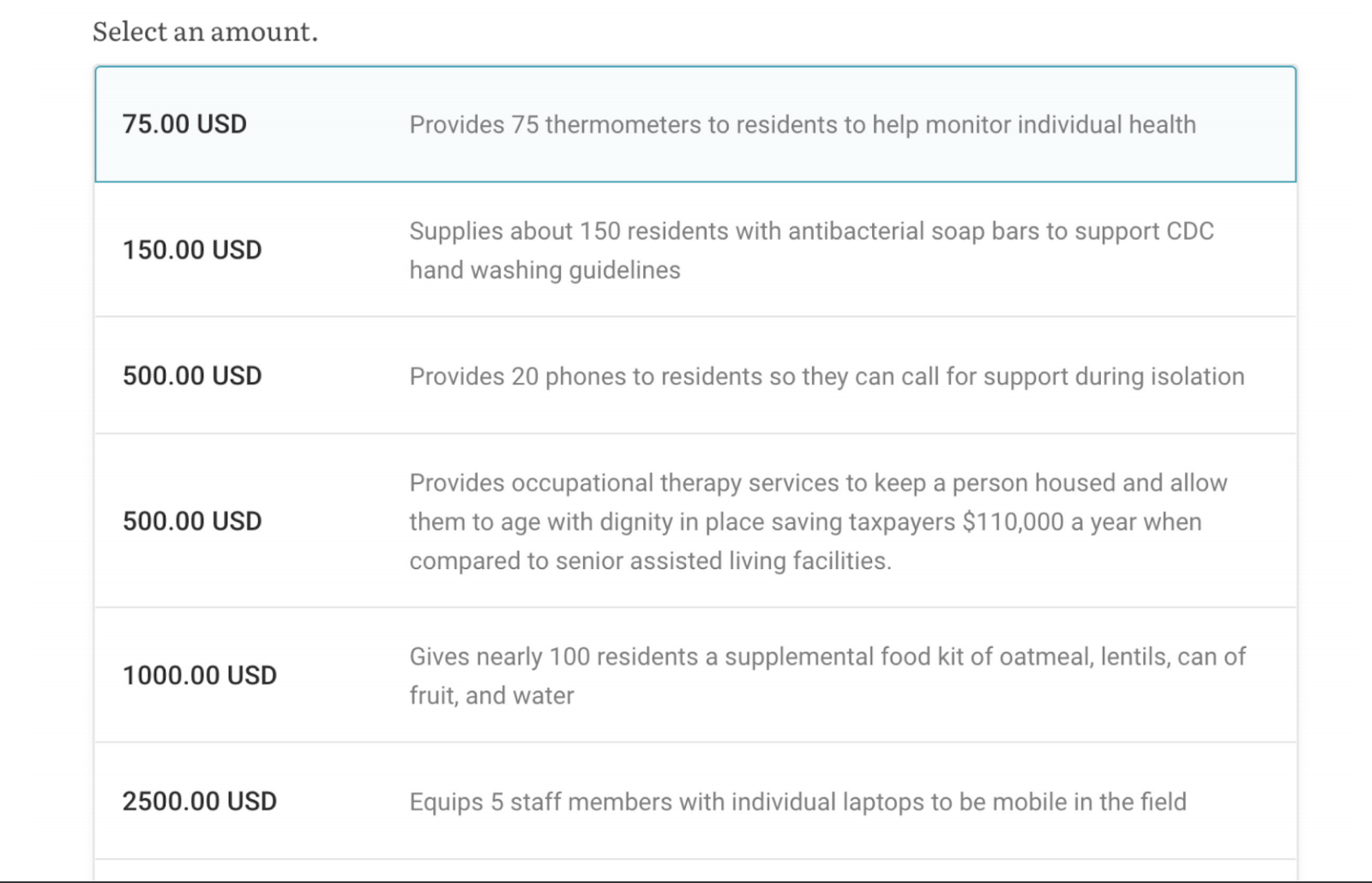 Campaign Launch Tips
Once you're ready to get started, you want to make sure that you start your campaign strong. One of our favorite strategies is the soft launch: sharing your campaign with a select group of supporters before you push it out to the whole world. Here are the basics:
Set a timeline and goals for your soft launch. You only want about 2 weeks of time. Ideally you'll get some donations and fundraisers so that your page doesn't look empty when your community sees it.
Craft a communication to your strongest supporters asking them to join or donate. Make sure it feels exclusive (because it is).
Get some feedback from your early supporters to see if your message is working.
Launch your full campaign once you've gotten the social proof of donations and fundraisers on your side.
Quick Optimization Tips to Help You Raise More
Once you launch your full campaign, we've found a few secret strategies that will help you raise more.
Make sure your website is optimized and gorgeous. Your website should be easy to navigate, give information about your organization and cause, and firmly establish your brand.
Use stories. Whether you're communicating through email, social media, or your website, you want to create a personal connection between your work and your supporters. Emotional stories help donors to connect.
Create an email series. After a donor makes their first donation, don't forget to keep communicating! Consider creating a welcome series that introduces your organization, your work, and how to get more involved.
Use donation tiers. We mentioned them above, but the statistics really bear this out. Our users typically raise 82% more when they switch to a custom form with donation tiers.
Consider the conversion rate of your donation form. The faster and easier it is to give, the more people will complete their donations. Make your form shorter, use smart forms that remember donor information, and allow donors to save payment methods to increase donor velocity.
Matching gifts make a difference. If you can find a strong donor or business to offer a matching grant, your donors are significantly more likely to give.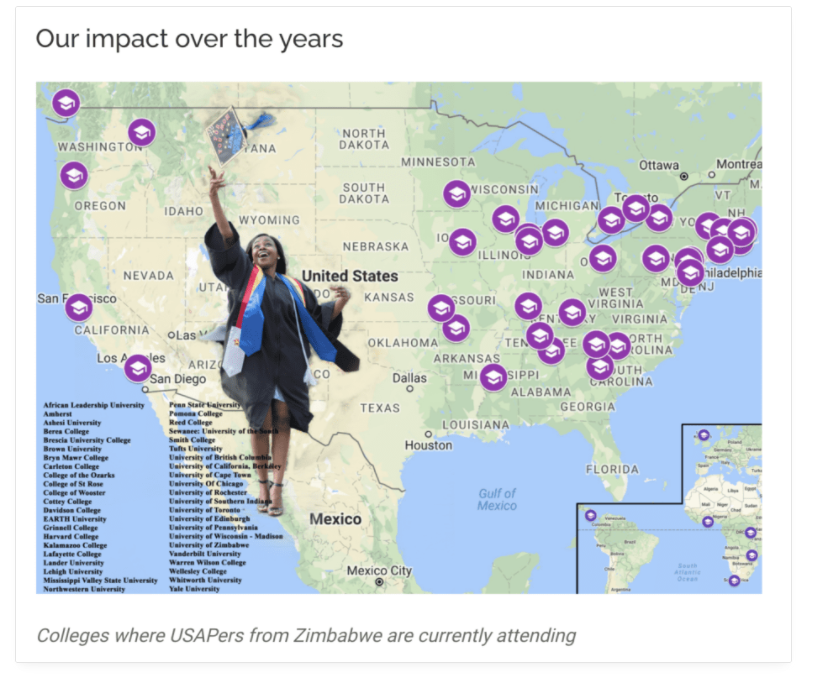 With these top peer-to-peer fundraising secrets, you're all set to raise more through your fundraiser!