Defining the steps for a future fundraising campaign and creating a detailed roadmap from beginning to end are significant stepping stones toward reaching and exceeding your goals.
Establishing a successful fundraising strategy is much more achievable than you may initially think, especially if you break it down into actionable steps. When planning your campaign, make sure to keep these best practices in mind:
Determine your goals early on.
Be mindful of your budget and timeline.
Choose which type of campaign is right for you.
Consider conducting a feasibility assessment.
Delegate tasks and assign ownership.
Work off a fundraising calendar.
Create stellar marketing materials.
These tips will work well for practically any type of fundraiser — from multi-year capital campaigns to food drive fundraisers and other specific projects. However, it's important to determine which type of fundraiser you're aiming for and adjust your specific plans as such. And with that, let's dive in!
1. Determine your goals early on.
It's practically impossible to plan for an effective fundraising campaign if you don't have a clear idea of what goals you're attempting to achieve. You'll want to define specific key performance indicators (KPIs) for your campaign to hit based on an analysis of your past fundraising data.
Using this data to create a goal chart is a solid first step and a handy visual aid. Identify what you want to achieve and what challenges may stand in your way. These charts don't have to be tied solely to financial goals. Instead, you can identify a wide variety of benchmarks to strive towards as your fundraiser progresses!
During this step, brainstorm goals based on a thorough analysis of your past fundraising data. For example, you may choose to note the campaign's total contribution amount, donor retention rate, fundraising return on investment (ROI), major donors acquired, and so on. The (data-informed) possibilities are endless!
Take a look at this example of an effective and detailed goal chart which clearly lays out specific goals paired with potential challenges to overcome: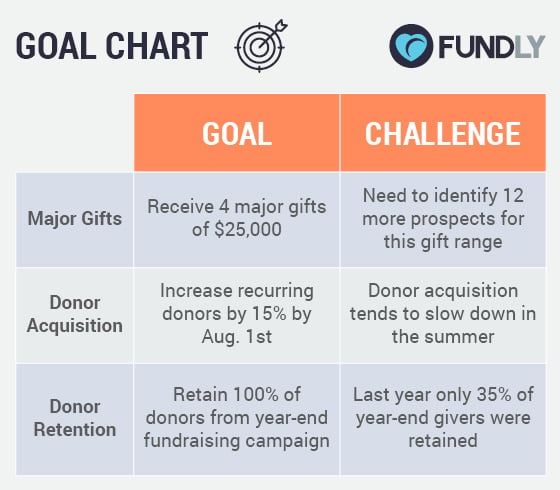 Remain open to discoveries at this point in the process. You may discover a more pressing goal than originally intended, or identify a few benchmarks to help you along the path to your overarching goal.
2. Be mindful of your budget and timeline.
This one is pretty straightforward. More than likely, your nonprofit is working under specific budget constraints, which are probably tighter than you would prefer. Furthermore, you will never have all the time in the world to reach your fundraising goal.
It's okay to set a high budget and year-long timeline to truly invest in your campaign if your organization has the resources and donor network to do so. However, staying on track with both budget and timeline is crucial for a successful fundraiser.
When drafting your timeline restraints, there are a few key elements to consider. First of all, fundraisers with clear timelines establish a concrete sense of urgency. If your fundraiser has no deadline, people may not feel compelled to give immediately, and will more likely put it off indefinitely.
Furthermore, you may consider aligning your timeline and deadlines with larger pieces of the calendar. For instance, you may give your campaign more context and relevance by planning it around a holiday that's relevant to your organization, a particular season, the year's end, or a big annual event.
It's a good idea to examine your past fundraising budgets as you set your current parameters. Consult with your nonprofit's board, first for suggestions on restraints and later for approval of the final budget and timeline.
3. Choose which type of campaign is right for you.
Simply saying "I want to hold a fundraiser" leaves too many questions unanswered. For instance, what specific project or program do you need to raise gifts for? What types of fundraising are most effective in those circumstances?
For example, are you looking to fund your nonprofit's general operations for the next year? If so, an effective option might be an annual fund campaign, where supporters give to your organization's unrestricted fund to cover essential overhead costs.
On the other hand, you may have a specific initiative for which you'd like to raise critical funds (ex: "To build a new animal shelter in our community, we need to raise X amount. Help us bring animals in from the cold this winter). In this case, a crowdfunding campaign might be exactly what you're looking for.
After all, a crowdfunding campaign allows you to reach more people (including those not usually involved with your organization). In other words, you can bring in new support if your crowdfunding campaign speaks to—in this case—all animal lovers, rather than just animal lovers who have heard of you in the past.
Either way, online crowdfunding campaigns are hugely popular, especially in the wake of the COVID-19 outbreak and subsequent social distancing guidelines, because of their ability to reach large numbers of people in a short amount of time, without the need for in-person events or ties to any specific geography/local group.
Keep in mind, the type of campaign you choose will dictate the type of fundraising software and other technology you'll need to succeed. For example, if you decide to host a crowdfunding campaign, your next step will likely be to choose a platform on which to host your fundraiser. To get started, check out Fundly's list of favorite crowdfunding websites here.
4. Consider conducting a feasibility assessment.
Once you've outlined the basics of your fundraising campaign— your goals, budget, timeline, and main fundraising activities— consider holding a feasibility assessment. ForDuring thisthese analysisstudies, you'll aim to achieve two goals by conducting strategic community outreach with key stakeholders such as board members, major donors, and community leaders in order to achieve two goals:
Gain feedback and information to guide your fundraiser and raise interest among key supporters.
For example, you may ask a few of your top donors how they feel about certain virtual fundraising ideas to help you get a sense of what the most successful campaigns may be going forward.
Be open to the results of this study, as they can (and should) guide your efforts going forward. Further, follow-up with the stakeholders who were interviewed in the study and continue stewarding those relationships. They'll feel like part of the team and may in turn be motivated to give to your campaign!
After completing this assessment, continue forward with campaign planning by crafting a gift range chart. This chart should list different tiers of supporters with dollar amounts (ex: major donor, mid-tier donor), how many gifts your organization needs in each tier, and how many prospects you need to contact at each tier.
Be sure to create your chart in a way that reflects the type of fundraiser you've chosen. For example, a crowdfunding campaign is typically composed of hundreds of smaller donations, while a capital campaign tends to target a tighter range of major donors.
5. Delegate tasks and assign ownership.
When you attended school, were you ever involved in a group project where one student did the majority of the work? Even if the project was completed, it was probably a bad experience for all involved.
The same concept can be directly applied to your fundraising efforts. In other words, to achieve your goals, it's crucial to delegate fundraising activities across your organization. Not to mention, organization-wide buy-in is a crucial aspect of fundraising success. It's one thing to meet your fundraising goal and be a one-person wonder, but it's even better if it's an organization-wide win.
Consider the fundraising activities your organization needs to complete and the estimated staff hours needed to complete them. Determine which departments of your organization are involved with each task. Then, allocate the activities across the staffers in each department while being mindful of the work hours required.
According to ClickTime's guide to nonprofit time-tracking, investing in powerful time-tracking tools can also help you ensure your entire team stays on track and works at the most productive pace possible.
6. Work off a fundraising calendar.
During a fundraising campaign, each staff member's tasks are dependent on the success of the staff member before them. Your staff needs to be on top of things, working as a well-oiled machine to reach your fundraising goals.
Now consider this: You probably manage a personal calendar to keep track of your own daily tasks and obligations. You might even have a year-long calendar that includes reminders about important dates as the year progresses.
Do you think it's possible to keep track of these same obligations on the scale of your entire staff, without the help of the same tools you require to manage just you? We don't recommend trying it.
Instead, organize all of the fundraising activities your staff needs to complete into one comprehensive calendar. Then, share it across all of the departments within your organization, to ensure every staffer (and volunteer) is on the same page.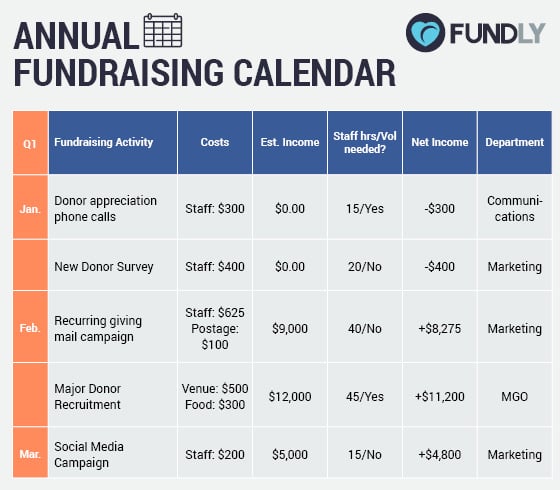 7. Create stellar marketing materials.
The fundraising activities you've worked so hard to coordinate will be moot if you're not providing donors with a compelling reason to give. Thus, be sure to create a clear, confident case for givingsupport that grabs supporters' attention and expresses actionable reasons as to why donors should give. It should hold many of the resources you've created so far while navigating this guide, including:
A clear mission statement that inspires participation.
A history of your nonprofit, including past milestones and key achievements.
Your overall fundraising goal and the range of ways donors can help you get there (big and small).
The gift range chart you created, including a clear deadline for giving.
Your plans for the donations raised—who it will help, what impact it will make.
Marketing materials should be attractive, informative, and skimmable. Then, be sure to share these materials with donors at every step of your donation solicitation, such as in your donation request letters, at any donor stewardship events, and even in digital communications such as email newsletters. For a closer look at effective digital marketing strategies, check out this handy guide. And for a closer look at how nonprofits are streamlining communication to different constituent groups, consider a nonprofit CRM solution.
---
Maybe you're planning a crowdfunding campaign to raise funds for a new community outreach project, or perhaps you're just beginning to evaluate potential major donors' capacity and affinity for giving. Either way, planning the right fundraising campaign to fit your nonprofit's goals is a complicated (yet necessary) process with several moving parts.
Consider incorporating these tips when planning your next fundraiser to set your team up for success. You'll create a solid foundation for your fundraiser going forward, and equip your staff with everything they need for success.