While most of us can surely remember our lives pre-Instagram, can you imagine a nonprofit marketing plan today that doesn't leverage it? The visually-appealing and easy-to-use platform facilitates successful, high-impact nonprofit social media campaigns, making it a favorite (and a must!) for nonprofits.
More and more, younger donors especially are looking to Instagram to find the best charities to donate to and follow. The medium lends itself to sharing your nonprofit marketing messages quickly and effectively to increase your reach and leverage community participation to enjoy the ripple effect of content sharing.
Check out these ten nonprofits to follow on Instagram and our key takeaways about what they're doing so well. You can also review our intro to using Instagram if you're looking for social media strategies for nonprofits. We hope you enjoy following these nonprofit accounts and find inspiration while scrolling. If you need help creating infographics or other nonprofit marketing assets, our team would be happy to help!
1. Doctors Without Borders
Doctors Without Borders uses Instagram in diverse, impactful ways to bring attention to the nonprofit's work around the globe and the most pressing issues they are facing.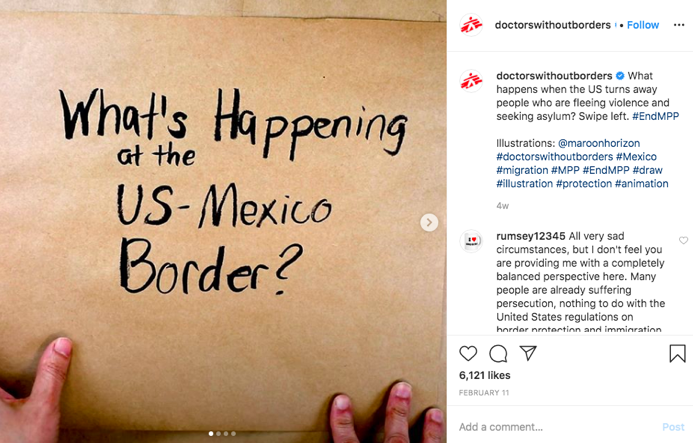 Key Takeaway
Use photos, animation, or drawings to explain one of your nonprofit's key issues, as Doctors Without Borders does with the above video "What's Happening at the US-Mexico Border?". Helping people to understand your work will help them to care about it.
2. World Bicycle Relief
World Bicycle Relief uses social media to showcase bicycle distribution programs that help relieve poverty. Above, a post celebrates the nonprofit reaching 500,000 bikes distributed.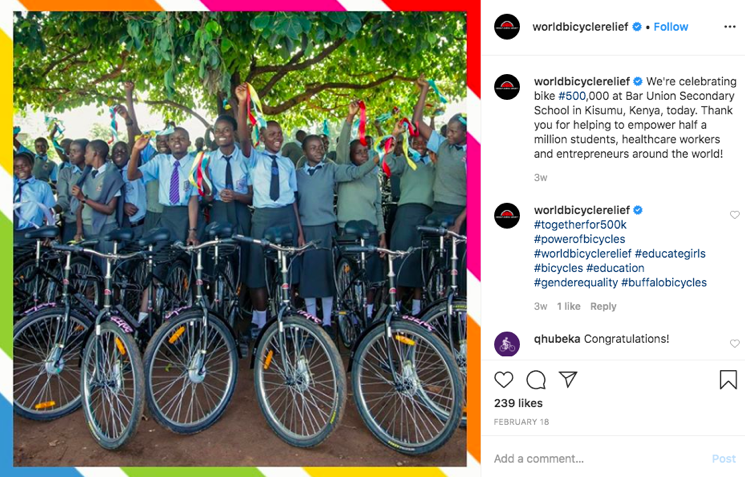 Key Takeaway
Celebrate on social media when you reach important milestones! Use a photo to tell the story of your nonprofit's impact, along with some key text and figures to support it.
3. New York Public Library
The New York Public Library created a "125 Books We Love" list, and used this Instagram post to encourage users to visit their shop to download the list for free. If you're a reader, this alone is enough to make you want to drop what you're doing and curl up with a good book, or head to your neighborhood library to find one.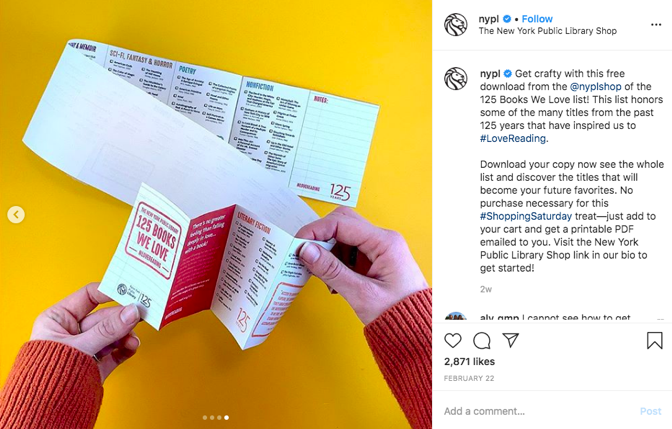 Key Takeaway
Use Instagram to encourage different kinds of user participation. Be like the New York Public Library and offer a free downloadable or encourage online followers to visit a local office or virtual store. Or try posting a question and asking followers to use a hashtag to share their responses.
4. Keep a Breast Foundation
The Keep A Breast Foundation gets creative on Instagram to garner support for their work in breast health education. They also host lively local fundraising and awareness events, and keep their community informed through social media.

Key Takeaway
Advertise your nonprofit's events on Instagram to help boost attendance. Afterwards, make sure to share highlights and tag attendees!
5. UNICEF
UNICEF enjoys broad support and is a social media powerhouse. Their photography is stunning and their Instagram posts are varied and impactful, showing success stories as well as campaign needs. UNICEF also posts about their Goodwill Ambassadors (above, Liam Neeson) as a way to thank and celebrate key donor (and celebrity) participation.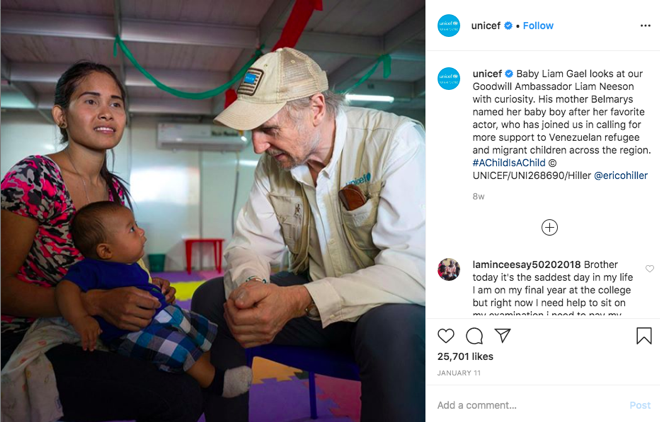 Key Takeaway
You don't need to have a network of famous supporters to create meaningful posts; just share a photo of one of your nonprofit's volunteers in action. Not only does this celebrate individual contributions and make your supporters feel appreciated, it also makes your work more personal by emphasizing human connection.
6. Teach For America
Teach for America recruits leaders and teachers for low-income schools across the United States. What better way to highlight their work than to show teachers in action? Here, Teach for America has posted a video of a math teacher getting her students pumped for the day. You can also creatively use live-streaming video on Instagram to broadcast your events in real time.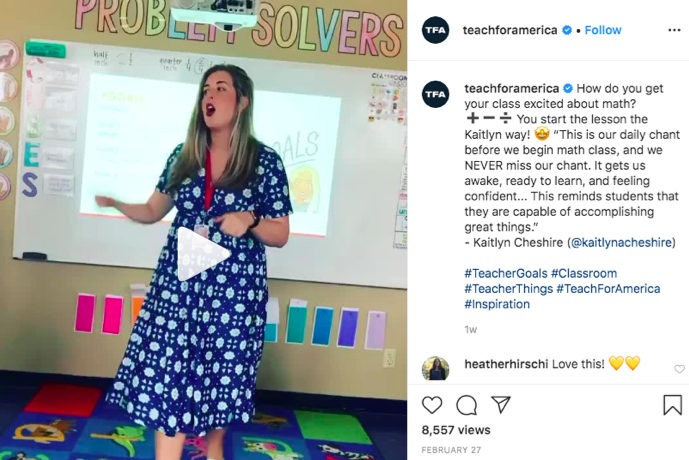 Key Takeaway
Use video to showcase members of your community (volunteers, staff, those served) and to share the impact of your work on Instagram.
7. Girl Effect
Girl Effect, a nonprofit that uses media and mobile tech to empower girls and change their lives, uses Instagram to share their success stories. The high-quality, captivating images are visually appealing while serving to educate viewers about the nonprofit's important work.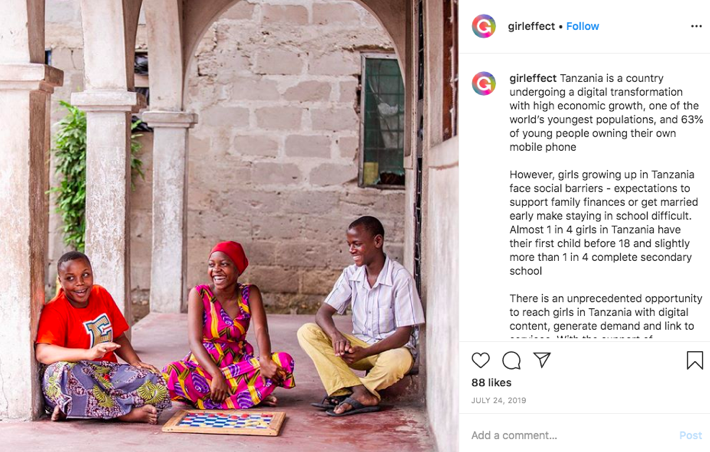 Key Takeaway
Beautiful photography can speak for itself about what you do, who you serve, and where you work. Tell your nonprofit's story with selective photographs that draw viewers in to learn more about your work and impact.
8. Pencils of Promise
Pencils of Promise is expert at connecting and thanking its community of supporters, as well as celebrating donor involvement in campaigns on Instagram and on their website.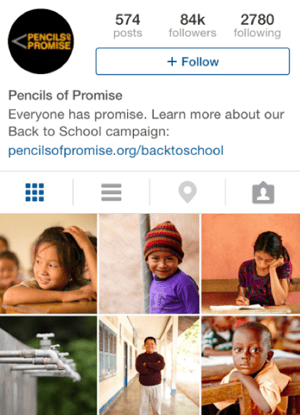 Key Takeaway
Use the bio space on your profile page to advertise a current campaign and drive traffic to it, like Pencils of Promise does above with its Back to School campaign.
9. Oxfam America
Oxfam America's Instagram account is full of inspiring quotes, powerful hashtags and campaigns like #AFUTURE4WOMEN, with direct appeals for action. The "Dear Future President" series posts a collection of letters from individuals about the most important issues in the 2020 presidential election.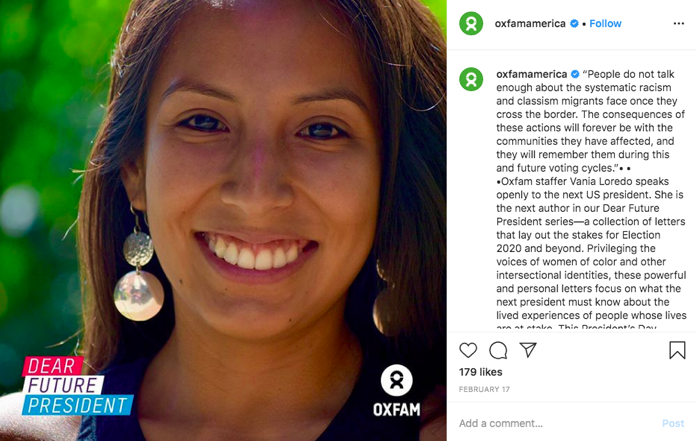 Key Takeaway
Demonstrate the relevance and urgency of your nonprofit's work by sharing direct quotes from members of your community and making connections with current politics and events.
10. Water is Life
Water is Life has run numerous successful campaigns on social media (their First World Problems video went viral in 2012). The nonprofit uses Instagram to highlight their work and impact, thank donors, and share coverage they receive in the media.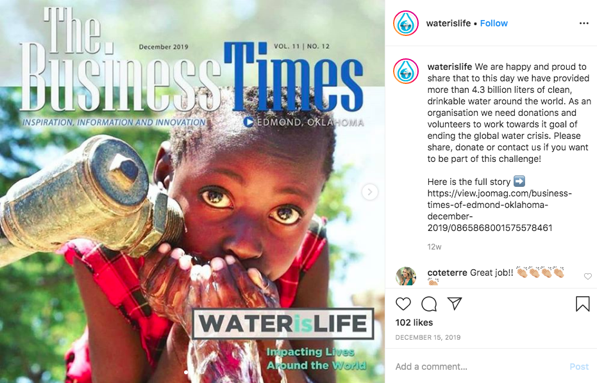 Key Takeaway
Showcase media mentions and other communications achievements on Instagram to amplify your nonprofit's visibility.