Earlier this year, the COVID-19 pandemic spread to all corners of the globe, leading to a subsequent economic fallout. While many businesses and groups were impacted, the nonprofit sector was one of those hit hardest.
The vital services that these organizations provide are in historically high demand. Yet to meet this surge, nonprofits are having to get creative and make strategic decisions as to how they'll continue fundraising in a contactless way.
As nonprofits settle into this new fundraising landscape, one fundraising tactic that's gaining momentum is the online auction.
These virtual events are some of the most profitable fundraisers you can host, and they give your donors a new way to support your mission from a safe social distance. Plus, advancements in technology have made transitioning these events into the digital space easier than ever.
To help you maximize your efforts and drive bids and donations, we're going to dive into a few tips to consider before jumping on this emerging online fundraising trend. Let's get started.
Tip #1: Polish Your Communication Plan
Proactive communication is vital to connect with supporters and drive high levels of engagement. From announcing your virtual auction to following up with fundraising totals post-auction, consistent communication is a must for sparking interest, driving registrations, and fostering long-term relationships.
To connect with supporters, keep these best practices in mind:
Contact participants from past fundraising events. Those who are most likely to register for your virtual auction are those who have historically attended your fundraisers. Contact those who participated in all past fundraising events and campaigns for the best results. For consistent supporters, thank them for their commitment to your mission and express the vital need for their continued support.
Encourage constituents to promote your auction to their networks. Leverage a peer-to-peer marketing approach by encouraging supporters to share your virtual auction with friends and family via social media. Even if they're unable to register themselves, they can still spread the word in hopes of connecting you with more supporters.
Follow up after your auction. Your communication plan should extend beyond the initial marketing for your event. Fundraising Letters encourages us to follow up and thank all bidders, not just the winners, because doing so "kick starts your donor relationship and sets you up for future engagements with that supporter." Be sure follow-up is prompt and personalized to the recipient. Keep in mind that your auction software should simplify this process by automating custom acknowledgments and tax receipts.
While it might feel like a sensitive time to ask for donations, a lot of people still want to support your work. Don't be shy when reaching out to constituents. For the best results, it's a good idea to center outreach around a handful of core platforms where your supporters are most active, so you can effectively connect with as many constituents as possible.
Tip #2: Live Stream During Your Event
Live streaming during your event will empower your nonprofit's team to spark motivation and connect with your audience in real-time. Whether you stream during the entire event or only incorporate a few live-streamed elements into your virtual auction, you'll be able to:
Increase geographic reach. According to

Re:Charity's

blog

, "one of the most evident perks of live streaming is the significantly increased geographic reach." This is because your audience is not limited to supporters who are able to physically travel to the venue.
Make your event accessible to all donors. Many live streaming platforms enable automated subtitles and closed captioning to ensure all supporters can take part, regardless of visual and hearing impairments. Plus, having this enabled will convey that your team is committed to providing these individuals with a positive experience, deepening their overall engagement in your event.
Drive participation throughout the event. With periodic streams, you can update supporters on progress toward fundraising goals. Plus, this provides an opportunity to highlight items and encourage bidding.
There are several other ways you can incorporate live streaming into your virtual auction. For instance, consider adding a live auction portion where your auctioneer presents items and attendees bid in real-time. Alternatively, you might host a kickoff stream, a virtual gala, or a celebratory stream to thank the generosity of supporters.
Depending on the online auction software you select, you may be able to live stream directly within your auction website or mobile bidding app. Ensuring usability for all devices allows your supporters to continue participating regardless of the device they're using. The image below represents what an online auction looks like on multiple devices with streaming enabled: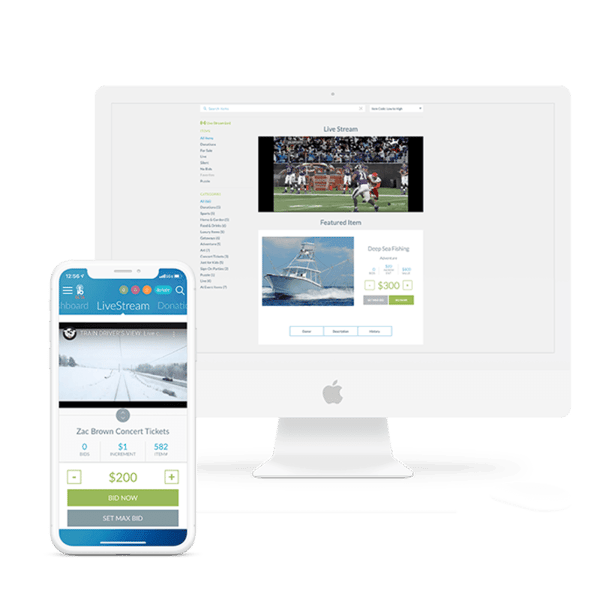 In turn, supporters can access your stream from their favorite devices without having to navigate to a third-party platform or have multiple screens open. They'll be able to simultaneously view bidding, donations, and your stream all in the same window, so they can stay fully engaged with your virtual event.
Tip #3: Motivate Bidders with Gamification
Gamification is a tried-and-true fundraising method for improving participation, which directly correlates to increased bids and revenue. Simply put, gamification is the concept of integrating game-like elements into non-game contexts, and it can make your virtual auction much more engaging.
Historically, auctioneers have implemented games like "the 7th bidder on each bid sheet will be entered into a raffle drawing." With advancements in technology, the way we incorporate gamification into events like auctions has changed considerably. Here are four modern tools that auction coordinators find particularly useful in driving supporter engagement:
Countdown timers: Keep bidders engaged until the final moments of your virtual auction. A countdown timer creates a sense of urgency, making it great for driving last-minute bids.
Fundraising thermometer: Display progress toward your fundraising goal with a thermometer that tallies donations and bids. With a real-time tracker, bidders can visualize the impact they're having on your fundraising goal.
Push notifications: When supporters enable notifications from your mobile bidding app, their phone's sounds and vibrations will keep them fully connected and excited to continue bidding.
Leaderboards: Nothing motivates people quite like some friendly competition. Showcasing your top bidders on a leaderboard will reward their support while simultaneously incentivizing others to increase their bids in order to claim the top spot.
These gamification tools can work wonders for keeping energy high during your virtual auction. For example, take a look at this donation thermometer that also highlights a top bidder: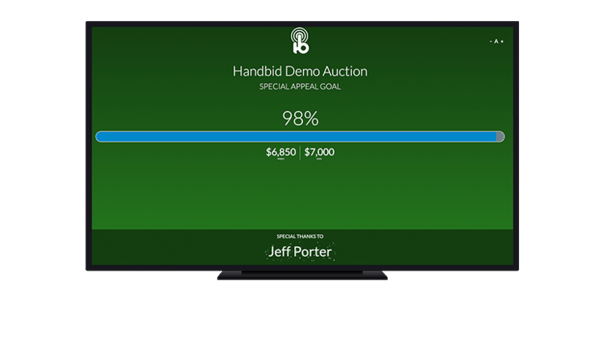 Since these tools indicate progress toward the goal, you can inspire bidders to step up their efforts to help you achieve your fundraising goals. Keep in mind that every nonprofit's audience is different. As part of any smart digital strategy, pay attention to what works for your audience and refine your approach as you go.
---
With the pandemic and its resulting social distancing guidelines sticking around for the foreseeable future, nonprofits must adjust their efforts to meet donors' changing needs and expectations. Online auctions are a fantastic way to do this. After all, many donors are still willing to support you if you can capture their attention and clearly communicate the impact of their donations.
As you transition to the digital space and navigate the challenges of online fundraising, give a virtual auction a shot while bearing these tips in mind. In doing so, you'll provide a valuable experience that engages supporters at a safe social distance while generating much-needed revenue during times of financial hardship.