If you're a connected person, you know how much Instagram has exploded as a social media presence in our everyday lives. Acquired by Facebook in 2012, Instagram today boasts 700 million accounts and combines many features similar to other social media networks with one overarching difference - its focus is photo-based. It does stories like Snapchat, live videos and albums like Facebook, and hashtags like Twitter; yet Instagram still remains one of the most popular social media networks out there because it is simple, creative, easy, and fun.
So how can your nonprofit take advantage of this monster of an opportunity? Time to get creative, just like your Instagram followers. In fact, 90% of Instagram users are below the age of 35, which gives you a great opportunity to reach your Millennial and Gen Z supporters. Many nonprofits have already jumped on the Instagram bandwagon, and we're going to show you ten effective ways your organization can be using Instagram that will be sure to bring you a stronger supporter base.
Inspirational Photos/Videos
This is something that nonprofits generally do best - share inspirational photos in order to warm people's' hearts and inspire them to take action. Whether you're helping animals, children, refugees, the earth, etc., post your best eye-catching photos in order to keep things authentic. After all, your supporters want to see who or what they're helping! Unicef's Instagram is good about posting beautiful photos of people from all over the world in order to spread awareness and motivate people to volunteer or donate. Charity: water does a great job of creating impactful videos, as can be seen here.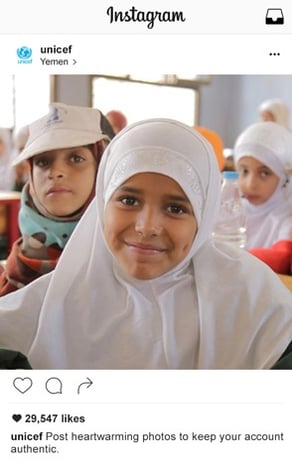 Stories/Live Videos
By using Instagram stories or streaming live videos, you will bring your nonprofit to life. Capture moments in real-time when you're at fundraisers, events, out in the field, or just goofing around with the team. This Instagram feature will bring your nonprofit authenticity and has potential to reach a wider audience than Snapchat or Facebook Live. Here Catskill Animal Sanctuary shares a fun photo of one of their animals on their Instagram story.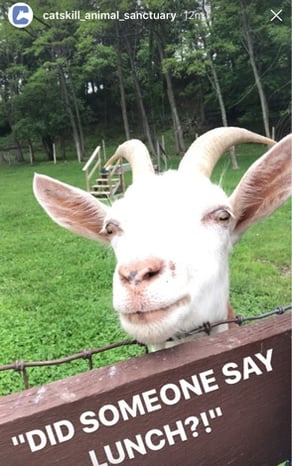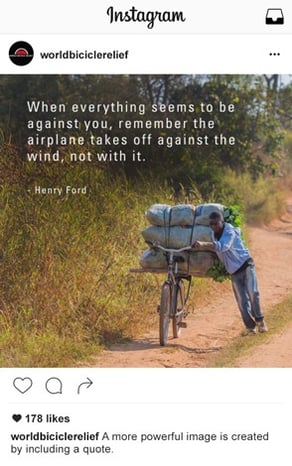 Quotes
Although Instagram is more of a visual-oriented platform, quotes are a great way to make your images more interesting and share little pieces of encouragement every so often on your profile. Especially as a nonprofit, part of your job is to inspire people to do more good in the world - whether it be by volunteering or donating - so why not begin motivating people with a great quote? World Bicycle Relief does a great job of posting images with inspirational quotes, as seen to the left.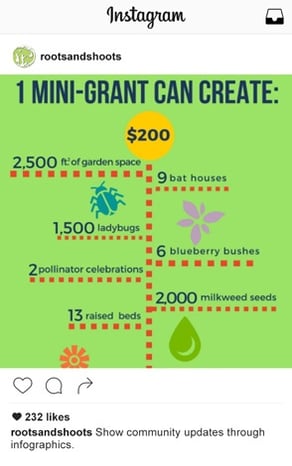 Community Updates/Progress
It's always good to know what's going on at your favorite nonprofit. Be sure to share updates and progress reports via Instagram with your community! If people donate to your cause, they want to know where their money is going, so why not share visuals to show them the impact your organization is making in the world? Here Roots & Shoots demonstrates what a $200 grant can create for their garden community.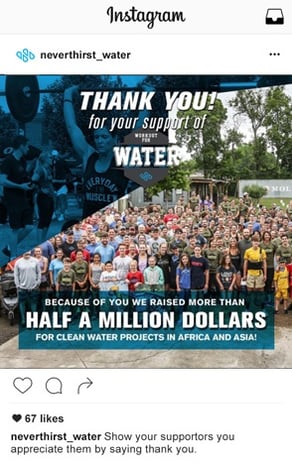 Community Shout-Outs/Thank-You's
Show your community you appreciate them by giving them a shout-out on your Instagram! Upload a post recognizing individual community members or saying thank-you to your supporters for their help with fundraising, events, etc. Here Never Thirst thanks their supporters for raising over half a million dollars.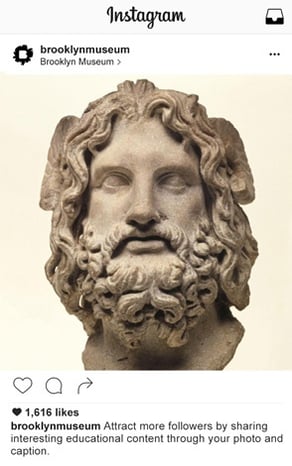 Educational Photos/Videos
Part of your job as a nonprofit is to educate your community about your cause. Perhaps your nonprofit deals with a complex matter that requires you to inform people what your nonprofit is founded on, or maybe you can share educational bits that your audience will find interesting for everyday life. Here the Brooklyn Museum shares tidbits of information about items that are displayed in the museum.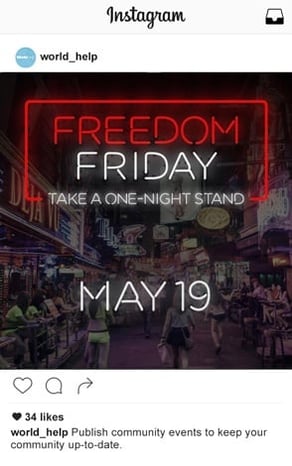 Events
Publish community events, fundraisers, pledges, and more on your Instagram account. This is a great way to spread the word to your community and keep people aware of what's going on at your organization. Post the link associated to the event in your bio in order that people can find out more after seeing the photo in their news feed. Here you can see how World Help spread the word about "Freedom Friday," a pledge people could take aimed at rescuing girls from sex slavery in Thailand.
Albums
As of this year, you can now select up to 10 photos or videos from their camera rolls to be shown together in one post. This is a great feature that your nonprofit can use for community events and projects so that you can upload an "album" of multiple photos to represent one event, as Heal the Bay did here.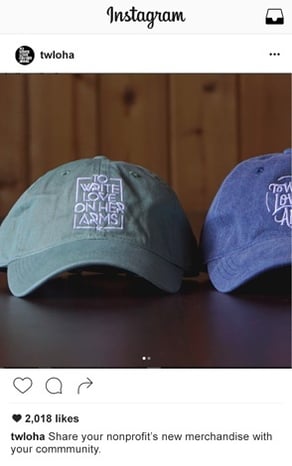 Merchandise
Selling merchandise is a great way to both raise money and spread knowledge about your organization. It's a great idea to post new merchandise on your Instagram profile. Also, you could create giveaways with your merchandise as a reward for reposting, drawings, fundraising, pledging, and more. To Write Love on Her Arms is good about posting new products on their Instagram page and always makes sure to post the link to the store in their bio.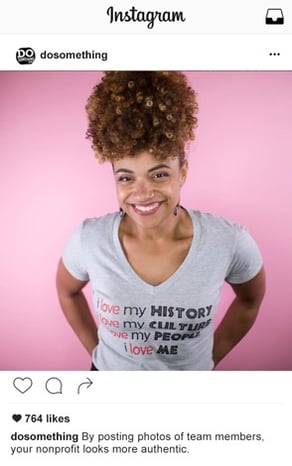 Your Team
Last but not least, be sure to show some Instagram love to your team! Program Manager, Volunteer Coordinator, Development Director, Grant Administrator - whoever they are - their job is important and helps your organization to accomplish its goals, so send them a shout-out every once in awhile. Do Something recognized their Finance Operation Manager in this post for her cool T-shirt!
As always, if you would like to share your own personal experiences using Instagram for your nonprofit, please comment below or feel free to reach out to us at Elevation.
In case you missed any part of our introductory Social Media series, here they are again!