Elevation worked with House of Ruth to redesign and build a brand new WordPress website. Their primary goals included increasing visibility to reach clients in need, improving online giving, and updating the site from the previous, outdated design.
Before After
We built House of Ruth a modern website, responsive to all screens and devices, with an emphasis on protection and ease of use for potential clients and donors. Following the launch of their new website, House of Ruth has...
Seen a 50% increase in online donations
Earned a $100,000 donation (cited new website as reason for consideration)
When Is It Time for a Redesign?
If you're like most communication directors, the answer is always, but it's probably tricky convincing your higher-ups that the time is now. So, let me introduce you to House of Ruth, a nonprofit operating in Washington D.C. who answered this question back in 2017. House of Ruth offers support for victims of domestic violence and homelessness by providing free housing, resources for families, and counseling services.
House of Ruth Website circa 2017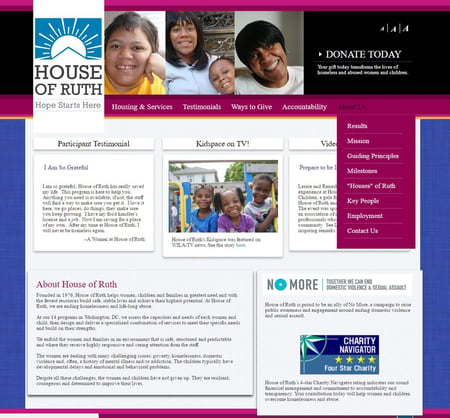 Back in 2017, House of Ruth was running an outdated website with a design straight out of the 90's and limited online donation functionality. They realized it was time to modernize, and create a website that served both their potential clients and donors, and was able to easily reach the clients who needed their help.
House of Ruth set out with an RFP (Request for Proposal) and connected with Elevation, deciding to work with us based on our proposal and attitude toward their project. Elevation prides itself on serving as a partner to nonprofits. We're here to make the whole process a breeze, and also offset 50% of the labor costs!
What We Did:
25 Pages
UX and Visual Design: Homepage and Interior Pages
Website Components: Form Builder, Contact Form, Online Donation System, Blog, Job Opportunities System, Image/Photo Gallery System, News Management System, Homepage Slideshow, Site Search
Widgets Incorporated: Video Player, Sponsors/Supporters Listing Tool, Team Bios Widget, Social Media Integration, Newsletter Sign-Up, Testimonials Box, Timeline Widget
Site Features: Responsive Web Design, Google Analytics Integration
Graphic Design: Newsletter, Infographic, Brochure, Pop-up Form, Donation Envelopes
A Design Built With Care
Many of House of Ruth's clients are survivors of domestic violence or homelessness. With this in mind, we focused on two key features to ensure the site would serve this community with care.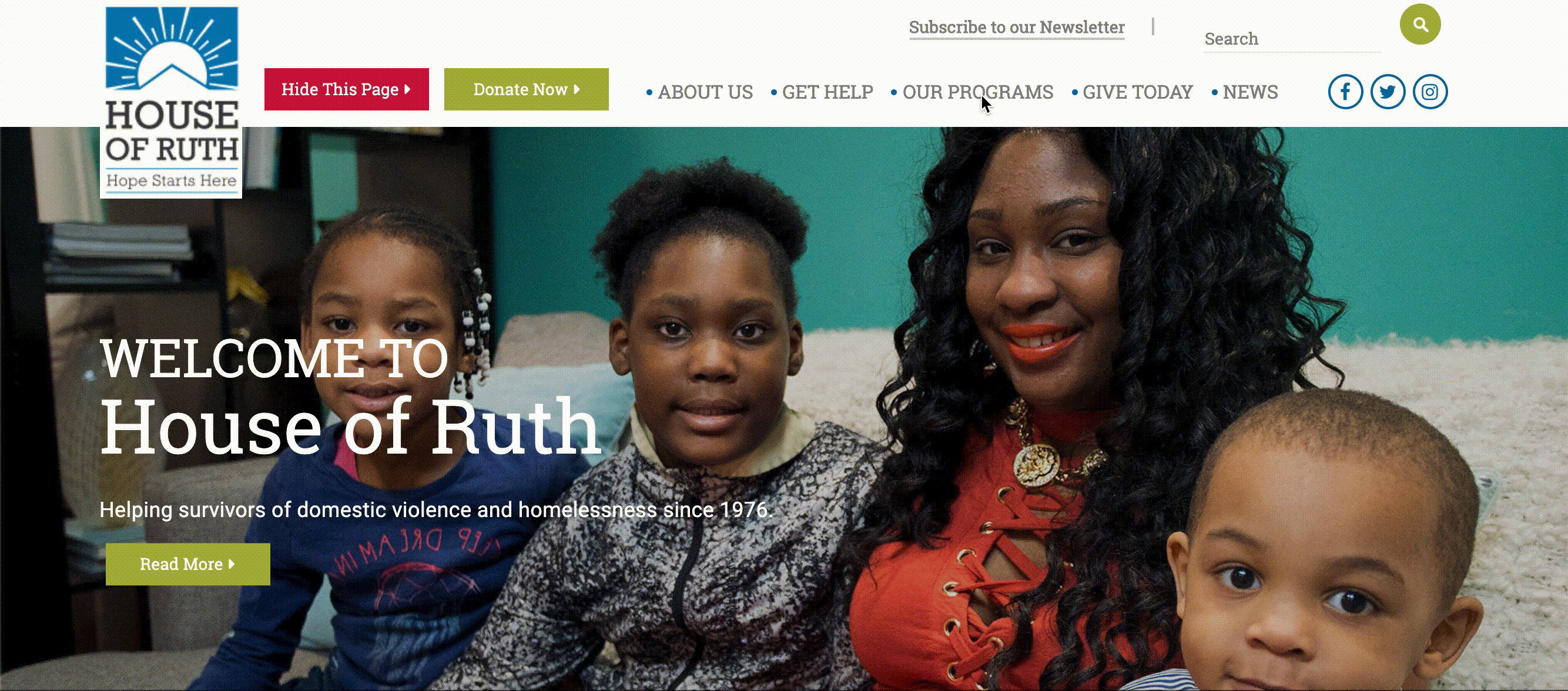 The Escape Button (renamed "Hide This Page") is in a primary position to be accessible on every page of the site. This button is available for any visitor who is seeking help to quickly redirect the page in case an abuser is nearby.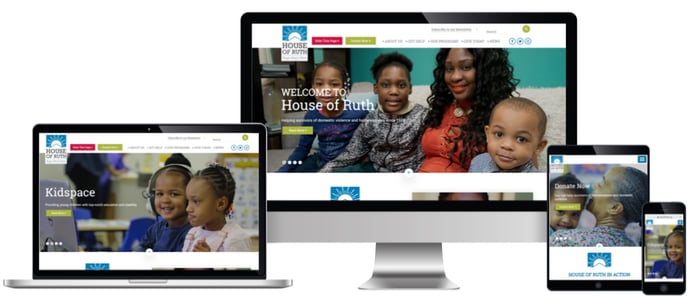 It was also important that the website and content be easily accessible on all devices. As many visitors may be seeking help from public computers, mobile devices, or home desktops, all browsers and devices needed to be supported. We built a responsive site which is accessible and properly functions on all devices, browsers, and screen sizes.
Preserving a History
As a 40-year-old, well-established organization, House of Ruth has seen major growth and changes over the last few decades. Through the timeline widget on their "History of House of Ruth" internal page, visitors can learn about the tremendous milestones this nonprofit has achieved. Not only can donors see their donations were put to good use, it's apparent to any potential donors that House of Ruth takes action.

One Cohesive Design
Along with their website UX and visual design, House of Ruth needed complementary graphic designs for their website and branded materials. This included an infographic depicting the organization's Houses of Ruth, a newsletter, a brochure, and other donation materials.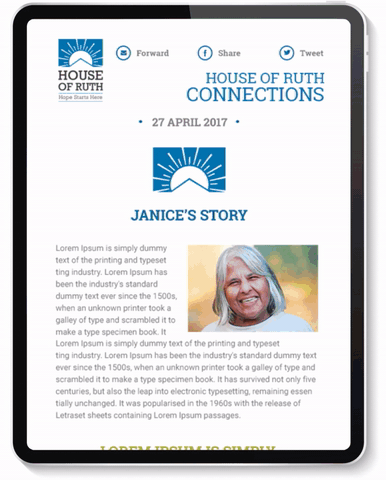 Since the Upgrade
House of Ruth has seen tremendous results following the launch of their website back in 2017. Online giving increased by 50% in the first year following their launch. They were also picked by a theater to receive their annual $100,000 donation. This theater said they specifically learned about House of Ruth from the new website.
"We loved our team from Elevation--they made the whole, complicated process easy and fun. We felt like we were part of the team."

- Elizabeth Kiker, Development Director, House of Ruth