From socializing with people to researching topics we're curious about, technology has transformed the way we live our daily lives, and nonprofit management is no exception. Whether you work at a growing nonprofit that's looking for scalable solutions or a large organization that's looking to reduce team inefficiencies, the exact solutions you invest in can impact your ability to achieve your mission.
As a nonprofit leader, part of your job is to select the right tools and build an infrastructure that supports your organization's goals and creates a foundation for growth. That's no easy feat, especially with the expansive nonprofit tech marketplace.
Not to mention, the digital world has changed your constituents' needs as well as your organization's needs. Supporters have come to expect accessible online engagement opportunities like digital donations, virtual volunteering, and online events — all while maintaining sufficient cybersecurity. To meet those increasingly complex requirements, the nonprofit tech marketplace has evolved, and there are more options to choose from than ever before.
Each organization requires a unique mix of tools, which can be daunting with so many choices available. This guide will help you understand how your organization can make smart buying decisions and maximize your ROI. Here are the strategies that we'll cover:
Assess your needs and build a tech plan.
Have mission-critical tech in place.
Choose tools that integrate with one another.
Overall, having an effective tech stack will empower your team to engage your constituents, develop meaningful programs, and pursue your mission. If you're ready to start your software search, let's dive in.
Assess Your Needs and Build a Tech Plan
Identifying inefficiencies and gaps is crucial to driving growth and success. Before you start looking at actual software, sit down with your team and determine where those inefficiencies exist. That way, you'll have an idea of what solutions would resolve challenges and support future growth.
As you map out your long-view technology strategy, review your strategic goals and plans. Figure out where you are currently, where you want to be, and how your technology can support those plans.
At this stage, you might loop in those who will be involved in executing the new technology. Speak to your executive director, board, and high-level staff members to understand what they'd like to see in the software you choose.
As you have these conversations, consider:
Activities that are integral to your organization's success: Different organizations have different programs and activities to help them achieve their missions. As such, they need support from their technology in different areas. For instance, an association will need member management tools, whereas a non-member organization can benefit from a more generic CRM solution to manage constituent relationships.
What's currently slowing your organization down: The core benefit of technology is its ability to boost efficiency by reducing redundancies, eliminating human error, and automating tasks. Determine what's delaying your team and how technology can resolve that. For instance, perhaps your marketing department needs support for emailing new supporters.
Budget: The great thing about today's tech marketplace is that there's a solution for pretty much anything you can think of. However, investing in technology for everything is not exactly great for your wallet. Set a budget for each type of technology your organization needs. Then, determine your "must-have" items. That way, you can find tools that align with your budget and fit your needs.
Use this information to craft your game plan for the tools your organization needs without blowing your budget. Running through gaps and core goals will ensure your tech plan is aligned with your organization's priorities from the start.
Have Mission-Critical Tech in Place
As we mentioned, it's crucial to understand what activities are integral to your organization's work, so you can leverage technology that will help you streamline that work. We'll walk through several common pieces of technology that most nonprofits find crucial to their missions. Even though you may already be familiar with many of these tools, it never hurts to remind yourself of which features are actually useful to your work.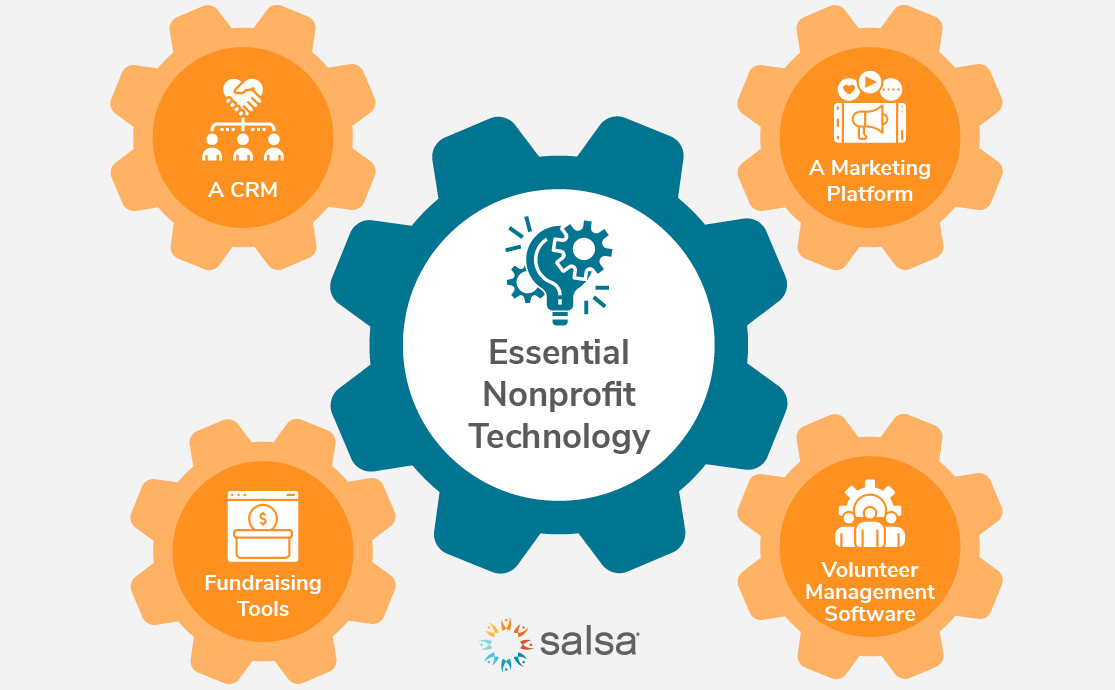 A CRM
Every organization depends on its network of constituents to continue pursuing its mission. A constituent relationship manager (CRM) allows you to centralize any information you gather regarding those relationships. EveryAction's guide to nonprofit CRMs defines it as a central location to administer relationships with donors, volunteers, advocates, members, and others. You can track all sorts of information, including:
Contact information like email addresses, phone numbers, and mailing addresses
Demographic data like age, location, and gender
Behavioral information like which types of appeals they've engaged with and which supporter segments they fall into
You'll gather information about your constituents across most of your organization's activities, from fundraisers to marketing. Overall, the right CRM will allow you to reduce manual data entry, maintain accurate records, steward relationships, send targeted appeals to segmented audiences, and ultimately build deeper relationships that will power your mission.
Marketing Tools
Promoting your cause is essential. Marketing tools can streamline your promotional efforts, so you can spend less time sending emails and posting online. To develop a solid multichannel marketing strategy, some of the tools that will help you connect with more supporters include:
An email platform. Email marketing is one of the most effective ways to acquire leads, convert prospects, and retain current supporters. Invest in a platform that provides easy-to-use design tools and templates that you can customize to your cause. You should also be able to create automated email series to ensure the right messages are delivered to the right people at the right time.
Website content management. Current and prospective supporters visit your website to learn more about your work and donate. As such, you should invest in a content management system (CMS) to establish your online brand. While many organizations choose generic platforms like WordPress, consider going with a nonprofit-specific one that's targeted to meet your needs. For example, nonprofit CMSs are more likely to include integrated fundraising tools without enabling an additional plugin.
Social media tools. Social media has become a staple in digital communications and can be streamlined. For instance, be sure you can schedule posts to be published at specific times. Some tools also give you the ability to create targeted Facebook ads that match different segments of your audience.
No matter what marketing tools you invest in, Salsa's nonprofit KPIs guide explains that it's crucial that your marketing tools track analytics. This will give you visibility into your efforts, helping you to pinpoint which strategies yield results and which aren't meeting expectations. In the case of email, this should include your email open, CTR, conversion, opt-out, and outreach rates. For social media, this would include metrics like your amplification, applause, and conversion rates.
Fundraising Tools
Another crucial part of managing a nonprofit is fundraising. Especially considering that charitable fundraising research found that total online revenue increased by 10% last year, online fundraising is no longer optional.
Nonprofits should spend time locating fundraising tools that empower them to collect gifts digitally. While the exact specifications of your toolkit might vary, some common necessities include:
Online giving pages. Embed online donation pages into your nonprofit's website and ensure you can customize them to match the design to your brand, adjust the fields to capture the exact information you need, and provide custom suggested giving amounts. Most importantly, make sure it's equipped with PCI-compliant payment processing tools to protect cardholder information.
Event management. If your organization holds events to drive community engagement, invest in event management tools. Your fundraising solution might need to include registration forms, sponsorship management, mobile check-in, and integration with video conferencing tools like Zoom to host virtual/hybrid events.
Peer-to-peer fundraising. If you want to empower constituents to raise money on your behalf, make sure your fundraising platform comes equipped with peer-to-peer functionality. Supporters should be able to launch personal campaign pages with custom descriptions and images and start collecting funds for your team in a matter of minutes.
There are plenty of fundraising tools out there, including many we didn't cover like text-to-give, prospect research, major gift management, and corporate giving tools. It all depends on which online fundraising tools your organization needs, so take time considering how your fundraising team currently attracts donors as well as how it would like to start acquiring more.
Volunteer Management
Nonprofits rely on volunteers to complete crucial work and keep the organization running, whether they're staffing events or building animal shelters. The right software can help cultivate long-term, meaningful volunteer relationships.
For instance, your nonprofit may turn to tools to power the following:
Registration and scheduling. Enable volunteers to sign up for relevant opportunities with online registration forms. Scheduling tools will enable you to inquire about their availability and choose a shift that works best for each volunteer.
Recruitment. Continue expanding your volunteer base with recruitment features. For instance, a solution that offers a volunteer feed will allow you to tap into an existing community of people who are ready to volunteer, simplifying your recruitment efforts.
Hour tracking and reporting. Maintaining accurate volunteer information is paramount when it comes to applying for grants and communicating impact to stakeholders. Volunteer management tools will automatically track this information for you. You can have it track when volunteers clock in and out of your event, and you can also enable volunteers to log their hours manually if necessary.
If volunteers play an active role in your organization, make sure you're equipped with the tools to connect with those individuals and maximize their experience.
Choose Tools That Integrate With One Another
It isn't enough to have all the right pieces of tech. Rather, those pieces must fit together if you truly want to optimize your nonprofit's efforts. While choosing essential tools that match your needs should streamline operations, it can actually slow productivity down if your various solutions don't work together.
That's why the majority of your tools should integrate with one another. That way, you can exchange data across platforms and execute coordinated actions across your various teams.
For instance, when your forms automatically feed data into your CRM, you won't have to worry about entering that data automatically. Instead, each team member will have centralized access to this information, and automated workflows will let them know what the next appropriate action is. Or, if someone donates, that will automatically trigger follow-up emails with details regarding their gift.
Not to mention, integrating your systems can also help you keep track of how much time and money you spend on various efforts. You can decide if it's a worthwhile task, needs outsourcing, or can be eliminated altogether.
All in all, tools that integrate with each other will make your team much more effective at making data-driven decisions, which will empower you to produce greater outcomes for your organization.
---
Your nonprofit's software stack is a crucial consideration if you want to boost your ROI and create a more enjoyable experience for staff and supporters. Developing your technology ecosystem requires plenty of forethought as to which solutions will actually support your work without breaking the bank.
Just remember to leverage customer support and any resources from your technology vendors, both during and after onboarding. The last thing you want is to slow down your work and impact your ability to fulfill your mission. Now, with your newfound tech-based knowledge, start building a tech stack that will empower your organization to do more good.