Like any leader at a nonprofit, you're thrilled to welcome new board members to the team. You can't wait to see these bright-minded individuals in action, furthering your nonprofit's mission. But how can you maintain this enthusiasm and make sure your board members have everything they need to get started?
Kicking things off on the right foot with new board members is much easier to achieve with a complete onboarding experience. Similar to onboarding new staff members, welcoming and training new board members helps them become acquainted with your mission and get acclimated to your organization's work environment.

Given the relatively short tenure of board members, an onboarding process is crucial to getting individuals up to speed. However, most nonprofits underdeliver. In this survey from Heidrick & Struggles, just over half of all 500 respondents reported that their organization had an onboarding process when they joined the board. Of those respondents, under half said their organization's onboarding experience properly prepared them to be effective board members.

Creating a helpful board member onboarding experience is a little extra effort on your end, but results in strong board member effectiveness and engagement. In this article, we review three simple steps you can take to provide an outstanding experience for new board members, including:
These tips come from working closely with nonprofit boards to create an enriching board member onboarding experience. At Boardable, we've seen over and over again the impact a great onboarding experience can have!
1. Announce New Board Members to the Public
First and foremost, extend a warm welcome to your new board members by sharing the news with your community. By making a public announcement, you're telling new members that you're proud to have them on your team. Plus, this is an easy way to keep key stakeholders in the loop and let them know that you have new additions to your team.
There are three primary platforms where you'll want to share the news, as elaborated in Boardable's complete guide to welcoming new board members:
Your newsletter: Your community looks forward to your regularly-scheduled newsletter, making it a fantastic place to publish your announcement. Encourage each new member to

draft a short bio

that covers their background experience and what position they're filling.
Social media: If your nonprofit is active on social media, posting your announcement there can help acquaint your supporters with your new board members. Either share one post showcasing the entire team, or dedicate a post to each new board member, complete with their bios and headshots. This gives new members something special to share on their own social media pages, too.
Your nonprofit's website: Most nonprofits maintain a page with their current leadership and board members. Update this page with new board members' titles, photos, and bios. Then, go a step further by publishing a blog post that features your new board members.

Before making these announcements, consider asking your newcomers how they'd like to be recognized. For instance, most will be fine with whichever platforms you choose, while some may prefer not to be recognized in your social media posts.

No matter how you share the good news, this simple step of publicly announcing your team members makes them feel valued and enables you to remind your community of the hard work that goes into fulfilling your mission.

2. Assign Board Buddies
Joining a nonprofit's board can be intimidating, especially if someone has never served on a board or worked with a nonprofit before. They might be afraid to ask questions in front of experienced members, or they may feel out of the loop at first. Ease the pressure and help them navigate this new landscape by assigning each new member a board buddy.
A board buddy is a returning board member who helps the new member get up and running. Pairing newcomers up with a seasoned volunteer can eliminate any nerves of being the "new kid on the block." Plus, it satisfies a common reason for joining a board: networking with peers.
Your board buddies should be prepared and ready to do the following:
Meet with the new member one-on-one before the first official meeting.
Touch base right before the first few meetings.
Sync up virtually after

board meetings

to answer any questions.
If meetings are held in person, board buddies can go a step further by offering their partners a ride to the meeting, greeting them at the door, and sitting next to them in meetings. This can create a positive first impression of what it's like to work with your organization.

Plus, this experience can be just as valuable and enjoyable for the mentor as well. It gives them an outlet to share their passion for your mission, effectively sparking more enthusiasm for their own work. They'll also be conscious of the fact that they should set a positive example in meetings, which can directly impact their participation and performance.
3. Create a Welcome Packet
When welcoming new board members, documents are always part of the process. But boards produce a great deal of paperwork, and it can be overwhelming for new members if you throw too many documents their way all at once.
Instead of flooding new board members with confusing spreadsheets and lengthy documents, condense it down into a single packet. It might be difficult to cut through the clutter to find the most valuable resources to share. As a strong starting point, here's what a complete welcome packet should include: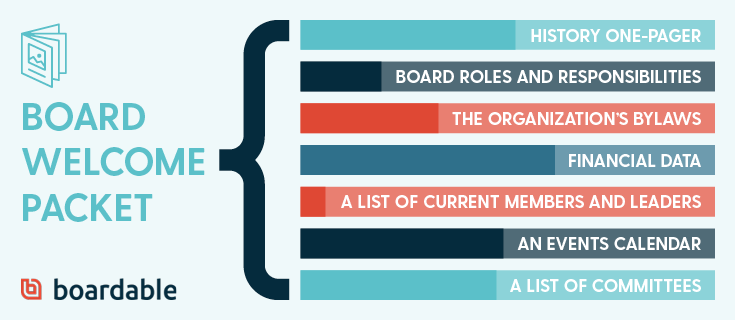 History one-pager: This explains your nonprofit's history and mission in-depth. Start by pulling information from your website's "About Us" page, and then edit it to help your board members fully understand your current work.
Board roles and responsibilities: This page reviews the specific duties that are assigned to each role, which helps board members quickly understand expectations.

This guide

goes into detail about the key responsibilities that you'll want to cover.
A copy of your organization's bylaws: Your bylaws will help board members understand your nonprofit's decision-making hierarchy and give them foundational knowledge of what they can (and can't) do.
Financial data: Include financial information like your annual budget or

any recent nonprofit audit results

. Knowing where your organization stands financially can inform board members' decisions.
A list of current members and leaders: Include brief bios, photos, and contact information for residing board members and current staff leaders.
An events calendar: List any upcoming board meetings and events that board members are expected to attend. They'll know to mark their calendars and make any adjustments to their schedules.
A list of committees. Board members are typically expected to serve on committees, so describe your current committees and their corresponding duties. Include your committee members' names and contact information as well.
Physical documents can quickly pile up and become cumbersome to carry around, so consider digitizing documents when you can. Check to see if your nonprofit board software makes it easy to upload and securely share documents.
Double the Donation's review of nonprofit software explains that board software grants board members access to key documents so that they can work more effectively together. You can consolidate all key documents into one convenient location that they can easily reference at any time.
---
Because your board members volunteer their precious time to your organization, your nonprofit should be willing to provide extra help and resources from the start. Board members come from all sorts of backgrounds, and many don't have prior experience working on a nonprofit board. Giving them everything they need upfront is crucial to make sure everyone's on the same page and to set them up for success.

Now, it's time to turn your new board members' enthusiasm into actual progress for your nonprofit. Build a successful onboarding strategy, and the results will be well worth the extra effort. Good luck!