Writer's block­, it happens to the best of us. A blank WordPress screen, the blinking movement of the cursor, and the constant reminder we have unsuccessfully generated any material. I am sure the question, "what kind of posts will engage our readers?" has crossed your mind many times before. Especially when authoring posts on a regular basis.
To break through that writer's block and get those creative juices flowing we've put together 5 engaging blog post ideas for nonprofits.
1. Tell your nonprofit's story through photos
Let the images do the talking. Use pictures, videos, art, etc. to portray the impact of the event, moment, or narrative you are trying to illustrate. Capture a day of volunteering, a fundraising event, supporters of your organization, the path of funds from donor to recipient… whatever you can think of! You will need to do some writing to create context, however, keep it to a minimum. This allows readers to take a break from the conventional paragraph structured blog while still conveying your organization's message.

2. Challenge your audience
Provide your audience and supporters with a simple list of ways to drive change within their community and challenge them to accomplish all the tasks on the list. This connects readers to your organization by not only getting them involved but also donating their time and energy to your nonprofit. And, of course, having fun while doing so!
Take this to the next level and turn your challenge into a social media campaign/photo contest. Have the participants share pictures of them doing each component on the list with your nonprofit. This can be done by creating a unique hashtag specific to the campaign/photo contest.
3. Create behind- the- scenes footage
Generating behind-the-scenes footage allows your organization to be more than just a web page, which in turn provides donors, supporters, and readers with something a bit more relatable. Many donors and followers enjoy knowing and/or seeing what goes on backstage at your nonprofit.
As nonprofits by nature tend to be more approachable than your traditional business, seize this opportunity- share photos, videos, and quotes of behind- the-scene events, planning sessions, your facilities, interviews with staff members, etc. Although donors are more focused on your organization's cause, placing emphasis on all the hard work and dedication that goes on backstage can boost and/or reaffirm their support for your nonprofit.
4. Guest bloggers
As the name suggests, guest bloggers author content for a blog that is not their own. Are you looking to use your blog to expand your nonprofit's following? Besides saving you time and brainpower, it is an opportunity to increase website traffic for both parties involved.
By inviting a guest blogger to write for your nonprofit's blog, you are not only introducing their audience to your organization but also providing a fresh perspective on your area of interest. As a result, you will attract new readers, cover a wider range of topics, and build relationships with others in the industry.
5. Highlight a volunteer/member
Show your appreciation for those who are giving back to the organization while at the same time generating an incentive for others to do the same. For example, having a "member/volunteer of the month" recognizes your organization's donors and supporters as well as makes them feel special and valued.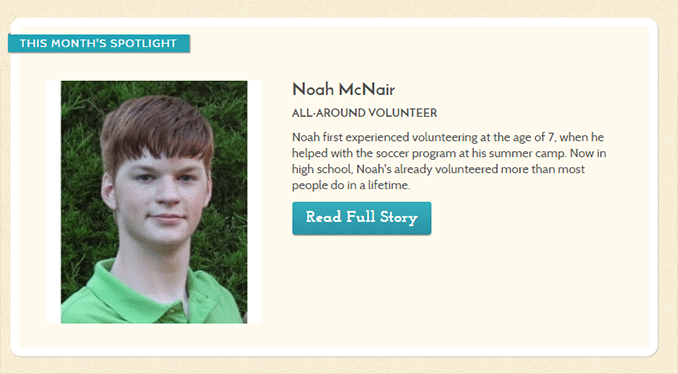 ___
Your nonprofit's blog is crucial to generating traffic to your website. With creative, unique, and engaging content you can assure your efforts will be rewarded with positive results!