Your nonprofit website is oftentimes the first place that potential supporters look to learn more about your organization.
To your audience, a clean, professional looking website can make you appear trustworthy, validate your cause, educate, and inspire involvement with your organization. A disorganized, chaotic site has the potential to turn people away, which is the last thing you want!
There are many important features that your website must have to be considered up-to-date and optimal, including user-friendliness, mobile optimization, and overall visual appeal. All of this is important to cater to the many different audiences that arrive there every day, from donors to volunteers and even service recipients.
But what can you do to really make your nonprofit website stand out? And, how do you create an effective one-size fits all website experience for your audience that will help you recruit more supporters?
To make your nonprofit website more powerful, add these 5 features.
1. Blog
Blogs are a great educational tool for your audience. Your nonprofit can use a blog to:
Share your nonprofit's story and impact
Connect with people who are interested in the work of your organization
Promote your knowledge and authority about your cause
Bring folks not necessarily connected to your organization to your website through links and SEO
While blogs take a significant time commitment, putting one on your website will drive traffic to your site (and hopefully recruit more donors in the process).
For a great example of a nonprofit blog, check out World Help. Their blog offers visitors frequent updates on the nonprofit, stories from the field, reports on impact, and information on upcoming fundraising campaigns.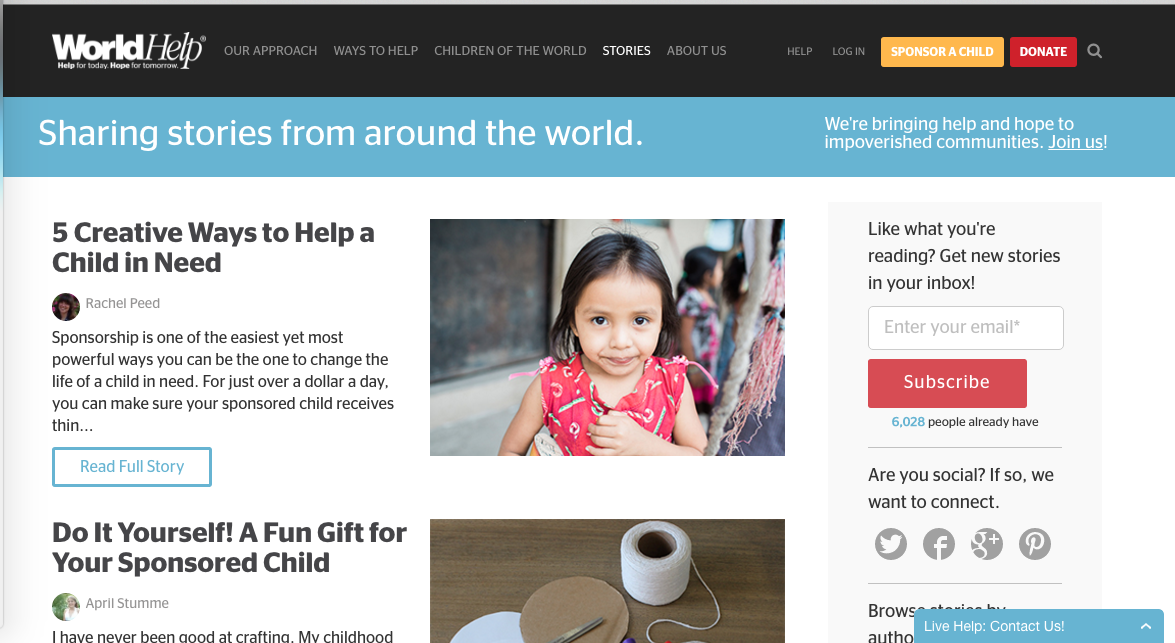 https://worldhelp.net/blog/
2. Fundraise & Volunteer Opportunities
Some of your most loyal website visitors may be looking to get involved on a deeper level, which is why the more opportunities you give your audience members to get involved, the better!
One option you have is to include a link to your peer-to-peer fundraising campaign directly on your website. This fundraising technique relies on the power of word-of-mouth marketing by having your most loyal supporters fundraise on behalf of your organization.
The great thing about this type of fundraising is that it increases the reach of your campaign beyond your current supporters to their friends and family. World Bicycle Relief includes a peer-to-peer fundraising campaign directly on their website.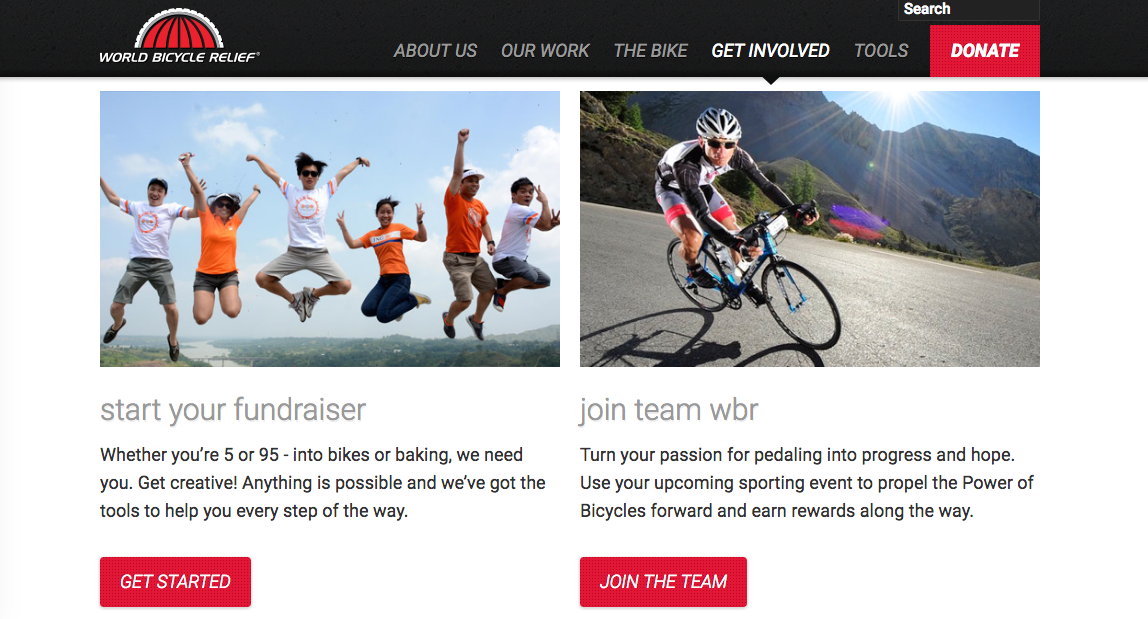 http://www.worldbicyclerelief.org/get-involved/fundraise
This feature gives World Bicycle Relief's supporters the power to rally behind the cause, not just as a visitor or donor, but as a fundraiser.
Another way to encourage visitors to engage with your nonprofit or charity on a deeper level is to add volunteer opportunities directly onto your website. Again, World Bicycle Relief does it right by adding the option to volunteer under their "Get Involved" tab.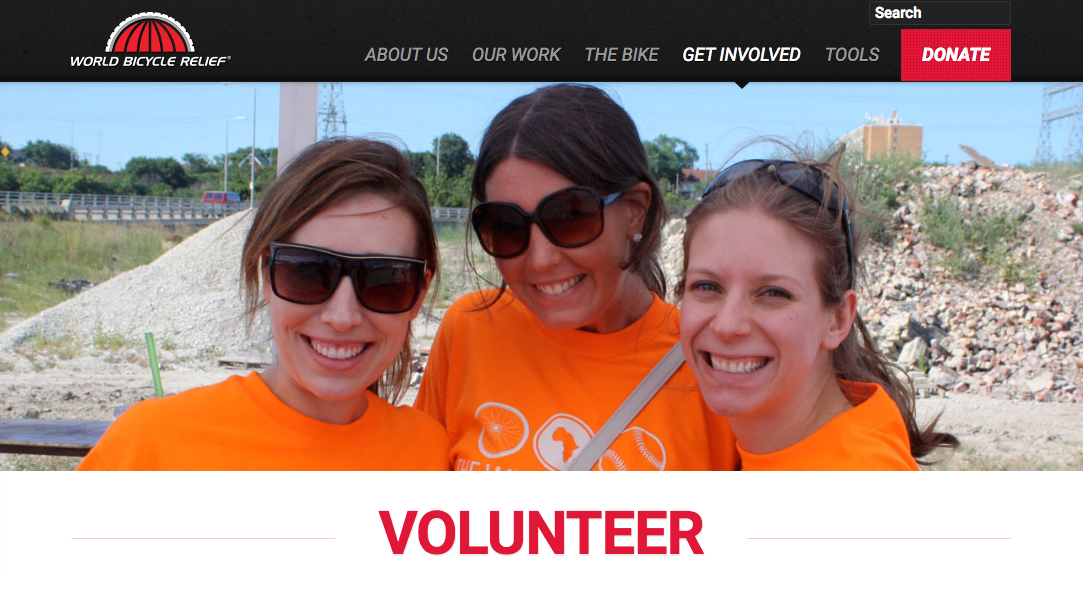 http://www.worldbicyclerelief.org/get-involved/volunteer
3. Email Capture
Use your website as a tool to collect contact information from your visitors. Email capture is particularly important because not everyone headed to your website is ready to make a donation.
Sometimes, they are simply there to research your organization. Instead of leaving it up to your visitor to get back in touch, nonprofits should take the initiative to collect an email address. That way, you'll have the right information to begin building that relationship down the road.
Capture your visitor's emails by:
Using strategic pop-ups or slide-in features
Offering exclusive content
Incorporate a side bar or header
Growing your nonprofit email list is a perfect way to start engaging your audience and recruiting new donors.
4. Donor Testimonials
If you're looking for a way to validate your cause through social proof, try adding donor testimonials.
As humans, we're hard-wired to follow the rest of the pack, so to speak. If your cause is supported and touted by donors, then others will feel comfortable getting involved as well. This is why donor testimonials are so effective!
Donor testimonials work best when the testimony addresses WHY the donor gives. Here are a few prompts that you can use when procuring testimonials for your website:
Why were you motivated to become a donor?
What other roles do you play within the organization (such as a volunteer, board member, etc.)
Why is this organization of value to you?
Why is this organization of value to the community/world?
Take a look at World Help's "Why Sponsor A Child?" page to see a great example of using donor testimonials on your website. This nonprofit uses strong written donor testimonials in addition to an impactful video.
http://vimeo.com/104609041?width=1080&height=608
5. Social Sharing Buttons
Over 20% of the time people spend online is spent on social media platforms like Facebook, Instagram, Twitter, and Snapchat. Thus, a smart way to connect with those in your audience that spend such a significant time on social media is by adding social sharing buttons. Social sharing buttons allow your visitors to connect with your cause and share your content on other platforms.
These buttons, which link directly to your pages on various social media platforms, should be strategically placed on your website. The top or bottom right corners, sidebars, headers, and footers are all common places to put your buttons.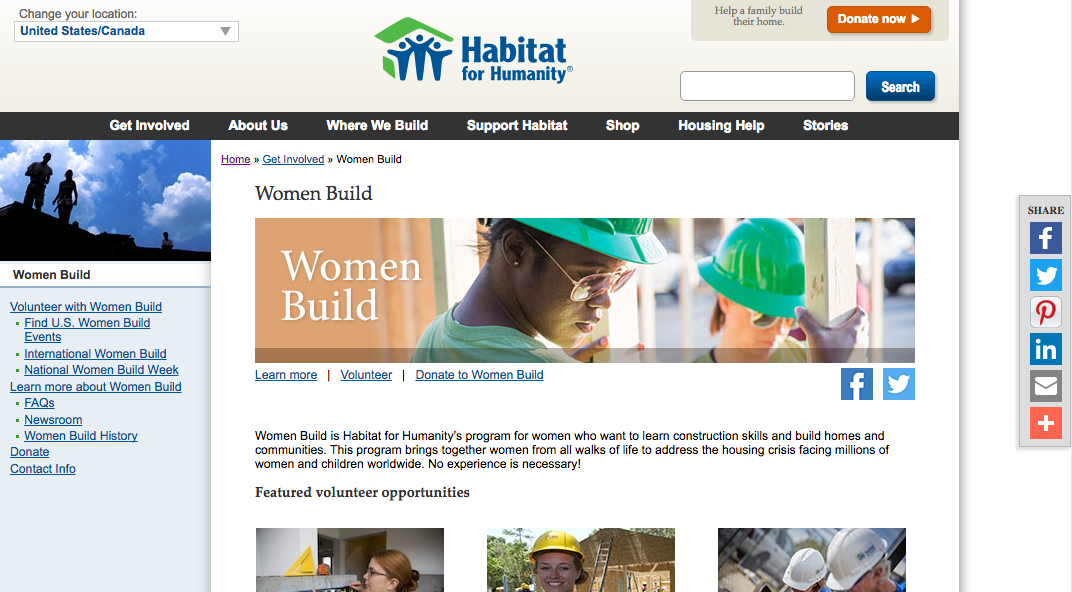 http://www.habitat.org/wb
Expand your online audience by putting your social media buttons front and center on your nonprofit website.
If you're looking for a way to make your nonprofit website more powerful and recruit more supporters in the process, then try incorporating one (or more!) of these 5 features into your website.
A blog, email capture, donor testimonial, social sharing buttons, and a peer-to-peer fundraising campaign will help to draw in, educate, and inspire your website's visitors to become your most loyal supporters.