You work hard to raise funds that power your nonprofit's mission. You promote your online fundraising pages, host engaging fundraising events, and engage with donors on a regular basis to encourage them to continue powering your mission.
With all of that on your plate, you might be wondering how you'll fit a new fundraising campaign into your busy schedule. One way to increase your fundraising revenue is to optimize your current fundraising strategy to increase your return on investment (ROI).
By making a few simple tweaks to your current strategy, you can boost your ROI and raise more funds. All of these tweaks can be done online as well, making them convenient for your team to implement. In this guide, we'll cover tips that can help your nonprofit do more with your current strategies, including:
Personalizing interactions with your donors
Promoting recurring donations and sharing suggested giving amounts
Asking donors to cover the payment processing fees on their donations
Leveraging peer-to-peer fundraisers leading up to events
Asking donors to find out if their donations are eligible to be matched
If you're able to increase your fundraising ROI for a campaign that raises an average of $50,000 by just 5%, you'll raise an additional $2,500! Now, imagine you implement that same positive change across your entire fundraising strategy. You'll raise thousands of more dollars throughout the year.
Let's dive in to learn more about how to optimize your fundraising initiatives.
1. Personalizing interactions with your donors
An important data point to track is the cost to acquire each donor. Just as important, however, is your first-time donor retention rate.
As Bloomerang's donor retention guide explains, "If a new donor gives only once—as nearly 70% do—then you're often left with a loss on your initial investment to gain that new donor."
Retaining donors is significantly less expensive than acquiring new ones. Plus, donors tend to give more over time as they build stronger relationships with your organization. That's why focusing on your donor retention rate is so important.
The key to retaining these supporters is to develop deeper relationships with them—something you can do by personalizing your interactions with them.
As you reach out to your existing donors, personalize each message to further engage your support base. Some of the strategies you can use to personalize these interactions include:
Effectively leveraging donor segments. Understanding where your supporters are in their engagement with your organization can help you better reach them. You wouldn't reach out to a recurring donor and a first-time supporter in the same way. Therefore, use segmentation to define where supporters are in their engagement with your nonprofit and write messages specifically targeted to these groups.
Including donor-specific details. Add details that are specific to the individual you're reaching in your messages, such as their name or the last event they attended. If your donor management solution offers marketing tools, you can automatically populate these details in your messages, pulling from the information stored in your database.
Continuously offer additional opportunities for your donors to get more involved with your organization in your outreach efforts. The more involved they are, the more information you can gather to further personalize your outreach efforts, creating a cycle that continues to grow and strengthen relationships.
2. Promoting recurring donations and sharing suggested giving amounts
Most organizations leverage online donation forms on their websites as a way to secure donations from their supporters. By making small changes to your online giving page, you can capture additional gifts and encourage donors to make larger donations.
You can do that by simplifying your form and only asking for the necessary information from supporters. You can also add two items to your forms to optimize them: an option for the donor to make a recurring donation and some recommended giving amounts.
Recurring donations
Offering the option to make a recurring donation on your donation form makes it easier for donors to give more regularly and can turn your one-time supporters into regular contributors to your mission.
Plus, supporters tend to give more over time when they set up recurring donations. Imagine a donor plans to give a donation of $100. Instead, they could choose to give a monthly donation of $10. Throughout the year, they'll end up giving $120 rather than the one-time gift of $100. Spreading out the contributions over time is easier on their wallets, and you receive more money than you would have had they made a one-time gift. It's a win-win!
Recurring donations can also help boost your retention rate. Monthly giving programs have a retention rate of over 80% for one year and 95% over five years. If you notice a donor tends to give on a semi-regular basis, you might suggest they sign up to make a monthly contribution to make the process of donating easier for them while increasing the likelihood that they'll keep giving.
Suggested giving amounts
In addition to offering the option to make a recurring donation, you should help donors choose the amount they want to contribute with suggested giving amounts. A donor may wonder how much to give because they have no idea about how much other people tend to donate. These suggestions leverage social proof to help donors determine how much they want to donate to your cause.
Suggested giving amounts can also increase the amount that your organization makes through your donation page. Choose your suggested donation amounts based on your average gift sizes. For example, if your average donation is $20, you might offer $25 as the lowest or second-lowest gift amount option.
Studies show that listing your suggested amounts from highest to lowest instead of lowest to highest can also increase your overall donation amounts, encouraging more people to choose higher amounts.
For example, you might order the suggested giving amounts from left to right as:
You would do this instead of listing them in this order:
You can see the results of that study in the image below: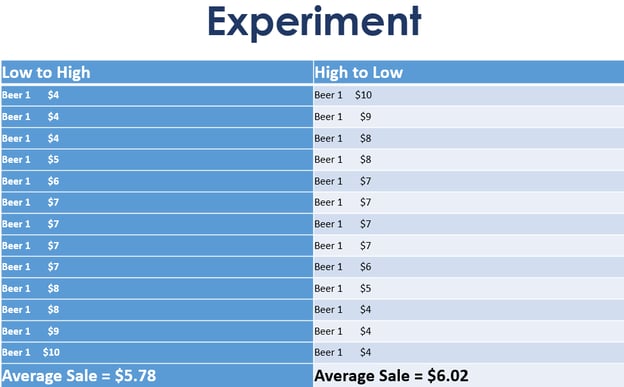 By making some small adjustments to your donation pages, you can encourage your supporters to give more frequently and to give higher amounts.
3. Asking donors to cover the payment processing fees on donations
Another small way to increase your total return on investment from your online donation page and other online fundraising opportunities is to give your supporters the option to cover the payment processing fees.
Imagine your nonprofit receives $100 donations from 50 supporters as a part of a fundraising campaign. This means you'll have raised $5,000 during the campaign. However, if you pay 4% in payment processing fees, you'll have netted $4,800 instead of $5,000.
But, those 50 donors choose to cover the payment processing fees, you'll keep that $200 while they'll only pay $4 more on top of their original contribution, which is a fairly small ask for most supporters.
Look for online fundraising software that offers a checkbox on your form that will allow your donors to cover the processing fee on their own contribution. Here's an example of what that might look like: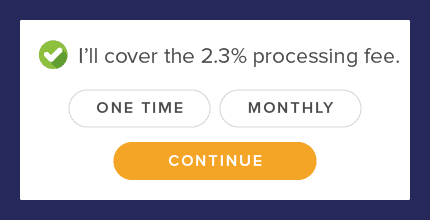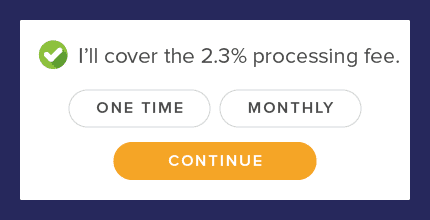 4. Leveraging peer-to-peer fundraisers leading up to events
Hosting events is an important opportunity for organizations to raise substantial amounts of money from supporters. The more you can raise to offset the price of the event, the higher your final ROI and the more you can grow the event in the future.
Launching a peer-to-peer fundraising campaign leading up to your event offers two opportunities to help your organization get more out of this opportunity:
You can raise additional revenue for the campaign. Ask your dedicated supporters to launch their own fundraising pages and raise money on behalf of your organization. This will allow your team to focus more on the event itself and how you can make the most of that opportunity.
You can generate additional marketing for the event. Be sure the fundraising pages that your ambassadors are using to raise funds for your cause also include information about the upcoming event. On the donation confirmation page, you might even offer a link to your event registration page or a discount on registration for those who contribute to peer-to-peer campaigns. This generates additional marketing for the event, growing your attendance.
When you can accomplish multiple goals with a single strategy, you'll naturally increase your return on investment overall. By pushing peer-to-peer fundraising campaigns before a major event, you can amplify your fundraising efforts during that event itself.
5. Asking donors to find out if their donations are eligible to be matched
Many companies offer to match donations made by their employees. This allows your donors to make double the impact without giving more than their original donation amount.
Many donors are unaware of their eligibility for these programs. Therefore, your organization needs to inform your supporters of the opportunity. Ask them to research their eligibility with their company or offer a matching gift database search tool so they can look it up easily during the giving process.
---
Maximizing each of your campaigns means increasing your return on investment and increasing your overall revenue. These tips will help your organization get more out of your existing opportunities and raise additional funds. Good luck!