Every year, new fundraising trends grow and develop online.
Technology changes rapidly, and nonprofits can capitalize on new developments to better reach their donors. After all, your donors are online.
Donors in varying age groups and giving levels react positively to online engagement. As all sorts of organizations adapt their fundraising strategies to meet donors' expectations, it's important that your nonprofit does the same — or you'll risk being left in the dust.
These 5 popular fundraising trends can help:
Let's learn from the success of these popular fundraising trends by getting started with our first topic.
1. Donation pages emphasize impact.
When a supporter lands on a donation page, they should immediately be reminded of your cause and how it inspired them to land on your page in the first place. This year, nonprofits have been constructing donation pages with special attention placed on communicating the impact a donor can make with a gift.
Nonprofits are branding their pages in a way that makes donors feel secure when they give. Plus they're keeping the mission at the forefront of the page's messaging by showcasing the nonprofit's brand!
The most popular pages make use of powerful visuals. A large, relevant header image (usually called a hero image) draws donors into the page and reinforces the emotions they're experiencing that inspired them to navigate to the donation page in the first place. These images often feature a photo of the recipients of a nonprofit's aid getting the help that they need.
Many nonprofits build on that concept and incorporate their mission statement into the hero image so donors understand how their gifts will be used.
Together, a powerful image and a nonprofit's mission statement can create immediate impact on the donation page, encouraging the supporter to stay on the site — and to follow through with a donation.
While the best practices surrounding donation pages may change periodically, one consistent theme for earning the most donations is keeping the pages as simple as possible.
To do so, donation pages should:
Only require necessary information. Minimize copy and data fields as much as possible. Limit the information that donors have to fill in to complete the payment process. Don't require donors to make an account before they donate, as this extra step can actually deter donors from giving.
Direct donors toward giving. Don't link away from the donation page. Draw donors' attention with a large, colorful "Make a Donation" button. Doing so will keep donors focused on giving.
Expedite the giving process. Online giving is popular because it's convenient. Help donors complete the giving process as quickly as possible by making the form short. Immediately after the donor makes a gift, direct them to a confirmation page, so that they know the transaction is complete. Wrap up the giving process by sending a custom donation receipt within 24 hours.
Following these tips can keep donation pages organized and donors focused on giving! It's important for nonprofits to invest in the right strategies to keep their donation pages up to speed.
Bonus: Learn more about donation pages with Qgiv, or check out Elevation Web's Donation Page 101 guide!
2. Peer-to-peer fundraising demands innovation.
Peer-to-peer fundraising is a popular online strategy among nonprofits, and for good reason. Peer-to-peer fundraising makes use of donors' existing personal and professional networks.
Instead of a nonprofit asking for donations en masse, individual supporters reach out to their family and friends through a personal donation page. This format allows donors to connect with their peers naturally and build off of an established, trustworthy relationship.
While peer-to-peer fundraising can benefit nonprofits and increase their extended donor networks, the popularity of crowdfunding is creating a fundraising landscape full of personal fundraising projects and appeals for financial help. After all, individuals can fundraise for anything from trips and adventures to funerals and memorials.
With so many people asking for donations online, it can be tough for a peer-to-peer campaign to stand out.
That's why nonprofits are getting creative with their peer-to-peer strategies to spark action.
These strategies are some of the most effective techniques we've seen this year:
Tell a story. Provide your supporters with compelling content that they can easily incorporate into their personal donation pages and share on their social media networks. A campaign video, for example, can tell your nonprofit's story through both visuals and words. Plus, supporters can write their own commentary, explaining their personal connection to your cause when they share it.
Gamify fundraising. Motivated supporters are effective supporters. You can incentivize your individual fundraisers to work hard and raise more by gamifying their fundraising efforts. Providing badges for fundraising milestones or creating competition with leaderboards can encourage supporters to fundraise beyond their goals. Plus, donors may be more inclined to give if they can help a loved one "win."
Create a hashtag. Hashtags work well for peer-to-peer campaigns because they consolidate posts from various supporters and donors across multiple social media platforms. A hashtag can inspire action with social influence. When people see others donating to your cause, they'll be more likely to give themselves.
It's important that peer-to-peer fundraising continues to grow with competing technologies. The more saturated your constituents' newsfeeds become, the more innovative nonprofits will have to be to take center stage.
Bonus: Learn more about storytelling with videos!
3. Matching gift tools can maximize donations.
Matching gifts are a 2-for-1 deal for nonprofits.
To receive a matching gift, a donor must apply for one through their company. If the employee's donation is eligible, their company will match the employee's contribution. Though most matching gift programs operate on a 1:1 ratio, some go even higher (even as high as 4:1!).
The tangible benefits of matching gifts are straightforward: your organization receives at least twice as much as it would have otherwise.
Because matching gifts can greatly impact your cause, it's important that your nonprofit thinks about how to incorporate them more readily into your online fundraising strategies.
The biggest hurdle to receiving matching gifts is an uninformed donor base. It's critical that nonprofits inform donors of the opportunity to receive matching gifts so that they actively apply for them. While your nonprofit can spread information with emails, letters, or helpful infographics, the most intuitive strategy consists of incorporating matching gift software into your nonprofit's website.
Matching gift tools can be integrated into a nonprofit's website, easily allowing donors to check the eligibility of their donations.
This ASPCA dedicated matching gifts page is a strong example of how matching gift software can make matching gifts an intuitive and convenient aspect of the donation process. A donor simply has to type the name of their company into the search bar to learn more about the requirements of their employer's matching gift program.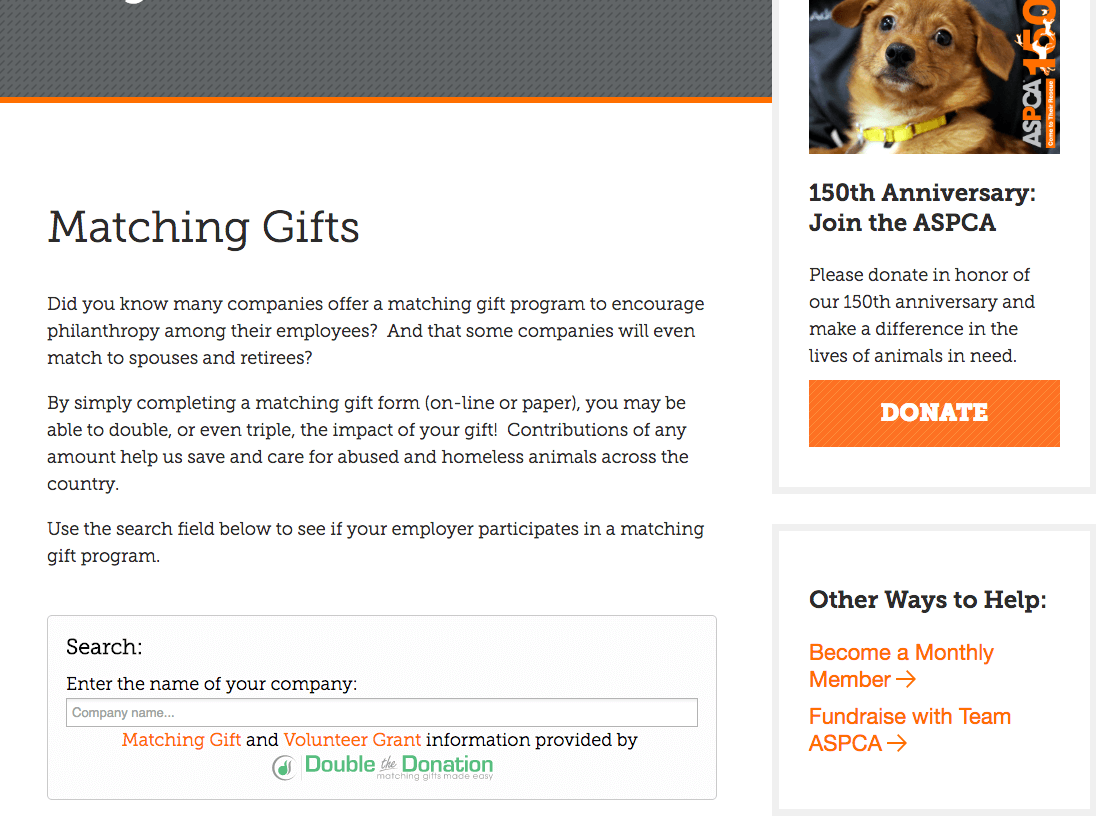 Tools like the one above allow nonprofits to capitalize on online fundraising and matching gifts, bringing in more revenue!
4. Diverse giving options earn more.
One of the benefits of online fundraising is the multitude of channels that you can use to solicit donations.
Some of the most prominent channels include:
Email.
Webpages.
Social media.
Video.
Mobile giving.
A strong online fundraising strategy can implement all of these elements (in addition to other channels, such as direct mail).
As technology develops, donors are becoming more and more used to online and mobile giving channels, and they expect nonprofits to meet them on their personal devices. This is true this year and will be true in the years to come; nonprofits need to keep up with online giving channels to better reach their donors.
First and foremost, it's important that all of your channels are legal and PCI compliant. Second, your donation channels should be based upon your donors' giving patterns and preferences, as well as your nonprofit's needs.
If, for example, your donors prefer to send checks to your nonprofit for financial purposes, but enjoy the convenience of online giving, then you can meet them in the middle with direct debit or e-checks. According to this iATS guide, direct debit works likes this: donors input their bank account information into your data fields, and the donation is transferred directly from their bank account to your nonprofit.
The key is to assess your donor base so that you can offer the options that will be most engaging and convenient for your donors.
5. Online fundraising software develops new solutions.
Online fundraising software has continued to show new developments that make fundraising more efficient and streamline internal tasks. What were once innovative advancements are steadily becoming the norm.
In fact, these trending software features can teach us a lot about proactive fundraising:
Cloud computing CRMs. Cloud-based CRMs cut costs and offer specialized solutions for nonprofits. After all, cloud computing CRMs automatically update as providers advance their products. Plus, the convenience of having your donor data housed online means that authorized staff members can access important information as long as they have WiFi.
Social listening and analytics. Social media is a channel where donors engage with your nonprofit naturally. Nonprofits can learn a lot about their donors (and even how donors perceive their mission!) when they pay attention to the ways in which donors speak about the cause. Social listening tools and analytics can help nonprofits identify their most vocal advocates, as well as their most effective networking channels.
Text-to-give shortcodes. Mobile phones are a staple of modern day technology. Most of your donors will be familiar with texting (many text on a daily basis!). Text-to-give software allows donors to text donations to your nonprofit. With shortcodes, donors simply text a shortcode (a specific word, such as GIVE) that determines the campaign they'd like to give to.
If your nonprofit has yet to adopt these top-tier fundraising solutions, then perhaps it's time to assess their value to your organization.
After all, these solutions are designed to better engage donors and support a nonprofit's internal processes. It's important that nonprofits pay attention to these developments so that their own fundraising technology can stay up-to-date and relevant.
Bonus: For more information on fundraising software, check out this Salsa guide.
---
Online fundraising will only continue to develop next year and the year after that! Nonprofits that can stay ahead of the curve and learn from the top tech trends will be well-equipped to refresh their fundraising, engage their donors, and, ultimately, raise more.
---