Now the time has come where not only do you have to have a strong, impactful online presence as a nonprofit, but also it's necessary to have an online presence for yourself as a staff or a staff member. Staff bios are more important than you think. Having a compelling bio allows your audience, and most importantly your donors, to get to know you. It helps to both establish credibility for your organization and helps donors get to know your staff. It makes their visit to your nonprofit's website more personal. They not only get to know you as an organization, but also as a person. Here are a few tips to help you write compelling staff bios for your nonprofit!
1. Not everything is in a name
One of the main goals for staff bios is to intrigue and captivate the reader. It has to be more than just a name and a job title. It can't be boring or mundane. Most people think the best way to write a great bio is to impress donors, bosses, and sometimes even themselves. Don't aim to impress. Aim to be as real and as honest as you can be.
2. Be picture ready
What is a bio with out a picture? A picture is important when it comes to staff bios. The photo makes the initial connection and it makes their profiles more personable. Those few sentences on the screen can sometimes have little to no impact on your organization's audience until they can put an actual face with it. People like people. For some nonprofits it's best not to have pictures of staff members due to their organization's cause, but if you can have a staff picture, go for it. People also like pictures, so make sure you choose a good picture, at that. Appearance matters. Dress neatly and professionally, but keep in mind that professional doesn't always mean suit and tie. Keep your style in tune with the style of your organization.
3. It's more than just a resume
Don't use your staff bio to flood your audience with a slew of your most important accomplishments. The point is to appeal to your supporters. Your bio's main purpose is to connect with people, not be a resume. It is a way for people to know that you are real and that you are someone that they can relate to. Try sharing quirky information, like what you do in your spare time and why you chose to work in the nonprofit field. Show a bit of your personality through your bio.
4. Provide a method of contact
The nonprofit world is a world of connections, so make sure your audience has a chance to connect with you. You should provide an email address, a twitter handle, or even a phone number, but make sure that you have one available to share with others.
Take a look at charity:water's staff page. They utilize every tip! They have captivating photos, keeping in tune with their nonprofit's style, the bio's are moving, and they provide a method of contact.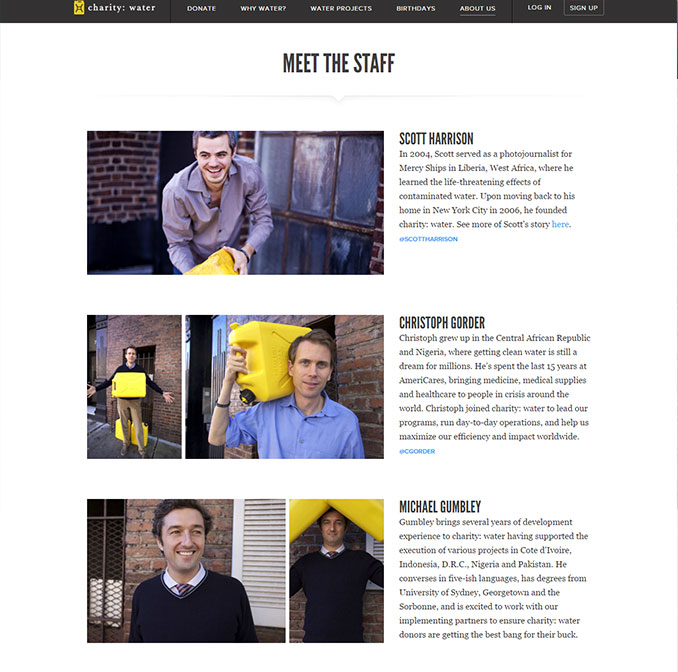 Conclusion
Boring, vague bios are a thing of the past. Leave them in last year! Make sure to have a compelling bio that keeps people's attention. Remember the supporters of your nonprofit want to know the cause and the purpose for your nonprofit , but they want to know the people behind the scenes as well. Your donors want to get to know the people responsible for the success of your organization.
Do you have any more tips to add? Show us your organization's staff bios by linking to your site below in the comments.