In this day and age, virtual fundraising is critical for any nonprofit, yet effectively leveraging virtual strategies can be difficult for many smaller or less tech-savvy organizations.
With the internet being a major part of people's everyday lives, there's mounting pressure to engage your supporters on these mediums and constantly update your virtual strategies to keep up with the times. On top of that, the pandemic continues to add urgency to virtual fundraising as in-person events are canceled, postponed, or held with restrictions.
So, with everyone stuck in a virtual or hybrid engagement landscape, how can you stand out, engage supporters online, and navigate the obstacles of digital fundraising? Here are just a few of our top suggestions:
Optimize your website design.
Revamp your volunteer program.
Inspire your local community.
Brainstorm fun and accessible event ideas.
With these techniques, your organization can maximize the success of your current fundraisers, thoroughly engage supporters, and even launch new and unique fundraising initiatives that spark long-term engagement. Ready to strengthen your virtual fundraising strategies? Let's jump right in.
1. Optimize your website design
Your online platform is the first place that supporters will turn to if they have questions about upcoming fundraisers or your event lineup. Additionally, your website is the first point of contact that many potential donors will have with your organization.
Regardless of whether a casual searcher or a loyal supporter is browsing your site, you want to make sure that all online users have a positive experience. While a poor user experience can cost your organization potential supporters and discourage engagement in your virtual campaigns, a positive experience can lay the foundation for future fundraising success.
To ensure that your website is fresh, engaging, and interactive, consider using:
A simple, clean layout with minimal pop-ups.
Consistent branding across your entire site.
A search engine feature to help users find the content they need.
An easily locatable donation button visible on every page.
A well-worded and organized menu and navigation bar.
High-quality images and concise, compelling storytelling on your landing page.
Your website is a living, evolving advertisement for your brand, events, and services. The main goal of your site is to create an easily navigable, persuasive hub of engagement that will funnel users to the donation page and inspire them to sign up for newsletters and events.
Of course, not every fundraising professional is an experienced graphic designer or a coder. Luckily, you don't have to be an HTML or UX expert to create a clean, aesthetically pleasing, and engaging website. With the right web development platform, anyone can implement these essential features into their online site.
Not to mention, these web strategies will allow you to leverage technology to boost donor engagement, increase donor acquisition, and more effectively market your online fundraising initiatives.
2. Revamp your volunteer program
Your donors aren't your only supporters. Volunteers are another critical source of support for any fundraiser, whether in-person or virtual. Improving your volunteer management and volunteer recruitment strategies will directly boost the success of your online fundraising.
Your local community is an invaluable resource to begin looking for potential recruits and spread the word about your virtual volunteer opportunities. Email or call local clubs, schools, ministries, and volunteer centers to tap into a readily available source of local support.
Social media is another great way to raise awareness of your volunteer opportunities and engage your supporters in fresh and unique ways. Segment your supporters by age to determine which platforms they would likely use, and then optimize your content to suit each channel. For example, Instagram is a great location to search for younger volunteers, and short video ads, photographs, and digital flyers are all well-suited to the platform.
To dive further into the subject, take a look at Double the Donation's guide to volunteer management, which explores what goes into effective recruitment, training, and management. The article includes volunteer program best practices, tips and tricks for every stage of the process, and features to look out for in volunteer management software.
You can create an unforgettable volunteer experience that leads to maximum fundraising success with the right tips in mind!
3. Inspire your local community
No matter how large your organization may eventually become, your local community will almost always be your most dedicated base of support. Your "hometown" is the hub of your advocates, with a sense of local pride for your organization and all that it gives back to the community.
To maximize this local support, you might consider collaborating with local businesses, clubs, and organizations in your next fundraising initiative. By partnering with other hometown heroes, you can ease the financial burden of these events, increase your marketing reach, create valuable organizational alliances, and raise more awareness for your cause.
Another best practice to reach out to the local community is to infuse nonprofit storytelling into all of your multi-channel marketing efforts. This technique allows you to empower and inspire locals with your cause's story and become protagonists in your struggle against the obstacles to that mission.
If leveraged correctly, these tools can turn your advocates into full-fledged donors. You will create a deeper relationship between your organization and your supporters and illustrate how helping your cause shows support for the entire community.
4. Brainstorm fun and accessible event ideas
The pandemic has shaken up event plans for many organizations, and many fundraising coordinators have been left scratching their heads at which virtual-friendly fundraisers will engage their supporters.
Whether your organization is a national nonprofit struggling with virtual engagement or a small PTA program looking for school fundraising ideas, these initiatives will help any organization to freshen up its fundraising strategies:
Shoe drive fundraisers. Collaborate with a shoe drive fundraising coordinator to put on this easy, in-person or virtual fundraising event. Participants simply donate their gently worn, new and used shoes. Then, the coordinator makes a contactless pick-up and sends your organization a check for its contribution. Simple, fun, and highly accessible, this is our top choice for any fundraising organization.
Online classes and game nights. Cure people's pandemic boredom by hosting fun courses and game nights for participants to enjoy. For an entry fee, attendees will be able to take cooking classes, participate in a paint-and-sip, or enjoy a variety of other evenings of exciting competition and learning.
Text-to-give campaigns. This type of fundraising campaign requires minimal management and planning. Your organization simply makes a heavy marketing blast to encourage donors to text a keyword to your fundraising phone number. Participants can effortlessly give to your organization in this flash fundraising event with just a few clicks on their mobile devices.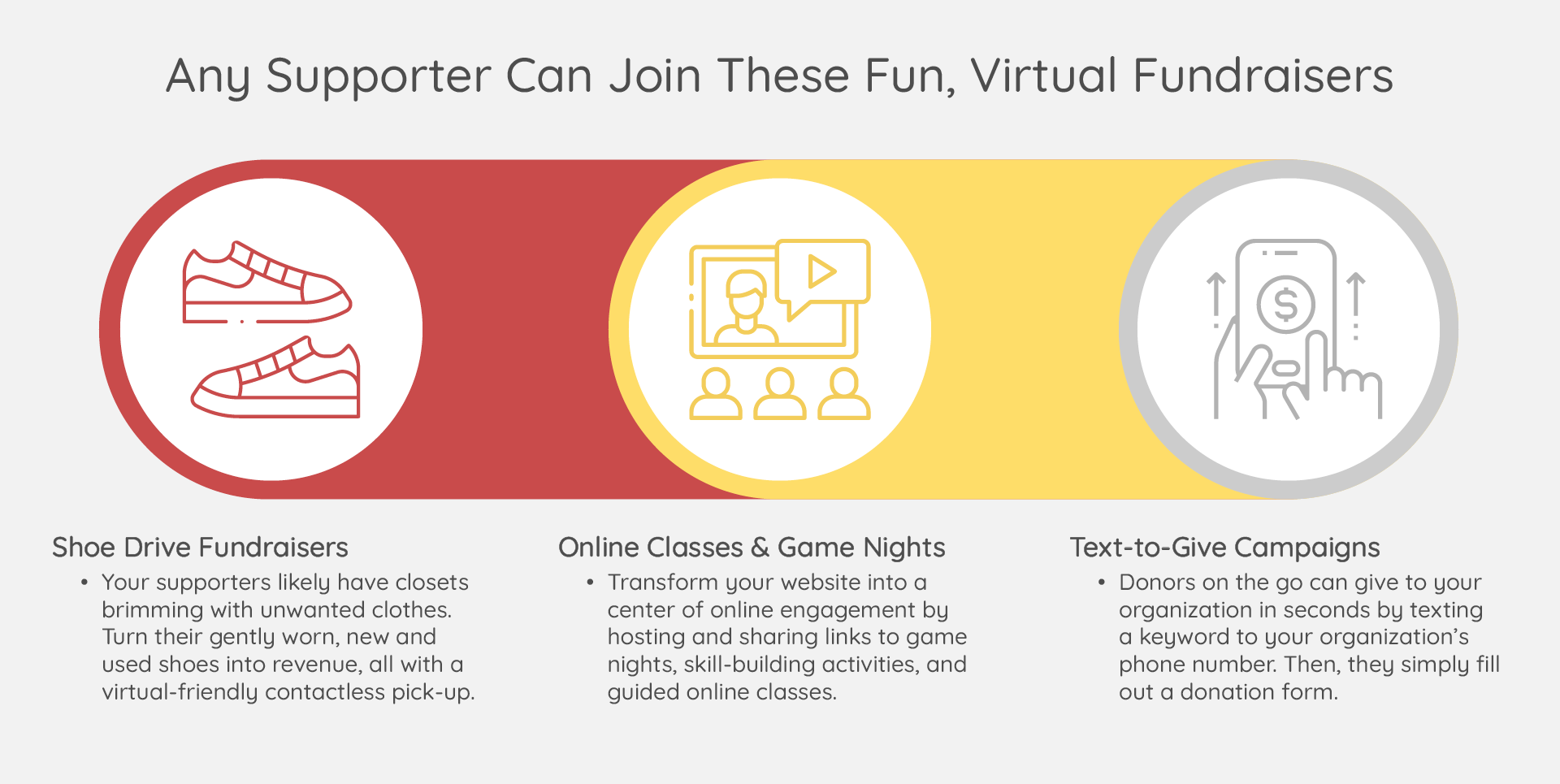 These fundraisers provide a variety of versatile and cost-effective ways for your organization to diversify its fundraising strategies. If you're interested in exploring even more fun and accessible fundraising campaigns, this Funds2Orgs master list of fundraising ideas for nonprofits has more than 45 fundraising types, as well as their cost, difficulty, and earning potential. That way, you can find the campaign ideas that suit your organization's needs.
---
If your organization has struggled to engage and retain supporters, know that you're not alone. Donor attrition and falling fundraising turnouts have become a major problem for many organizations, and we hope that you're soon able to overcome these challenges.
With these tips and tricks in mind, your organization will be one step closer to revitalizing your fundraising efforts and boosting your supporters' engagement. In fact, your organization will likely emerge from the pandemic with stronger fundraising initiatives than ever before!