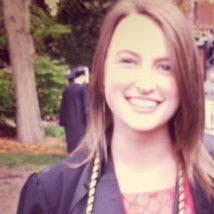 November 30, 2015, by Hillary Skeffington
Editor's Note: This week's blog post is brought to you by Double the Donation's founder, Adam Weinger. Double the Donation helps nonprofit organizations and schools increase fundraising from corporate matching gift and employee volunteer grant programs.
Many companies offer matching gift programs to give their corporate philanthropy initiatives a boost. Employees benefit by having their donations doubled without having to open their wallets a second time.
And your organization gains some extra donations. Everyone wins!
While it would be nice if donors just automatically knew about matching gifts and submitted their requests to their employers after every donation they made, the reality is that many individuals simply don't know that their employers offer matching gift programs or what the submission process even is.
Your organization's job, therefore, is to equip donors with the proper information about these beneficial employee giving programs.
Take a look at the top three ways to market matching gifts on your nonprofit's website.
For more information about matching gifts, check out this resource.
1. On a "Ways to Give" page.
Often, donors will look for different ways that they can support your organization. These donors tend to land on your "Ways to Give" page.
Make sure you're including information about matching gifts on these essential pages!
The Pikes Peak Region chapter of CASA offers a great example of promoting matching gifts on a "Ways to Give" page. Not only do they let donors know that they can give in multiple ways (including online, over the phone, and by direct mail), they also add information about matching gifts to encourage donors to look into their employers' own programs.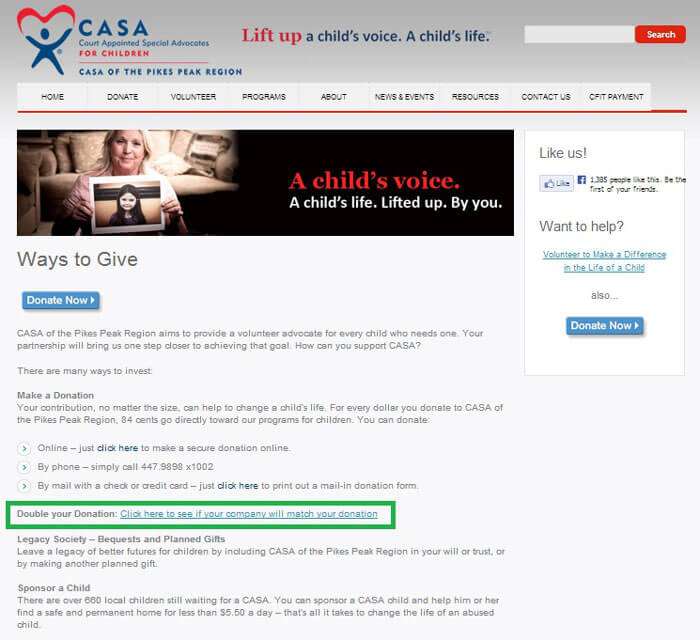 Having an informative "Ways to Give" not only lets your donors know how they can donate to your cause through more traditional methods, but it also allows your supporters to learn more about potentially doubling their donations!
If you need help with the wording on your "Ways to Give" page, take a look at these three strategies for writing compelling content on your organization's website.
2. On an online donation page.
Donors who find themselves on your nonprofit's online donation page are clearly already invested in helping your organization accomplish its mission. What better opportunity to market matching gifts to them than this?
Follow the lead of the Girl Scouts of Greater Atlanta. They've included matching gift information in the center of their donation page to remind donors that they might be able to double their contributions. They also provide donors with different giving levels as well as information about what their donations help accomplish.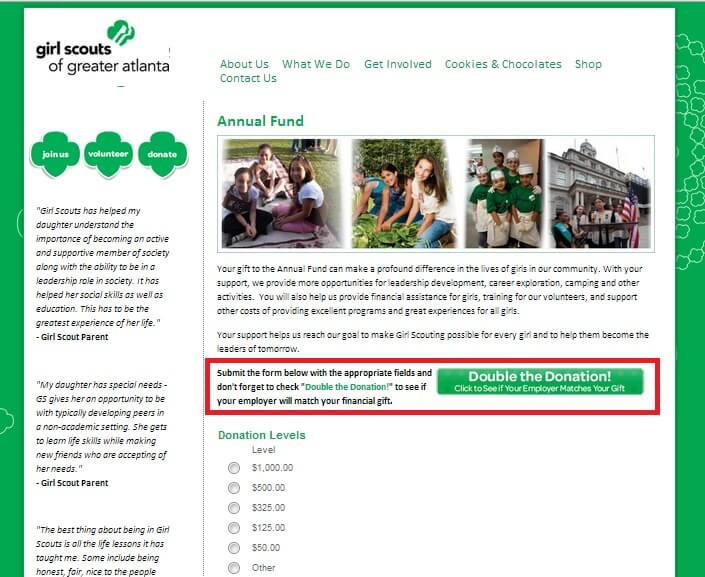 Donor engagement is at its peak during the online donation process. Your nonprofit has to seize this opportunity and make the most of donors' generosity while they're giving. Make sure to mention matching gifts on your online donation pages.
Check out these four ways to optimize your nonprofit's website for online fundraising.
3. Within a dedicated "Matching Gifts" page.
If you want to give donors even more information about matching gifts on your website, consider using a dedicated "Matching Gifts" page to clear up ambiguities and answer any questions they might have.
Follow the example of the ASPCA whose matching gift page:
Gives basic information about matching gifts.
Provides a search tool for donors to look up their employers' matching gift programs.
Gives an address for donors to mail in their paperwork.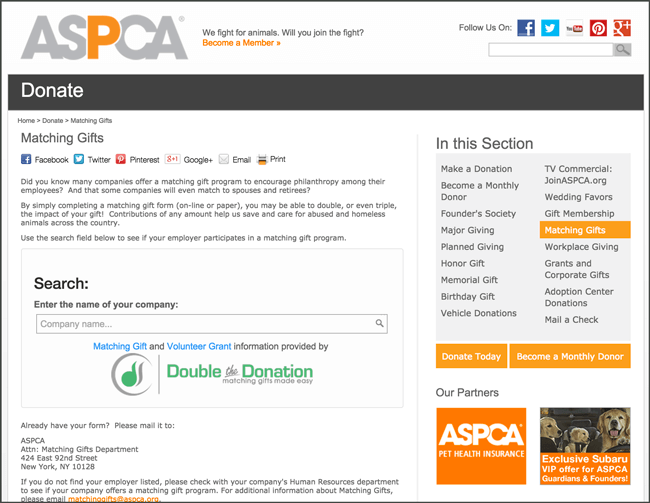 Dedicated "Matching Gifts" pages can be a great way for donors to learn more about matching gifts in general, but they are also useful in helping donors find out if their own employers offer such programs. Make the most of your website and start promoting matching gifts on a dedicated "Matching Gifts" page.
-----
There are so many ways for your nonprofit to promote matching gifts on your website. By incorporating information about matching gifts on a "Ways to Give" page, a donation form, and on a dedicated "Matching Gifts" page, you will be poised for matching gift success!